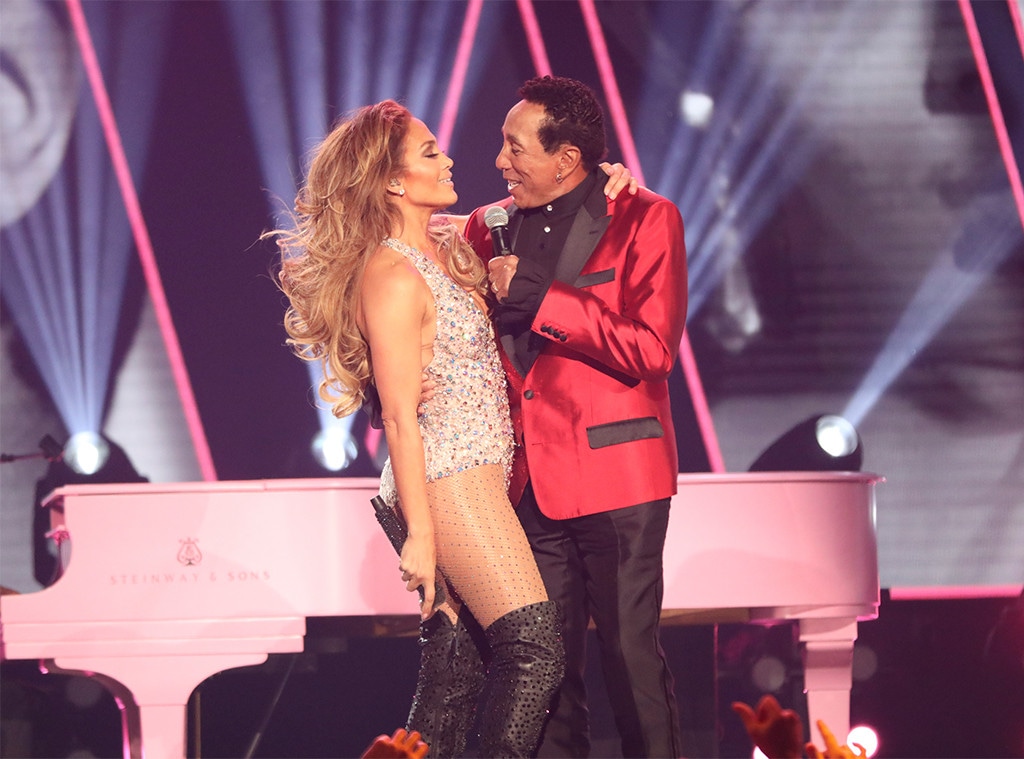 Monty Brinton/CBS
Motown Records has blessed us with 60 years of iconic music.
Thus, it was only right that the American record label was honored at the 2019 Grammys. Jennifer Lopez, Smokey Robinson and Ne-Yo led the tribute performance by taking to the stage at the Staples Center in Los Angeles on Sunday.
J.Lo, who wore a Diana Ross-inspired sequin gown, kicked off the performance by tackling a medley of Motown hits. The tribute medley included classics like "Dancing in the Street," "Please Mr. Postman," "Money (That's What I Want)" and many more. Alex Rodriguez's lady's presentation was anything but low-key as she channeled classic Motown dance moves and underwent several costume changes.
After Lopez's opening of the tribute, Robinson came onto the stage and performed The Temptations' iconic song, "My Girl." While swaying with Jennifer, Smokey lovingly replaced the lyrics with, "My Jen"...leaving us all thoroughly jealous. Grammys host Alicia Keys got in on the Motown fun as she joined Lopez for a couples verses of "Papa Was a Rolling Stone."
As Ne-Yo is a current Motown artist, it was just perfect that he performed Stevie Wonder's "Another Star" for the Grammys audience. Eventually, Lopez joined Ne-Yo for a duet, which included crawling on top of a grand piano and twerking.
Lopez, Robinson and Ne-Yo's tribute was taken in by celeb attendees including Cardi B, Janelle Monáe, Miley Cyrus, Shawn Mendes and countless others.
Word of J.Lo's participation in the tribute broke earlier in the week, sparking quite the outraged reaction on social media. Nonetheless, the "El Anillo" singer proudly took part in honoring the legendary record label.
"I want everyone to stand up for Motown right now—the sound of young America. We have all been so inspired by the writers, the producers, and the artists, who unified the world with their music," Jennifer made sure to gush on stage. "I am so grateful to be here tonight, humbled and honored."
The 49-year-old chart topper went on to thank many of Motown's musical legends.
Motown's 6 decades of success will further be celebrated in a post-Grammys television special, titled Motown 60: A GRAMMY Celebration. It's said the event, hosted by Cedric the Entertainer and Robinson, will take place at Los Angeles' Microsoft Theater on Feb. 12—but will air Sunday, Apr. 21 at 8:00 p.m. on CBS.
Per a recent announcement, Robinson will be joined by fellow Motown legends Ross and Wonder. Other notable names—including Boyz II Men, Chloe X Halle, Ciara, Lamont Dozier, Fantasia, Brian & Eddie Holland, Thelma Houston, Tori Kelly, John Legend, Little Big Town, Ne-Yo, Pentatonix, Martha Reeves, Valerie Simpson, Mickey Stevenson and Meghan Trainor—are slated to participate in this tribute.
Congratulations to Motown on their major milestone!