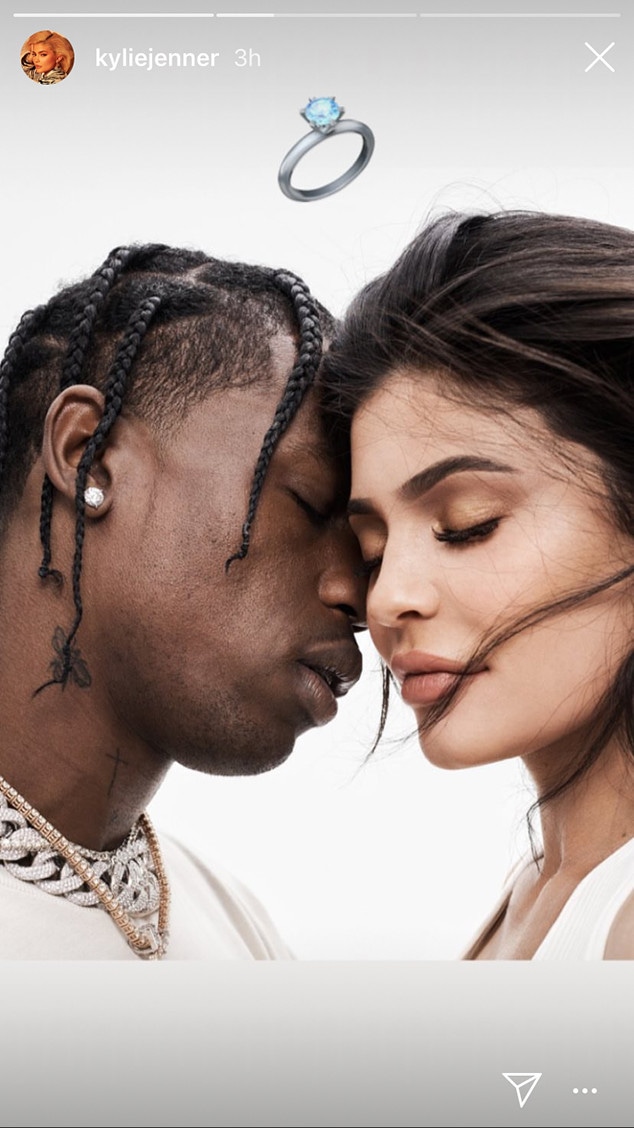 Instagram
Kylie Jenner won the Super Bowl last year with Stormi Webster's arrival announcement, so there's only one way she could possibly upstage that big moment: by getting engaged during the halftime show. 
This is just one of the many theories being floated by fans of the makeup mogul. Most of them truly believe  she's already married to rapper Travis Scott, others think a halftime proposal is too flashy for the couple, who literally kept their pregnancy a secret, and the rest are scratching their heads about the details of the potential proposal. 
But the Super Bowl conspiracy is quickly gaining traction among Kylie's fans and their evidence is damning. 
The first clue the theorists are pointing to is that the Super Bowl is an event that holds much importance to the parents. After all, Kylie and Travis announced the arrival of their baby girl Stormi, on the same day that the Eagles beat the Patriots. 
And let's not forget Travis' interview with Rolling Stone, which is actually clue no. two. The "Sicko Mode" artist told the magazine in December, "We'll get married soon. I just gotta sturdy up—I gotta propose in a fire way."
Everyone's definition of "fire" varies, but judging by the rapper's "Astroworld" tour, his idea of "fire" likely includes literal flames, roller coasters and laser displays.
Watch:
Kylie Jenner Already Prepping for Stormi's 1st Birthday
Furthermore, it looks like Kylie is for sure going to be sitting front and center at the Super Bowl game on Sunday. The makeup mogul revealed on her Instagram Story that the family is celebrating Stormi's first birthday with a low-key get together at their home in Los Angeles on Friday, which gives her plenty of time to jet off to Atlanta for Travis' performance. 
And Cosmopolitan magazine theorizes that Kylie could also just drop an emotional video of their wedding day, in the style of their "To Our Daughter" video that had people in tears. 
Now, all that's left to do is wait and see.