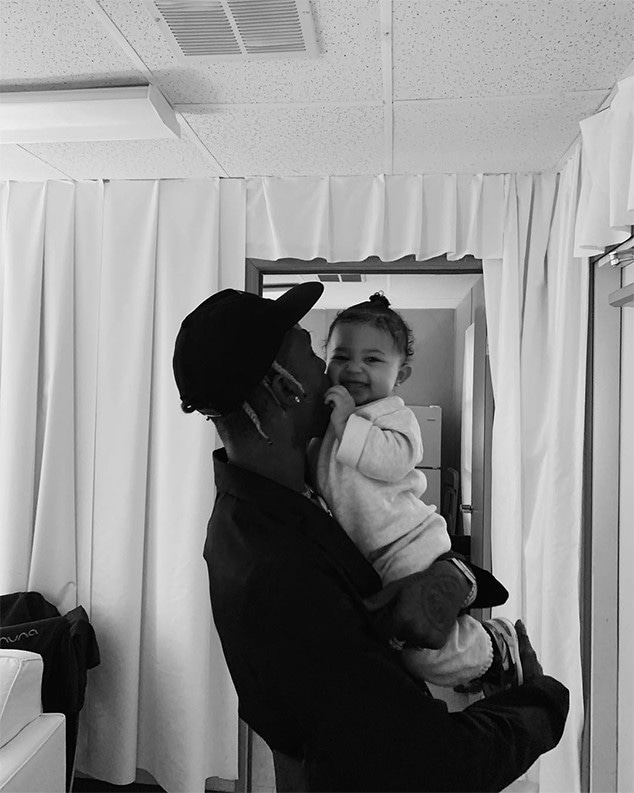 Instagram / Kylie Jenner
Kylie Jenner could not have been prouder of her beau Travis Scott for launching his own music festival and judging from their baby girl Stormi Webster's smile, she was pretty stoked to be part of the excitement as well.
The Keeping Up With the Kardashians star and cosmetics mogul brought their nine-month-old daughter along to support the rapper at his inaugural one-day Astroworld Festival, named after his new album, outside of NRG Park in Houston on Saturday. Travis headlined the event, whose lineup also included performers such as Lil Wayne and Post Malone.
Kylie posted on her Instagram page four adorable photos of Travis holding Stormi, who looks as happy as can be in her dad's arms.
"Only the people around you really know how hard you work," Kylie wrote. "I love to watch you make all your dreams come true. Your first festival. We're so proud of you. We love you."
"I love u wifey," Travis commented.
While they are not known to be married, Travis has occasionally called Kylie his "wife" or "wifey," while she calls him her "hubby."
Watch:
Travis Scott Opens Up About Daughter Stormi's Birth
Travis called Kylie his "wife" onstage while performing at the festival and also gave Stormi a shout-out. He was earlier seen holding the little girl on the side of the stage.
"My beautiful wife, she came out, my beautiful daughter, she's here too," he later told the crowd while performing, as seen in a TMZ video. "I love you all so much."
On Sunday morning, Kylie shared her own pic with Stormi, writing, "Ugh I love you so much. A living breathing piece of my heart [heart emoji]."
Watch Keeping Up With the Kardashians on Sundays at 9/8c only on E!