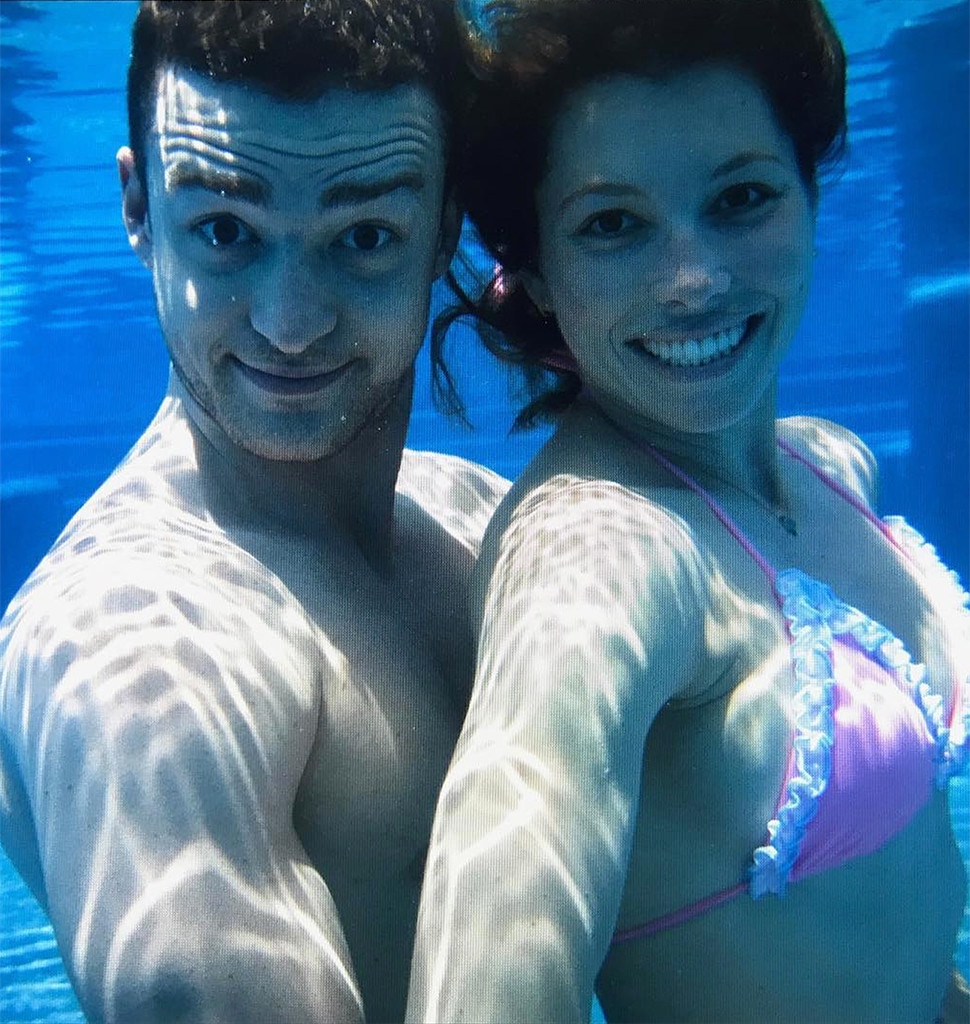 Jessica Biel/Instagram
Jessica Biel is proving she and her husband, Justin Timberlake, are couple goals. 
JT fans will know that Jan. 31 marks his 38th birthday, and his wife is celebrating with an adorable throwback photo.
Literally sharing a #tbt on Instagram, Biel posted an adorably embarrassing pic of her and Justin posing—wait for it—underwater. Her post made a splash alright!
"Since the days of embarrassing pink ruffled bikinis and underwater photo shoots, you have been infusing my life with so much joy and laughter that I blame YOU for my smile lines," the 36-year-old writes in her heartfelt post.
"But I wouldn't trade them for the world. I wear them with pride knowing that I am the luckiest human around to have the honor of hearing your jokes, your words, your voice, ever day of my life."
Of course, she wished her husband a happy birthday with a wonderful pun, no less.
"Happy birthday to the man of my blue ocean dreams. I love you."
On Wednesday, the couple celebrated Justin's pre-birthday festivities with a bang, or as the "Suit and Tie" singer put it, the "wifey really going all out tonight."
Alex Berliner/Invision/AP/Shutterstock
But before his leading lady "went all out," she made sure to get some much-needed beauty sleep. Of course, JT caught it all on video.  
In his Instagram clip, he's singing "Happy Birthday" to himself and pans the camera towards his wife, who is getting some zzz's in their car ride.
"I'm just preparing for our big night out. Just preparing," Jessica said once she realized the camera was facing her.
She later hit up Justin's comment section and wrote, "A girl needs her beauty sleep before you HIT THE CLUB."
Good point, Jess. Good point! 
So what did Timberlake's celebration entail? 
John Krasinski, Emily Blunt and Trevor Noah were just a few of the famous faces who toasted to the birthday boy during his "Man of the Woods" concert stop at Madison Square Garden in New York City. Rapper Mase also surprised Justin with a special, post-show performance. 
The two lovebirds have been married for six years, so it's nice to see they're still having fun, especially on the 'gram. Keep these hilarious (and adorable) moments coming!