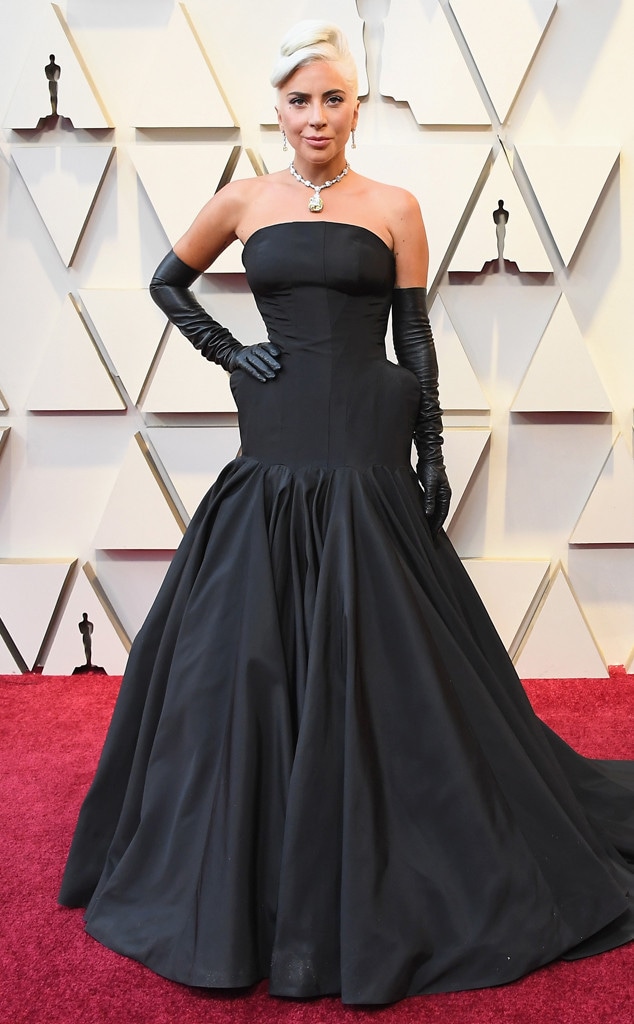 Steve Granitz/WireImage
Let's all take a moment of silence to admire Lady Gaga's estimated $30 million necklace.
The A Star Is Born actress brought the glitz and glamour to the red carpet at the 2019 Oscars. Among a sea of pink and the standard black and white suits, the 32-year-old star showed up and showed out. 
Notably, her estimated $30 million Tiffany necklace stole the show. What's more? The stunning piece is "one of the largest yellow diamonds in the world," according to a press release sent to E! News.
Aside from the fact that the jewelry piece looks like the size of a golf ball, but "this marks the first time in history that the priceless 141-year-old Tiffany Diamond has graced an awards show red carpet."
If the cushion-cut diamond looks familiar that's because Audrey Hepburn "last wore the Tiffany diamond in a necklace for the Breakfast at Tiffany's publicity photo shoot."
The glimmering jewel weighs 128.54 carats and has over 82 radiant facets.
The actress turned up the heat at the Dolby Theatre in Los Angeles for the star-studded ceremony wearing an Alexander McQueen black strapless ball gown and leather gloves.
"The chance to work with such an amazing piece of design and history tonight is a creative dream come true," Stylists Sandra Amador and Tom Erebout said in a press release.
"There are so many beautiful jewels in the world, but the radiant Tiffany Diamond is truly exceptional, which is just so fitting for Lady Gaga."
Fitting it is!
In addition, Reed Krakoff, Tiffany & Co. Chief Artistic Officer, said of the "Shallow" singer, "Lady Gaga is the ultimate creator, innovator and rule breaker."
"I'm thrilled that she will be wearing the legendary Tiffany Diamond on the awards show red carpet for the first time since it was discovered 141 years ago."
We wouldn't expect anything less from the actress, considering she's worn one-of-a-kind ensembles all throughout awards season. In fact, her 2019 Golden Globes dress paid tribute to Judy Garland in the second movie adaptation of A Star Is Born.
Lady Gaga is nominated tonight for Best Original Song for "Shallow," and Best Actress in a Leading Role for A Star Is Born.
For a recap of the 2019 Oscars, watch E! News tonight at 7 p.m.!