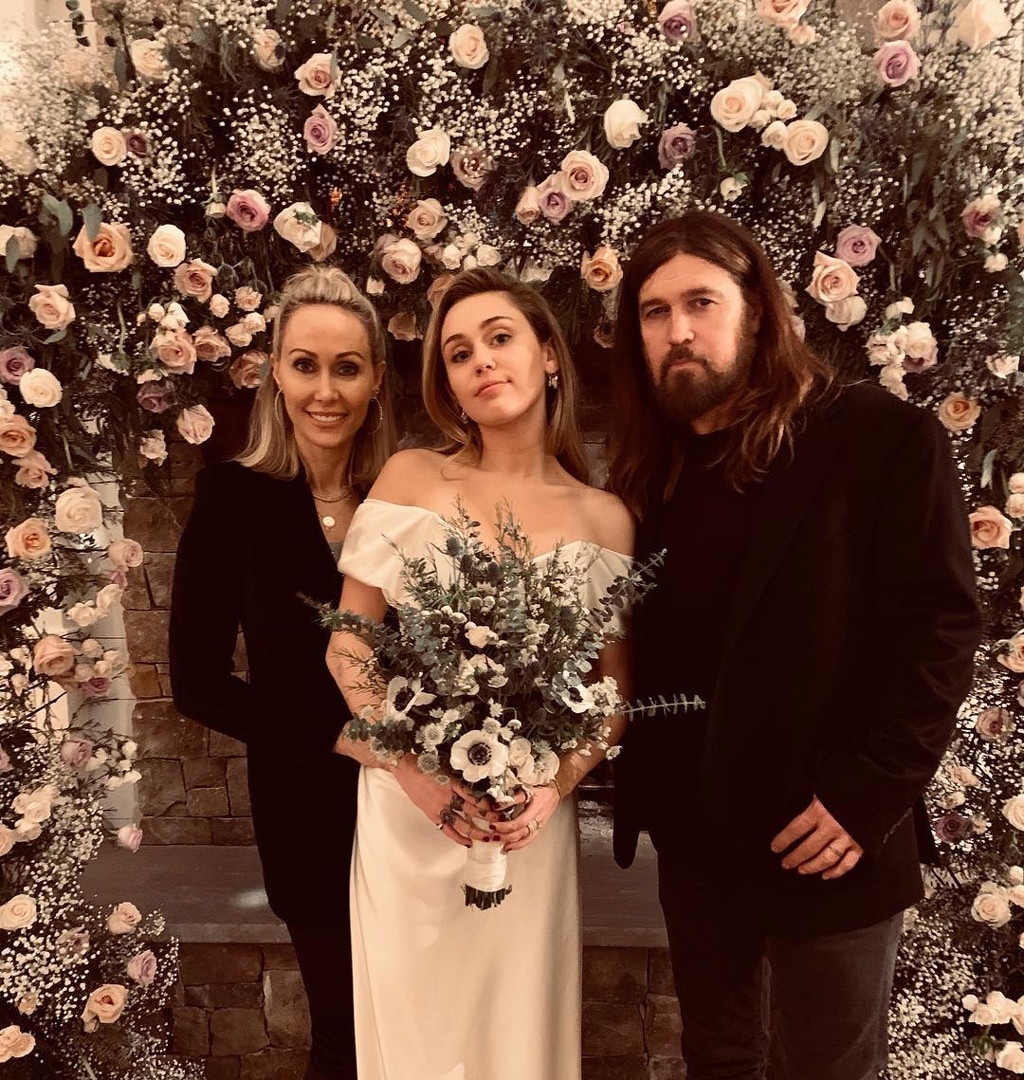 Instagram
Miley Cyrus truly had the best of both worlds at her wedding to Liam Hemsworth.
Not only was it surprisingly affordable, but it had elegant touches that were totally Pinterest-worthy. For their wedding day the pair managed to turn their Tennessee farm house into a beautiful wedding venue that still incorporated Miley and Liam's enviable Christmas decorations.
Of course, it helps that the actor and singer kept their guest list to a minimum with only close friends and family making the cut. And finding entertainment proves to be easy when it comes to the Cyrus and Hemsworth families. 
So how much exactly did Miley and Cyrus spend on their secret ceremony? Well, we did the math.
Venue: While some stars like Priyanka Chopra and Nick Jonas spent hundreds of thousands of dollars on their wedding locale, Miley and Liam were able to find a place that was more than reasonably priced and that held sentimental value to them: their Franklin home. The Tennessee farm house was the perfection location for the longtime couple to wed and it cost them nothing to hold the ceremony there.
Florals: estimated $1,500
Based on estimates of similar flower arches, bouquets, etc. Miley could've dolled out up to $1,500 for the gorgeous and delicate arrangements. Liam's boutonnière was made of white anemone, which nicely matched his brides bouquet. For the large arch that likely served as the altar, they chose an assortment of roses and baby's breath flowers that were both delicate and romantic.
The Bridal Gown: $8,600
Surprisingly enough, Miley opted for a gorgeous made-to-order gown from Vivienne Westwood, which greatly reduced the cost for her breathtaking ensemble. The ivory silk gown is no longer available on the website, but is thought to be the Long Cocotte Dress.
The Groom's Attire: $50 or more
Understandably, Liam was aiming for comfort on the big day, so it makes sense that he opted to wear white Vans instead of a dress shoe. And, this is simply speculation, but he probably wore a suit he already owned. 
The Cake: $220
Like the rest of their wedding decor, the cake was simple yet elegant. They ordered a three-tiered cake and three dozen cupcakes from the local bakery Ivey Cake, which typically costs over $200. No word yet on which flavors they went for but it looked yummy!
Balloons: estimated $675
According to the website for the company who created their pastel, organic balloon arch, interior designs start at just $675 and likely cost more because of the custom material. Miley and Liam also had balloons with their wedding date printed on them, which were planted at the entrance to the couple's home.
Beverages a.k.a Champagne: estimated $1,320
The famous pair truly splurged on their libations. It appears the newlyweds and their guests drank Veuve Clicquot champagne on their big day, so if they ordered two dozen bottles, their total would come out to over $1,000. 
Glassware: $45
To give the dinner a vintage touch, the "Malibu" singer rented vintage wine goblets from a local company, which cost only $1.50 to rent. 
In total, the couple likely spent $17,560 on their intimate wedding ceremony. 
As for the memories from their big day? Priceless.