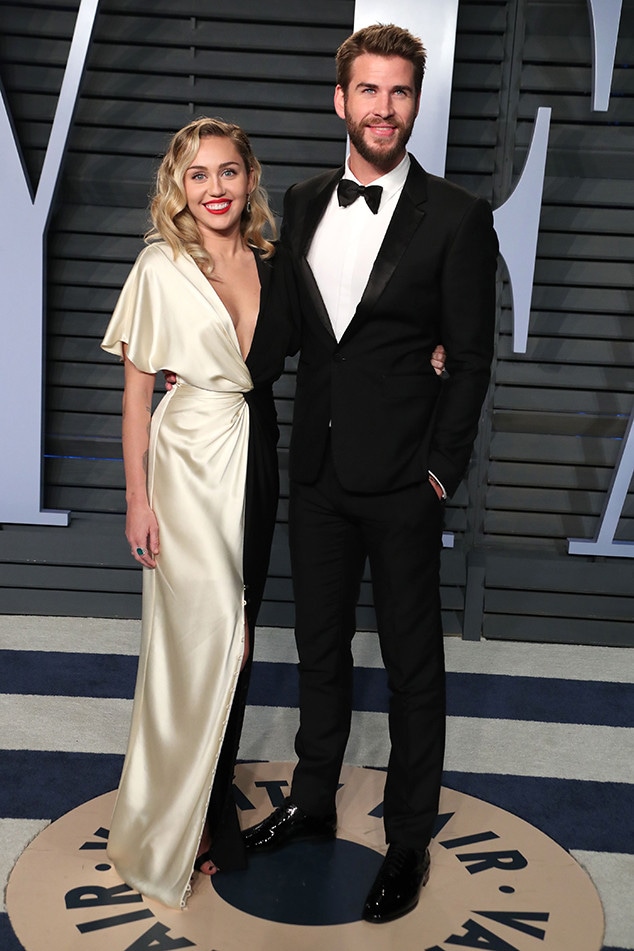 Matt Baron/REX/Shutterstock
It looks like Miley Cyrus and Liam Hemsworth may have tied the knot.
The internet was abuzz on Sunday night after Noah Cyrus shared pictures from what appeared to be Miley and Liam's intimate wedding ceremony. In the photos Noah shared, fans spotted what appeared to be the phrase "Mr & Mrs" spelled out in balloons, Miley in a white dress and a whole lot of tears. 
Liam's brothers Luke Hemsworth and Chris Hemsworth also appeared to take part in the festivities. The men were seen taking a shot with their father while everyone around them cheered.
If Miley and Liam did in fact get married then they had us all fooled! Miley recently told Andy Cohen that she and her Aussie hunk are simply too busy to tie the knot. She said, "I'm very kind of just like in this space of like working, so not too much and he's got a new movie coming out, so we've got a lot going on."
This isn't the first time people thought that Miley and Liam might have secretly gotten married. Last year in August, Liam was seen wearing what looked like a wedding ring on his ring finger, but a source told E! News at the time, "He wears that ring as more of a 'promise' to Miley, but they are not officially married."
They added, "The only thing that is missing is the legal piece of paper."
Miley and Liam first started dating in 2009, after they met on the set of the film The Last Song. In the years following, Miley and Liam would split multiple times, before they eventually got engaged for a second time in 2016. Since then, the couple has made strides in their relationship.
A source told E! News in July that the couple was in a "great place" in their relationship and their family was itching for a wedding. "Their family would love for them to finally tie the knot, and are very excited about it, but no one is pushing them. Miley is very simplistic when it comes to her ideas and does not want things to be an ordeal," the source shared. "Both Miley and Liam want to have children and they both want to be married but aren't trying to rush the process."
Their relationship grew even stronger after losing their Malibu home to the fires in November. A source told E! News that the loss has brought the actor and singer "closer together, even though they're not physically together."
"They've been leaning on each other for support and constantly telling each other how grateful they are for each other," the insider said.