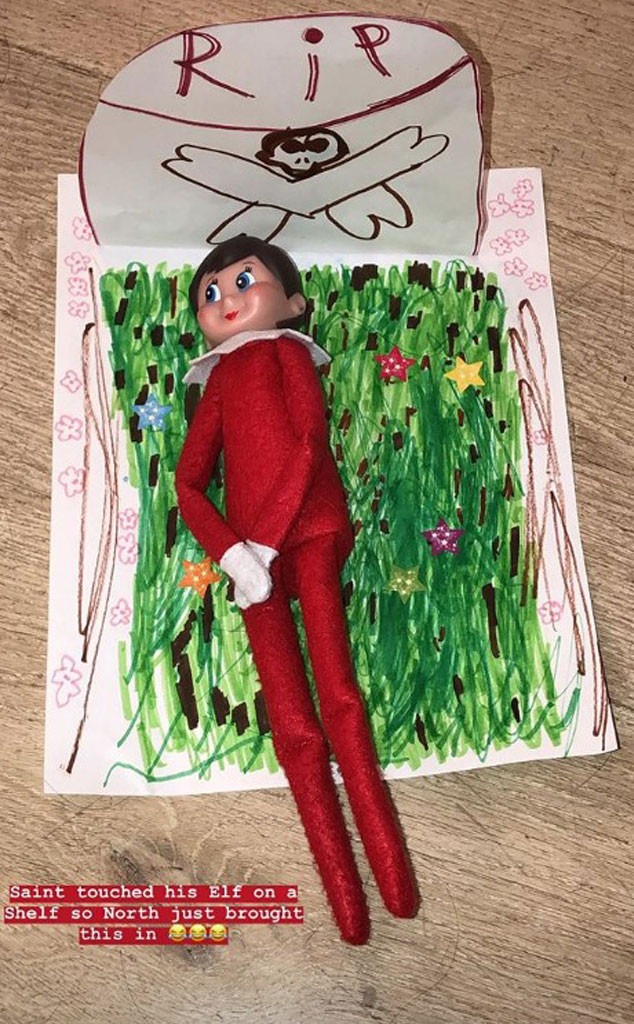 Instagram
Consider yourself warned.
North West isn't afraid to send anyone who messes with her Elf on the Shelf straight to her own personal naughty list. Although, what she just did to her baby brother Saint West may not leave her on Santa's nice list either.
According to Kim Kardashian's Instagram Story, at least one Elf on the Shelf resides in the Kardashian-West abode. For anyone who hasn't owned a nightmare-inducing Elf, these little guys are Santa Claus' eyes and ears on the ground while he's up in the North Pole compiling his lists, making presents and so on. These Elves—more commonly known as Scout Elves—"report back to Santa at the North Pole nightly."
Since the Elves are busy flying (or whatever their main mode of transportation is...reindeer? Elf Uber?) back and forth each night, they are supposed to be in a new spot in the house every morning. Kids then go searching around for their Scout in the wee hours of the morn.
Apparently Saint had other plans.
Kardashian shared a photo of one of their Elves who took a turn for the worse. 
The poor Elf dressed in all red laid supine on a piece of paper that was colored in different shades of green in order to resemble grass. North then went the extra mile to draw a 3-D tombstone that said "RIP" and a picture of a skull and crossbones underneath it.
"Saint touched his elf on a shelf so North just brought this in," the KKW Beauty chief captioned the picture. 
Uh oh.
On Tuesday, the 5-year-old visited her mom on set of a photo shoot and apparently became a director for the day. "Me & my bff," the Keeping Up With the Kardashians star tweeted. "North came to visit me on set & said momma can we do a photo shoot together just me & you! I followed her poses & direction so here it is! I always dreamed of having a baby girl & she's perfect!"
Kardashian revealed to E! News on Dec. 4 that the famous Kardashian Christmas card is no more. According to the beauty mogul, the reason to put the kibosh on the card was due to a few reasons. Yes, one of them included the blowout fight between Kim and Kourtney Kardashian when Kim said her big sister was "the least exciting to look at." 
Additionally, momager Kris Jenner "has given up." Kim said,  "She just is like, 'I don't have the energy to wrangle all my kids anymore, and their kids.'"
And their Elves.