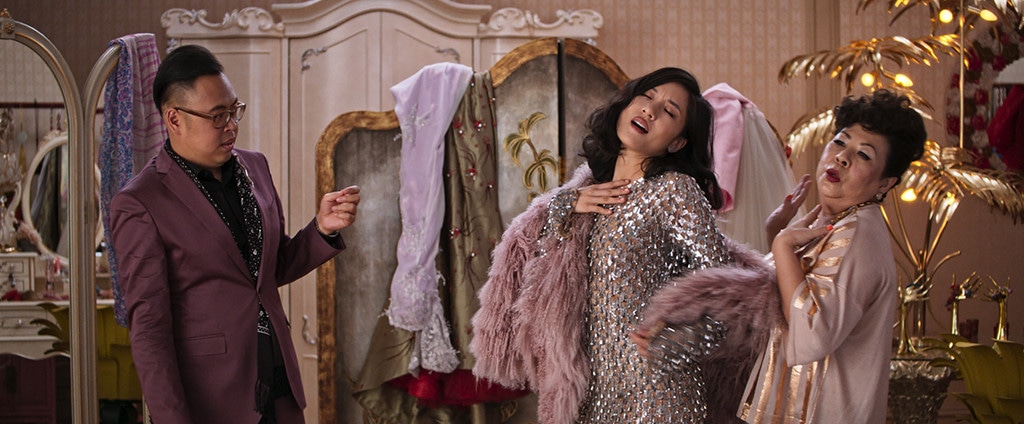 Warner Bros. Entertainment Inc.
 Constance Wu had the best wake-up call of her life Thursday.
Per usual, the 36-year-old actress had her iPhone set on "Do Not Disturb" mode when it was revealed that Crazy Rich Asians had received two Golden Globe nominations: Best Motion Picture — Musical or Comedy and Best Actress in a Motion Picture – Comedy or Musical (Wu).
"I woke up, I looked at my phone and I saw that I had a lot of missed calls and text messages from my publicist being like, 'Wake up! Wake up! Wake up! You need to do interviews,'" the actress told E! News by phone. "I kind of knew that the nominations were happening today; I didn't know what time they usually happened. I was obviously trying to put it out of my mind."
Having avoided the "nervousness" around the ceremony, Wu added, "Having the film be nominated and getting a nomination myself, it's been so super cool. What an amazing thing!"
Best of all, Wu joked, "I don't even need coffee!"
Naturally, Wu received a flurry of text messages from her co-stars after the list was made public, and she also spoke with director Jon M. Chu over the phone. "Talking to Jon, who has really been such a fearless leader—and, gosh, one of the most inspiring people I've ever worked with—that was really cool. I mean, the movie he made is being recognized on one of the biggest award shows," she said. "To share that with him and to talk with him, it was really cool."
Wu realized she was a part of something special when she was making Crazy Rich Asians, but at the time, she was just focused on her performance. "In movie making, it's such a collaborative art that you don't really know how it's going to turn out," she told E! News. "I knew that the directing was great, I knew the other actors were great and I knew we all bonded." While no one could have predicted how the film would be received, "I'm glad it turned out the way it did."
Wu's acting nomination marks the first time an Asian-American woman has been nominated in that category since Miyoshi Umeki the 1962 Golden Globes—something she doesn't take lightly. "I feel very...lucky and grateful. But if it is a torch, it's one that I'm not carrying alone. I know that I've been a very vocal person politically in regard to my activism, but then there are also so many other forms of carrying this torch. There's the content people make on YouTube. There are so many other avenues, and I would be remiss if I didn't acknowledge all the other artists out there who are part of this whole movement," she said. "Being part of Crazy Rich Asians and Fresh Off the Boat has made me very visible, I guess, but the passion behind these projects is one that is not exclusive to me—it's one that I think a lot of the community shares."
More than once, Wu emphasized just how "special" it was to make Crazy Rich Asians, and how "special" it is to those who've seen it. "When you have that mutual love and excitement, it only naturally follows that you become family and community, that you find a sense of unity together, because everybody was so pumped to be there. For most of us, I think except for me, this was the first time that we were in an American movie or TV show where we weren't a token Asian. And when you're not the token, and when the story is about you, you don't have to explain your place in the story. You can just tell a story. And that means so much to all of us. We we were just happy to have the opportunity to share it with anybody and with each other."
Sanja Bucko/Warner Bros. Entertainment Inc.
Since the film was released theatrically on Aug. 15 in the U.S. (and rolled out internationally throughout the year), Wu has had "so many" encounters with fans who've been touched by the film. "I've had people come up to me shaking and crying. Sometimes you don't know what you're missing until you see it and you realize you've been missing it your whole life. When I watched Wonder Woman last year, even that first shot of that little girl running, I just started crying. Because I was like, 'Oh, I didn't realize...' I had just become so used to seeing stories that didn't look like that, that I didn't realize how much it would mean to me to see a girl leading a superhero story. That's the reaction I've had from a lot of people," Wu said, "and it's really cool."
Now, Wu just has one problem: finding a date for the Golden Globes. "There are many people I would want to take; we'll see how many pluses they give me," she laughed. "Can I get a plus six?"
Be sure to watch E! News on Sunday, Jan. 6, for E!'s Live From the Red Carpet 2019 Golden Globes special, followed by the telecast on NBC at 8 p.m. And check out FandangoNOW to download or stream all of this year's nominated films and TV shows for half-off all weekend!