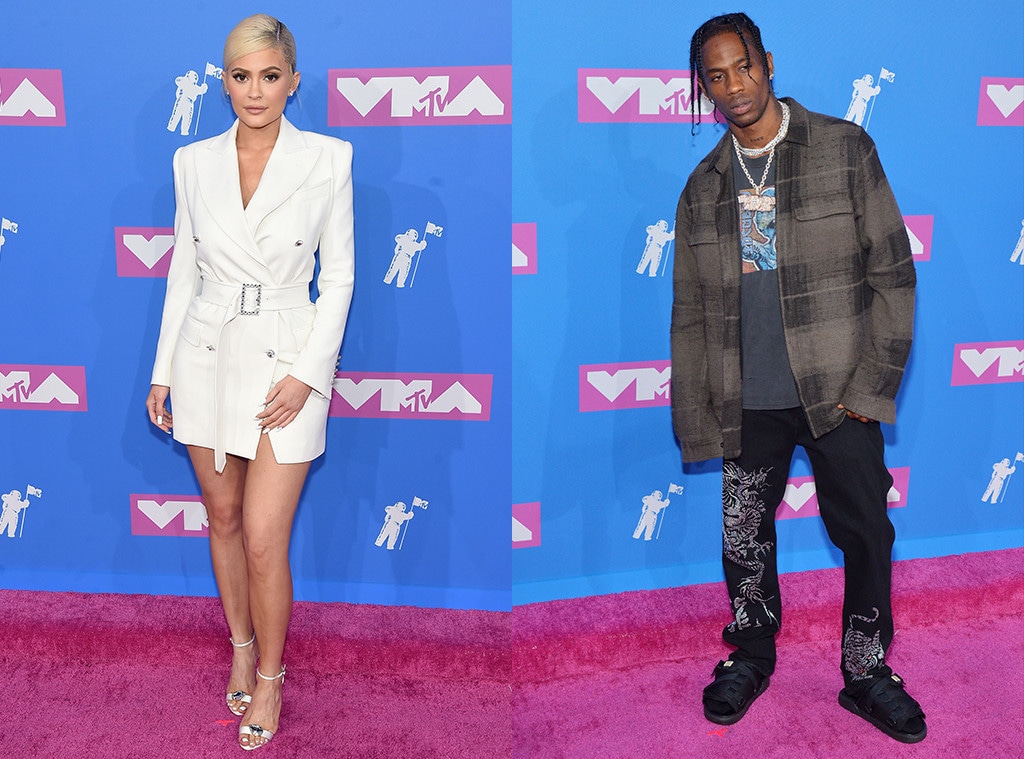 Jamie McCarthy/Getty Images; REX/Shutterstock
Kylie Jenner is not here for anyone making up rumors about herself and her family. 
On Wednesday, the Kylie Cosmetics owner slammed a YouTube user who described his prank to trick the Internet into thinking Travis Scott was cheating on her. Earlier in the day, Bahamas native Christian Adam uploaded a 17-minute video onto the platform where he bragged about his ability to "fool the Internet."
He wrote in the video description section, "never believe anything you see on the internet :)" 
Then, perhaps in some way to cover his tracks or not, he added, "(DISCLAIMER: this video was NOT made to intentionally hurt Travis Scott, Kylie Jenner or the entire Kardashian family in ANY way shape or form)."
The KarJenner family didn't exactly see eye-to-eye with that statement.
In her Instagram story, Kylie posted a screenshot of the video and called Adam out for his "prank." She wrote in a since-deleted note, "Idk if this is really a social experiment to some people but you're messing with real people, real relationships, real family. I'm happy my relationship is strong because this is getting out of hand. The internet scares me sometimes for real."
Her big sister Kim Kardashian tweeted about the video not long before Kylie. "I hate that I am bringing attention to this but this is absolutely disgusting that you would find this funny to mess with Travis & Kylie who just started a family together. This is really damaging to relationships, families and is just so wrong!" Kim typed on Twitter.
It all goes back to a picture that circulated around social media on Monday which showed a Scott lookalike getting close with another woman who wasn't Kylie. "I don't be on balcony wit no thots. That s--t lame. Try again u trollssss. Me and my wifey sturdy. Back to celebrating!!!" he commented on Monday.
The Astroworld  rapper called out trolls for starting these rumors and declared he "Only got love for my wife."
Walter McBride/WireImage;Nicholas Hunt/Getty Images for MTV
Khloe Kardashian tweeted her thoughts on the matter as well. "People are absolutely disgusting! The mind games this would do to somebody… That is so completely not OK! This person should be so ashamed of themselves! What filth," she wrote.
In his video aptly titled "We Fooled the Internet w/ Fake Travis Scott Cheating Photo," Adam explained that he was really inspired by Yes Theory, a group that pulls pranks and produces other videos to create "challenges for ourselves and for strangers and getting out of our comfort zones along the way." The group was behind the mystifying photo of Justin Bieber munching on a burrito in a fairly unorthodox fashion. They also helped inspire Will Smith to jump out of a helicopter above the Grand Canyon on his 50th birthday.
"I decided to try this experiment," Adam told the camera about the desire to "trick the internet" into believing something that was not true. He then explained that people had been telling him he looked like Scott. "What I'm gonna do for this video is see if I can take one of those celebrities and fool the world."
"That photo that you see of Travis Scott allegedly cheating on his significant other Kylie Jenner was completely staged," Adam said. "The goal of this video is not to hurt anybody's relationship, but it's to see how gullible is the internet. The question is: do the internet even care about the truth sometimes?"
There was some video footage of Adam dying his hair and changing his hairstyle in order to better resemble the famous rapper.
A few minutes into the video, Adam discussed his plot with his cousin and told him that he doesn't want the photo to be high quality. "The higher quality it is, the faker it looks," Adam explained. Apparently, Adam and his group took over 700 photos.
 Adam recorded himself researching the specifics into Scott's clothing style and the way he walks. After the photo shoot that was staged on a Holiday Inn balcony, Adam revealed he added on a TMZ logo to the photo to make it look like the site was the one who took it. "I think it's gonna work," he said.
All in all, the Bahamas native (briefly) achieved his goal of and was overly excited when Scott commented on Adam's Instagram video acknowledging it was all a prank. The "Sicko Mode" rapper spoke for the entire internet when he wrote, "Shaking my f--king head."