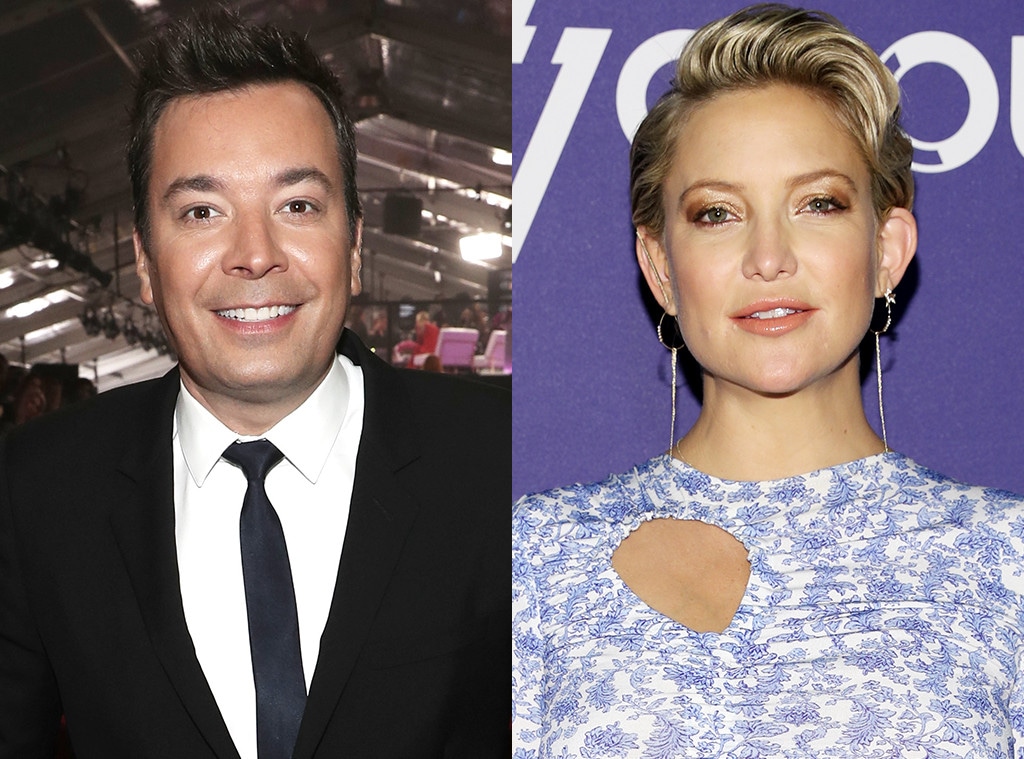 Todd Williamson/E! Entertainment; Cindy Ord/Getty Images
It looks like Kate Hudson and Jimmy Fallon just weren't meant to be. 
The late-night host told the story of how he tried to woo the actress years ago—and ended up introducing her to her now-ex husband Chris Robinson—on Monday's episode of The Tonight Show.
The admission came while Fallon and guest star Margot Robbie played "Loaded Questions"—a game in which they answered personal questions. Each contestant silently read a question written on a coaster and then gave their answer out-loud. Players then had to choose whether they would rather reveal the question or take a shot of alcohol to keep it a secret. However, each person had to divulge at least one of the questions during the game.
Near the end, both stars read the following question: "Do you have a co-star you thought you could have dated but didn't?" While Robbie didn't have an answer, Fallon cited Hudson. The Mary Queen of Scots actress then made him spill the tea. 
According to Fallon, the failed date took place in 2000 when both stars appeared in Almost Famous.
"We were, like, super good friends," Fallon explained. 
So, he invited her to see the comedy troupe The Kids in the Hall. While they were there, the two spotted Robinson and introduced themselves to The Black Crowes singer.
The next day Fallon and Hudson had plans to go ice skating together in Central Park. However, the late-night host realized he had been friend-zoned after Hudson called him asking to borrow his Black Crowes CDs. 
"We ice skated maybe three or four times around the rink," Fallon recalled. "And then I go, 'So, what are you doing now?' She goes, 'I've got to go because I have a date with Chris Robinson of the Black Crowes.'"
Hudson ended up marrying Robinson that New Year's Eve. They then welcomed their son, Ryder, in 2004. However, the couple ended up separating in 2006 and finalized their divorce in 2007. After a few other celebrity romances, Hudson became engaged to Matt Bellamy, with whom she shares her second child, Bingham. The two called it quits in 2014.
Still, both Hudson and Fallon found true love. Fallon is married to Nancy Juvonen, with whom he shares two children, and Hudson recently welcomed her first daughter with Danny Fujikawa.
Watch the video to hear him tell the whole story.
(E! and NBC are both part of NBCUniversal).