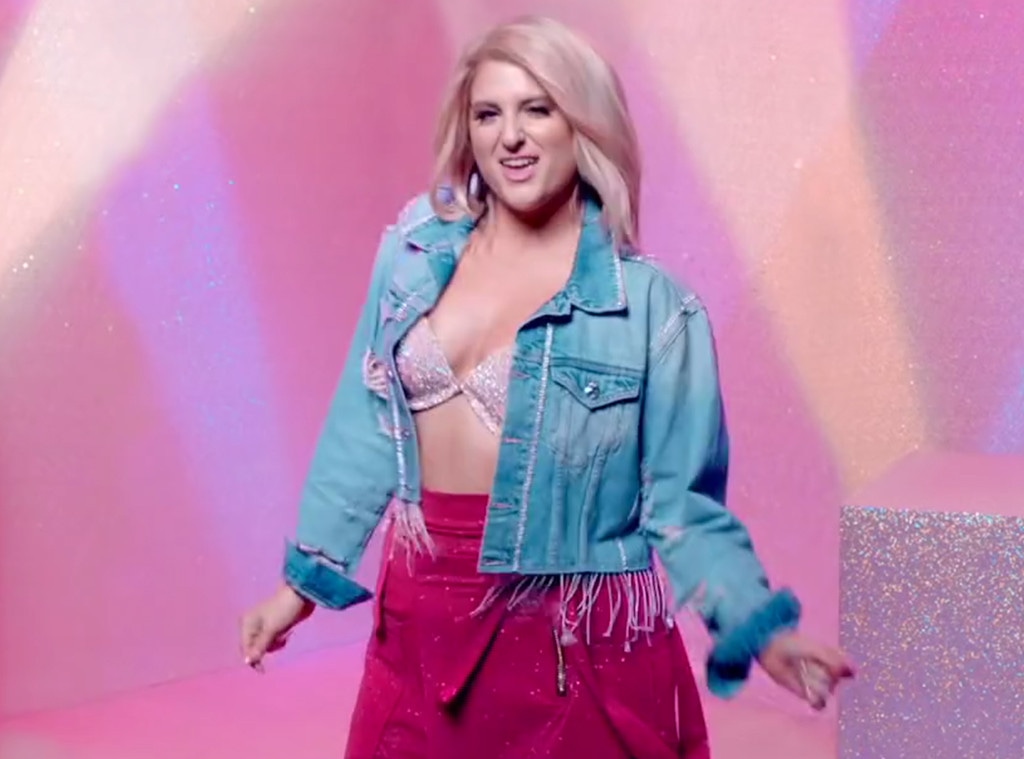 VEVO
Today is Meghan Trainor's birthday and we're ready to get our lips moving and shout it from the rooftop.
The Massachusetts native turns 25 years old today and based on how amazing 24 was for her we can only imagine what this year will bring.
On her birthday last year, Trainor's then-boyfriend Daryl Sabara proposed to her making her 24th birthday one to remember. Since then, she's released a few teaser singles including, "No Excuses" off her upcoming album and been a judge on Fox's The Four: Battle for Stardom. Oh, and she performed during the Thanksgiving halftime show for the Dallas Cowboys game against the Washington Redskins.
Clearly, her 25th year has a lot to live up to, but based on the fact that her album Treat Myself is available for pre-order now—the release date has yet to be announced—it's already going to have one major bright spot in it. 
As we wait for the birthday girl to drop her next record, why not take a look back at her best music videos to date? 
There are a lot of fierce and fun videos in Trainor's catalog that we are low-key obsessed with and we want to celebrate them all.
What better way to wish the "Lips Are Movin" singer a happy birthday than by voting for her best music video ever?
Oh, did we forget to mention, after scrolling through all these epic videos we want you to vote? Oops, that's our bad, but we're telling you now so it's all good.
Make sure to get your party pants on before watching all these jams from Trainor's past albums and future record below. Trust us, the girl knows how to bring the party and we're all in on reliving all the musical goodness on her 25th birthday.
Don't forget to vote for your absolute favorite track below and then show the birthday girl some love on social media.
We know your mama raised you better than that...err, well she probably raised you to say, "happy birthday" and therefore you know you should say it to Trainor on her special day, duh!
"No Excuses"
Trainor's music video for "No Excuses" is a mix between a futuristic world and the '90s and we're totally here for it. Between the epic glitzy costumes, double topknot hairstyles and neon colors, this video is like taking a trip into Zenon's world circa 2018 and it's just so much fun.
"All About That Bass"
Who doesn't love "All About That Bass?" It is Trainor's most iconic track and the video for it is just as memorable. The whole video is a pastel lover's dream. As the singer performs in all pastel ensembles and a giant tulle bow, you see glimpses of a Barbie scene in the kitchen mixed in with a little girl playing with Barbies in her room before women—and one fierce man—start dancing and showing off their derrieres.
"Like I'm Gonna Lose You" feat. John Legend
As one of Trainor's more romantic and emotional tracks, "Like I'm Gonna Lose You" is powerful on the radio and as a music video. In between seeing Trainor singing in a room full of windows as it rains outside and John Legend singing in the pouring down rain, images of love and passion are shown. There's a couple cuddled under an umbrella, a woman holding her baby in the rain, a duo kissing in a car and so many more moments of love.
"Let You Be Right"
The Massachusetts native gives off major Britney Spears vibes from her "Hit Me Baby One More Time" days in this video and therefore we instantly loved it when we saw it. Throughout the video you see Trainor dancing on a basketball court, rocking pigtails in a disco ball style room and playing at an arcade. It's like a blast from the past and it's just the right amount of sexy and nostalgia in one clip.
"Dear Future Husband"
This might be Trainor's best video ever, mainly because she gets so into character as the stereotypical version of a "perfect wife." The video itself is retro and full of color, which we just love. Trainor shows that just because you think she should be cleaning and cooking she isn't going to do that. Instead, she is going to interview future suitors to see if they know how to treat her like a lady!
"Better" feat. Yo Gotti
The video for "Better" is more like a mini movie about a hairstylist (Trainor) who lives with her grandfather (Beau Bridges), who is an alcoholic constantly ruining his own life and therefore hers. She loves him unconditionally even though she has to pick him up off the floor, get him from jail and buy him pills for his pain. It's an intense story that is both heartbreaking and touching.
"Me Too"
Trainor is feeling herself in the "Me Too" video and all we can say is, you go girl. The video starts with her getting ready to go to work before she throws on a giraffe onesie and totally rocks driving around Los Angeles. She basically has a giant party while just being herself and even when she's prepping for her music video shoot she can't stop laughing, dancing, playing dress up and having a blast. Seriously, we want in on this lifestyle ASAP.
"No"
Ready for the fiercest version of Trainor? If you are then this is the video for you! The artist dons sexy and seductive outfits throughout this video for "No" and definitely makes us do a double take more than once. She dances with her girls in a basement and proves that she has some serious moves and she knows she's hot, which she totally is.
"I'm a Lady"
This video is for "I'm a Lady," which was featured in the Smurfs: The Lost Village film and it has so many dimensions to it. While some scenes show Trainor singing in a top hat and looking gorgeous, others show her and her girls rocking sporting gear, schooling everyone in the boardroom and ruling the world as ladies. It's all about girl power and we're into each and every second of this video.
"Lips Are Movin"
This is one of the 25-year-old singer's more simple videos, but we still love watching it. Trainor tries on different clothes in between singing at a red mic with her dancers backing her up on a video set. She shows off her perfect red pout throughout the video as more dancers show off their moves and practice for their close-ups. It's basically a cool video-prep shoot that is actually her music video and it is super fun.
Now that you've watched all these videos, it's time to sound off on your favorite one from Trainor in the poll below.
No matter what you choose it's a win, because the birthday girl always makes great videos and that's why we are giving her so much love on her special day. She's a queen and she deserves it!
Meghan Trainor Music Videos