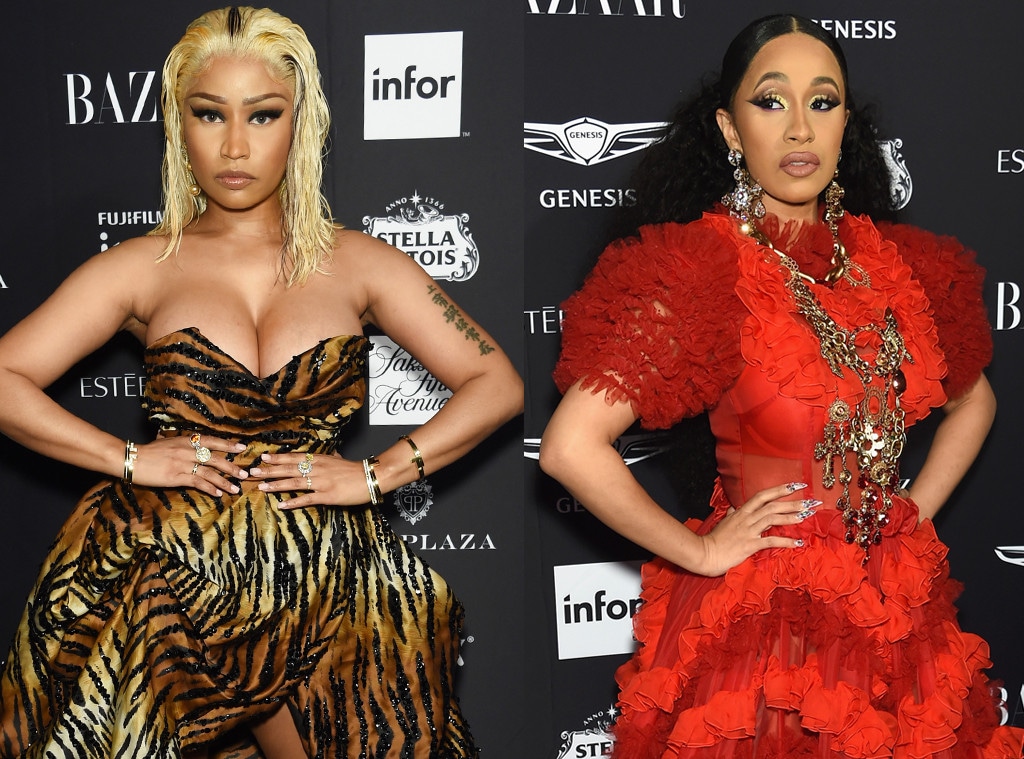 Dimitrios Kambouris/Getty Images for Harper's Bazaar
Cardi B has a message for the Barbz.
Following the leak of Cardi's new song "Money" on Tuesday, the artist went on Instagram Live to address Nicki Minaj's fans. In Cardi's brief IG Live video, she explained that her newest song was leaked two days early, much to her dismay. Cardi then alludes to the Barbz being the reason why she and her team decided to go ahead with the release in advance of it's planned date. "We tried to retract it, but you know the Barbz. They always posting me, they always post everything I do," she said. "They claim they hate me, but they really love me, because they be on my page before my fans."
The "Bodak Yellow" rapper continued, "So clearly, that seems like love to me, seems like you love me, so it's like, 'F--k it.' I can't retract it, I might as well put it out."
Her battle with Minaj has been brewing for quite some time and came to a head during New York Fashion Week this year, where Cardi and Nicki got into a fight at the Harper's Bazaar Icons event. Since then, Cardi said she has grown "sick and tired" of the Barbz. "They seem like my biggest f--king fans, always on my f--king page. Always doing the most," Cardi said.
And despite her disappointment over the song's leak, Cardi is staying positive. She pondered, "Maybe it was a blessing."
As her IG Live came to a close, the artist teased the release of a project she is working on, which is comprised of five to six songs, including two features. And in reference to her ongoing feud with Nicki, Cardi insisted, "They my songs (sic)."
The two rappers feud apparently started for many reasons, but when Cardi saw that Nicki liked a tweet questioning Cardi's parenting skills, she was heated. "I love my daughter. I'm a good-ass f--king mom. So for somebody that don't have a child to like that comment? So many people want to say that party wasn't the time or the place, but I'm not going to catch another artist in the grocery store or down the block," she said in an interview with W. 
And the internet is convinced Nicki is keeping the feud alive with a subtle diss aimed at Cardi in her song "Transformer." In the lyrics, Nicki raps, "Some call me Nicki but some call me Megatron. I'm stopping bags and I don't need a red octagon."
Okurrr!