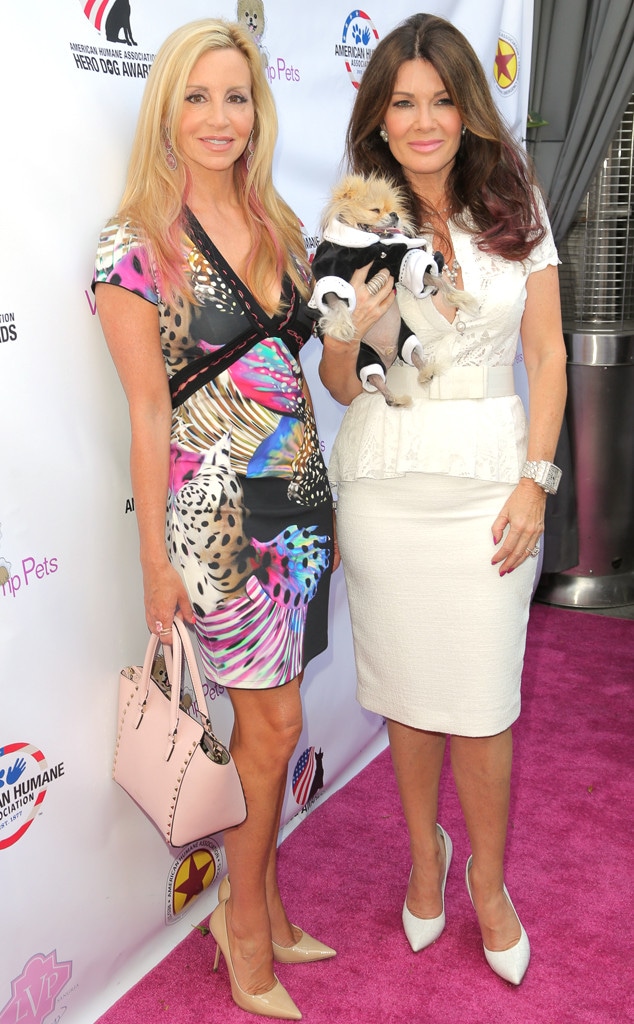 Chelsea Lauren/WireImage
Camille Grammer married beau David C. Meyer on Saturday in Hawaii in front of family and friends, including her Real Housewives of Beverly Hills co-stars. Well, at least most of them.
Lisa Vanderpump was notably missing from the festivities, which drew many reactions online. Later in the evening, she addressed the fans, posting a throwback photo of her at a 2015 Los Angeles Dodgers game. The Dodgers won Game 7 against the Milwalkee Brewers on Saturday, cinching the National League championship, and will compete in the 2018 World Series this week.
"Now, let's concentrate on the important stuff... Go Dodgers!!!" Lisa wrote. "If you need me back to throw the first pitch, I'm available."
Camille told People she "understands" why Lisa didn't come, saying, "I respect her decision. Lisa was very apologetic about it."
A source close to Lisa told People that the reality star is "going through a lot right now," citing heightened tensions with the Housewives and adding that the death of her brother Mark in May "took a toll" on her.
"Lisa's choosing not to film during any of the group activities," the source said, "Lisa doesn't want to be around the women as a group, so she's getting less filming time. But nobody has quit. She's definitely still on the show."
Earlier this month, Vanderpump told E! News she has not been in a good place since her brother's death "because I have been more emotional than I normally am."
"It's not about putting on anybody else. I don't need support. I don't need sympathy. I just need to process it myself. It's been hard," she said. "Yes, I am a strong woman but I'm still emotionally vulnerable."
"I think A lot of people who follow me and know me know that this year has been much more challenging for me than a normal year," she continued. "I have done 320 episodes of reality television. This year, there were certain things that felt very different to me. I'm not having a go at anybody, I never do, because it's not who I want to be, it's not who I want to be. I want to focus on things for the greater good and carry on doing what we're doing and try to enjoy my life."
The reality star made her comments at a West Hollywood fundraiser she co-hosted with Route91Strong to mark the first anniversary of the October 1, 2017 Las Vegas shooting.
Lisa was not the only Real Housewives of Beverly Hills star to miss Camille's wedding. Co-star Erika Jayne was unable to attend, as she is on tour and is performing in Chicago on Sunday. Denise Richards, who joined the cast several months ago, was in Connecticut filming a project with Starship Troopers co-star Patrick Muldoon.
Hours before the wedding, Real Housewives of Beverly Hills star Kyle Richards posted on her Instagram page a photo of her, Camille and co-stars Dorit Kemsley, Lisa Rinna and Teddi Mellencamp Arroyave standing by a pool.
A fan asked where Lisa Vanderpump was. Kyle commented, "She was invited," and told another fan, "This is about Camille. It's a special time for her."
Later in the day, Kyle and the other Real Housewives of Beverly Hills wedding guests posted more photos from the wedding. Pics of the bride and groom were not shared on social media. The bride wore a sleeveless flower lace gown and white flowers in her hair and he groom wore a white tuxedo jacket, white shirt, black pants, black bow tie and sneakers.
Again, a fan asked Kyle, "Where's LVP she the life of the party...also you."
"This is Camille's day," Kyle replied.
Camille had talked to Bravo TV recently about her wedding plans, saying that she thinks Lisa "has been angling" at becoming a bridesmaid.
"Lisa and I have had our ups and downs, even though I adore her," she said. "But there's probably another Housewife that I think that is more worthy and has been closer to me as a friend over the years, so we'll see."
—Additional reporting by Spencer Lubitz