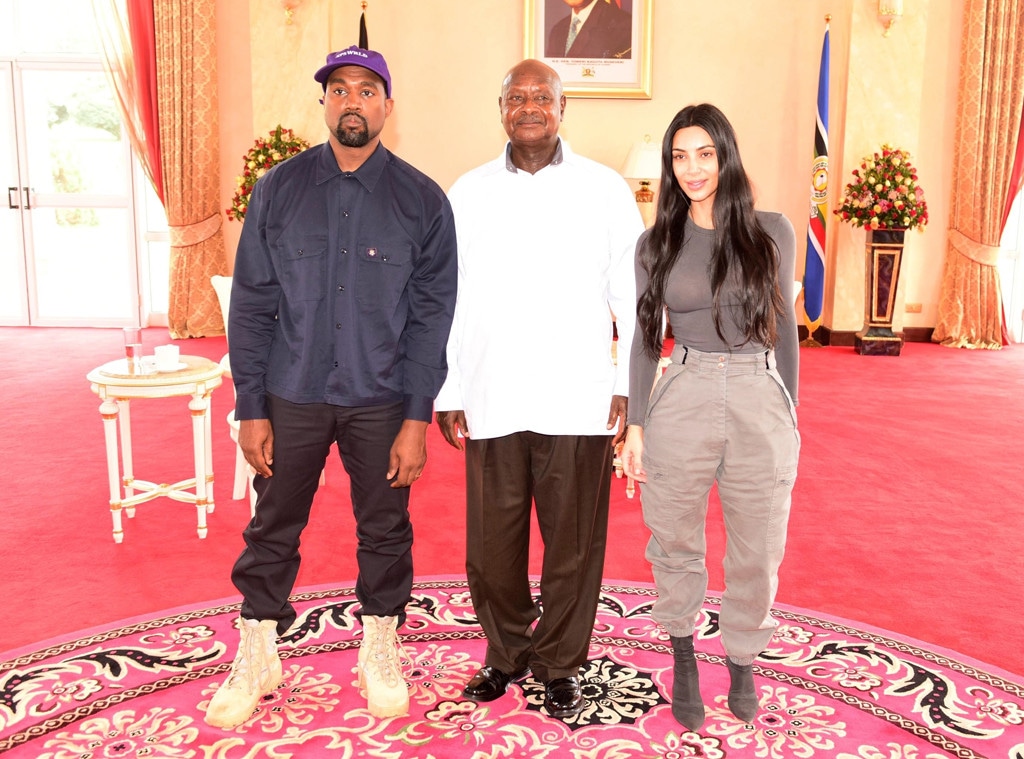 Best Image / BACKGRID
Kim Kardashian and Kanye West checked another country off their bucket list this weekend.
The two A-listers jetted off to Uganda for a fun-filled getaway with their daughter, North West, where they enjoyed a safari, did some sightseeing and some philanthropical work.
Their getaway began on Saturday, when the family, minus Saint and Chicago, arrived with their entourage at the five-star Chobe Safari Lodge. According to Kim's Instagram Story, their suite looks out upon a breathtaking view of wild animals like elephants and hippos chilling in the water. Kim and North watched as the animals grazed and lounged together.
Aside from sightseeing from the comfort of their luxurious hotel room, a source told E! News, the group went on a "safari and have been sightseeing and immersing themselves in the culture of Uganda."
They even met the President of Uganda, Yoweri K. Museveni, for a discussion about the arts and tourism.
Stephen Wandera/AP/REX/Shutterstock
During their chat with the politician, Kanye revealed his grand plans for a "Jurassic Park" type venue and his even grander plans to have a family of seven. Kim, however, was reportedly not on board with having four more babies.
After their meet and greet, Kim and Kanye flew on the President's helicopter to visit a local kids charity event, where Kanye handed out dozens of Yeezy shoes and even rapped for the excited kids. Both Kim and Ye wore matching neon yellow ensembles while mingling with the community. The heartwarming moment was documented on Kim's Instagram Story. 
In between their charity work and meetings with politicians, Kanye managed to squeeze in some time for "recording on the hotel property," since after all the trip is for the purpose of finishing his new album. He gave his fans a preview of his work on Twitter on Sunday, with a surprise show. 
Despite it mainly being a work trip, the source explained, "Kim came along because she wanted to go and thought it would be fun for North."
"It's been an incredible experience for her [Kim] to be a part of and she's loved being there," the insider revealed.
And even though they are enjoying their getaway to the East African country, duty calls for the KKW Cosmetics founder. According to the source, "Kim is scheduled to leave with North and Kanye will stay to work on his album."