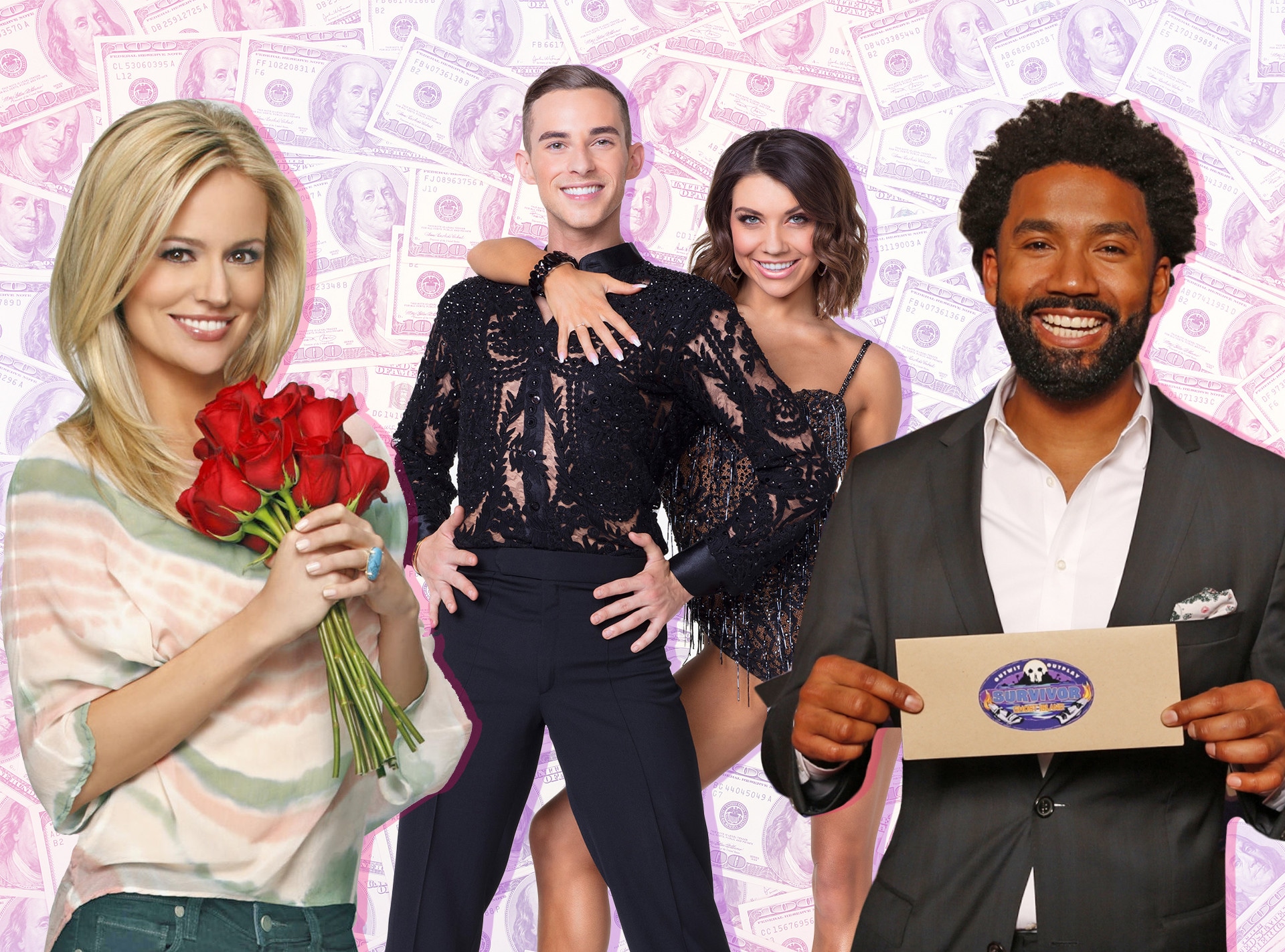 Melissa Herwitt/E! Illustration
How willing are you to leave your job, friends, family and ordinary routine for several weeks? Would you need to be compensated for your time off at work? And how about not having access to a phone, computer or any form of technology? 
When a person decides to sign up for a reality competition show, they are not just participating in a weekly 42-minute episode of TV; they are basically signing up for a 24/7 job in the hopes of winning a prize. Maybe it's monetary. Maybe it's a car. Maybe it's bragging rights. Maybe it's just getting on TV. 
But is it actually worth it when it comes to the pay check? it all depends on which show you go on, as some don't even pay their contestants at all.
We did some investigating and here's what some of the biggest reality shows on TV pay their contestants:
The Bachelor/The Bachelorette: If you are one of the contestants picked to vy for the heart of America's most eligible man or woman, it'll end up costing you because the suitors are not paid to be on the show (though they occasionally receive free clothes/goodie bags). However, it could definitely be worth it if you end up becoming a social media influencer thanks to your time on the show. 
And if you end up being picked to become the franchise's next lead, you'll likely be paid around $100,000. A major exception was Emily Maynard, who took in a reported $250,000 for her season, which was also filmed in her home state of North Carolina.
And if you end up getting married on TV, you can also expect to see another paycheck. When Trista and Ryan Sutter said "I do" in front of ABC's cameras, they received a $1 million wedding gift, while Sean Lowe and Catherine Guidici received six figures for their televised nuptials. (Ditto Ashley Hebert and J.P. Rosenbaum.) The catch? You are basically giving up complete control about your wedding to the producers. 
Bachelor in Paradise: Aside from landing all the spon-con offers on Instagram once their season premieres, a Bachelor or Bachelorette contestant also hopes to be invited to Mexico for Bachelor in Paradise, which pays all of its cast members (and, of course, offers up more exposure which equals even more endorsements). 
Per Reality Steve, the amount varies, depending on the cast member, how long they are there for, etc. There's a standard day-rate, but bigger names can rake in more money—with season three's Nick Viall and Josh Murray definitely being offered bigger paychecks to participate. In the first season, Reality Steve spilled a contestant could make between "$7,000-$15,000" if they made it to the end of the season, but the amount has increased in the summers since, with Amanda Stanton reportedly receiving the biggest payday to return for season four after first participating in season three. 
Jonathan Leibson/Getty Images for WE tv
Marriage Boot Camp: Reality Stars: For many of the successful couples to come out of the Bachelor franchise, a stint on the WE tv reality show soon follows. Why? It's all about the Benjamins, baby. 
Fan-favorite Sean Lowe admitted he and wife Catherine Guidici did the show "for the money," even though they really didn't want to do it. But when the producers "doubled" their initial offer...they just couldn't say no. "So there I was, looking at a substantial amount of money for what would amount to two weeks worth of shooting a reality show," he wrote on his blog in 2015.
"That sounds really ugly and cheap, but it's true. Catherine and I have been blessed to make a portion of our income through things like speaking engagements, my book, DWTS, etc. but we don't rely on those things to pay our bills," he continued.
But Sean and Catherine are far from the only reality TV couple to sign up for the show as a mere cash-grab, as Sharknado star Tara Reid was once exposed on the show for doing it just for the money. 
"Part of the reason we did the show is because [May] owes money and taxes and he could use the money and he wouldn't mind the fame...so I wanted to do the show for him," Reid was caught saying of her sort-of beau Dean May.
Awkward!
Survivor: How much would you need to make in order to subject yourself to 39 days of gameplay filled with backstabbing, little food and no electricity or running water?
For castaways who are voted out early pre-jury, they basically get an all-expenses paid trip as they are required to stay for the entirety of production to avoid spoilers. Plus, each contestant reportedly gets $10,000 for the live finale and reunion taping at the end of the season. But in an interview with TMZ, Jonny Fairplay spilled the beans on how much castaways allegedly make: the first person eliminated can make $12,500, according to the infamous contestant, who noted jury members get $40,000. "I'm not sure I was  allowed to say that," he noted after. "I might've broken an NDA." Classic Fairplay move.
While the winner of Survivor gets $1 million, the runner-up pockets $100,000 and the third place finisher earns $85,000. Though they no longer do the fan-favorite award, the winner of that public vote would receive $100,000 or a car, if it was sponsored.
Big Brother: The CBS show lays it all out for wannabe houseguests when they first submit their audition, with the official site reading:
"One participant will receive the grand-prize of $500,000 (subject to change in Producers' and/or the network's discretion). (Except for the two finalists who will receive prize money, a weekly stipend will be provided for each participant for each week that he or she remains in the Big Brother House.) Stipend payments and prize winnings will not be paid until after the broadcast of the final episode of the show."
Dancing With the Stars: Just agreeing to do the show makes sense for most stars given that each contestant is given $125,000 for the rehearsal period, first 2 weeks on the air and the finale (where the entire cast returns for a group number), according to a report once published by Gawker. 
From there, each star will earn an additional amount for each week they stay in the ballroom, with $345,000 being the highest amount. Here's a quick breakdown: $10,000 per week for weeks 3 and 4, $20,000 for weeks 5 and 6, $30,000 for weeks 7 and 8, and $50,000 for weeks 9 and 10.
The Challenge: MTV's long running series is a full-time job for some seasoned veterans like Johnny Bananas and Cara Maria Sorbello. Per Us Weekly, the "Elite" players pull in close to $80,000 just to join the show, while other vets can get between $3,000-$5,000 per week. As for the rookies? $1,000 for each week they remain in the competition.
And the paydays for winning have increased as the seasons have gone on, with the current season, Final Reckoning, offering up a $1 million prize if you can survive the s—tshow that is living in the Challenge house.  
The Amazing Race: The winning team of CBS' globe-trotting competition takes home $1 million. According to fan-site TARflies, the second place team wins $25,000 and the third place team gets $10,000. And each team earns money, with the first eliminated pair going home with $1,500.
But during the actual race, the teams are given an allowance (which varies) during each leg, which covers their expenses (food, lodging, transpo, etc.)—both for the challenges and just daily living.
If a team burns through their money, they can attempt to earn more money as long as they abide by local laws. They can borrow from other teams or ask locals for some cash (just not at airports in the U.S.).
There's also a rumor that there is a small emergency fund that the team's assigned production crew carries and breaks out only in extremes circumstances.
American Idol: Keep in mind this is from the OG version's run, but Fox Business turned to an Idol expert to break down how much contestants can pocket during their run on the stage.
Finalists are required to join AFTRA, which means they are paid at least an hourly rate for each appearance on TV. So you're looking at $1,571 plus meals for the then two-hour Idol shows, $1,303 for one-hour shows and $910 for half-hour results shows. But you gotta take the membership fee to join AFTRA into account too, which contestants must pay ($1,600).  
The key though for any hopeful at the time though was to make it to the tour, which could land them "around $150,000 for four or five months of touring," Richard Rushfield told Fox Business.
America's Got Talent: According to Inside: AGT: The Untold Stories of America's Got Talent, an unofficial tell-all that was released in 2013, an act can receive up to $30,000 for a 90-second performance…but it's a budget for their actual act (with the amount being set by the executive producers).
The winner of the longrunning NBC series takes home a cool $1 million…which is paid as an annuity over 40 years (so $25,000 a year post-taxes.)
The Voice: The winner of NBC's reality singing competition takes home $100,000 and a recording contract, while the finalists are all given weekly stipend for living expenses (think food and necessities) during their time on the show, according to reports. 
Project Runway: Back in 2013, PDX Monthly reported aspiring fashion designers are not paid to be on the show, and that the winner doesn't actually receive a prize for personal use as the money ($50,000 in design software, and $100,000 in seed money to start their line) is strictly for professional use. But hallo, national exposure!
Love Island: The British reality dating show that all your friends are probably talking or tweeting about actually does pay its contestants to live and love in the villa for the summer. But it's not that much.
"All the Islanders are getting £200-a-week to be on the show," a source told The Sun.
In U.S. dollars, that's about $264. That said, you can make £50,000 (or really half of it when split) if you win the public's votes at the very end. Not muggy at all!