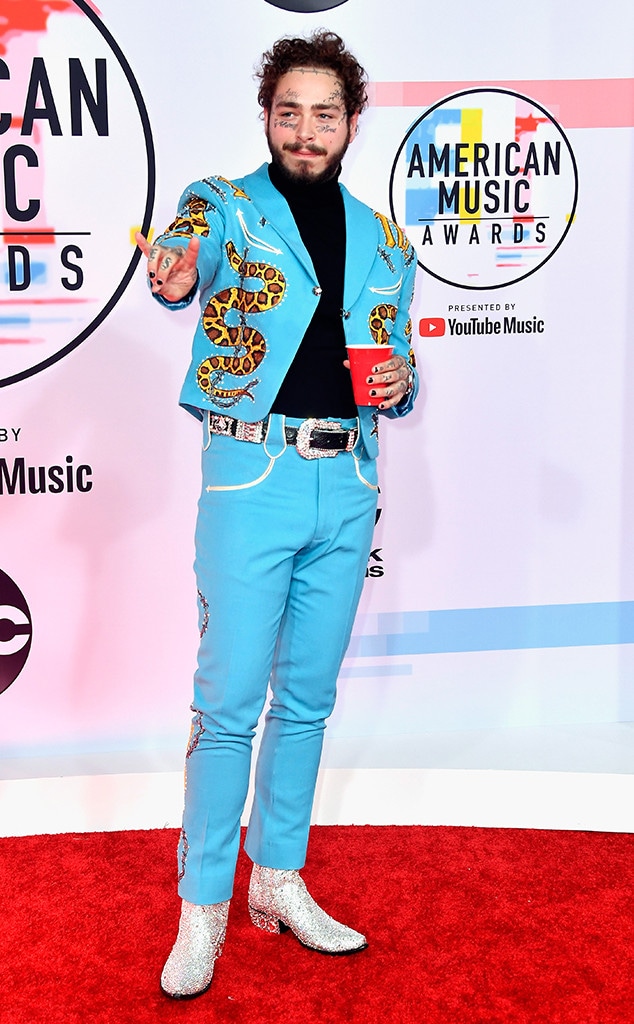 Frazer Harrison/Getty Images
Post Malone left his flask at home, but that isn't stopping the singer from indulging in libations at the 2018 American Music Awards at the Microsoft Theater in Los Angeles.
The "Better Now" singer was seen walking on the red carpet channeling his inner frat boy with a red plastic cup in his hands. The cup was a colorful contrast to his turquoise suit with snakes and his initials "PM" embroidered on it. He changed drink vessels once he entered the theater.
At one point, the camera panned on Malone as he smiled and held up his decently-full stemless glass of red wine. That ended quickly.
Malone won the award for Favorite Male Artist - Pop/Rock over Drake and Ed Sheeran. When he went on stage to accept the award, he handed his empty glass to his seatmate, although for a moment it looked as if the glass would be accompanying him.
Malone is also nominated for Artist of the Year and Favorite Album - Rap/Hip-Hop.
ANGELA WEISS/AFP/Getty Images
At yet another point in time, Malone changed his bar order up to something a bit different. He traded in the glass of wine for a plastic cup of something orange. A screwdriver perhaps? Vodka and orange juice? Unclear.
This isn't the first red carpet he's walked while sipping on some suds. In fact, he loves to walk around the town with glasses of wine or other beverages in tow. In one photo posted on Twitter, he and Lil Pump enjoy a nighttime stroll while Malone balances a wine glass on his head (??). During a quick photo-op with Gwen Stefani, he holds a cup of beer while the two of them smile. "love u Gwen," he captioned the picture of them.
Malone won a decent number of awards at the 2018 MTV VMAs, and he celebrated this wins with, guess what, some beer.
Over the weekend, the "White Iverson" singer chopped off his signature man bun and showed off his shorter hairdo on the red carpet. He wrote on Instagram, "had 2 big a-- dreads. plz don't stop listening to my music."
Nonetheless, Posty is definitely in the Rihanna school of taking wine-to-go. What's next?
Congrats on the awards and nominations!