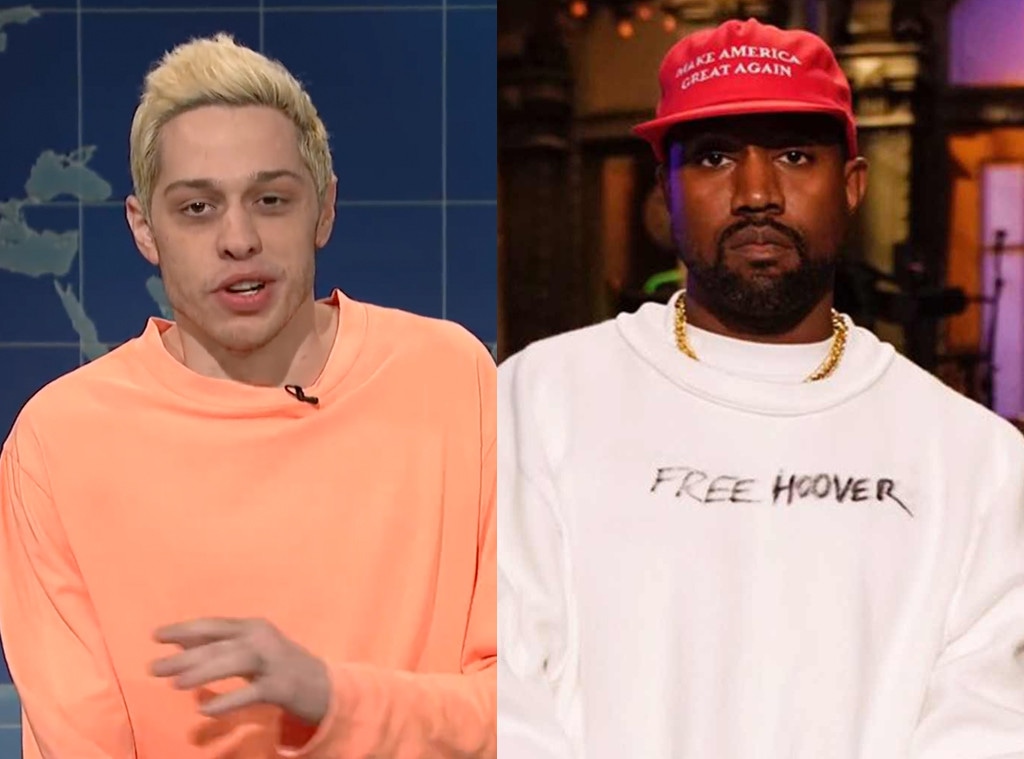 NBC
Pete Davidson made a cheerful but serious plea to Kanye West on Saturday Night Live, urging him to take care of his mental health following his recent controversies.
Last week, the rapper took Saturday Night Live stars by surprise and drew some audience boos when he gave an unannounced pro-President Donald Trump speech onstage right after his last performance on the NBC show.
"What Kanye said after he went off the air last week was one of the worst, like, most awkward things I've ever seen here—and I've seen Chevy Chase speak to an intern," Davidson said on SNL's Weekend Update on Saturday. 
The rapper, who wore a MAGA hat on the show, had also stirred controversy when he tweeted about abolishing the 13th amendment, which ended slavery in 1865. He then said on TMZ Live that he meant to say "amend."
West, who has been open about having bipolar disorder, also stated during that interview, "Now the alien Ye is like, fully back in mode, off of medication, you know, working out, breaking as much fresh air as possible, thinking, doing, being himself, you know, and when I say being myself, it doesn't mean I'm being Donald Trump. It means I'm being me and I'm punk and I can wear whatever I want 'cause I'm a god."
"Take 'em," Davidson, who has been open about his own mental health struggles, said on Weekend Update.
"There's no shame in the medicine game," he continued. "I'm on 'em. It's great. Take 'em. There's nothing wrong with taking 'em. If I ever got on a plane and pilot said, 'I just want all of you to know, this is the real me flying,' I'd jump out. Being mentally ill is not an excuse to act like a jackass, OK? And I'm quoting my therapist, my mom and my mailman."
He later debuted a MAGA parody hat that read, "Make Kanye 2006 Again."
Watch:
Kanye West Gets Booed During Pro-Trump Speech on "SNL"
During his SNL speech, West had said, "They bully me backstage and say, 'Don't go out there with that hat on.' They bully me backstage. They bully me! And then they say I'm in a sunken place."
"He wore it all week, like, nobody told him not to wear it," Davidson said on Weekend Update. "I wish I bullied you. I wish I would've suggested that, you know, it might upset some people like your wife or every black person ever."
An insider told E! News last week that Kanye's wife Kim Kardashian "believes Kanye is entitled to his opinion and can express it freely. She may not always agree with him, but she still feels he's allowed to believe what he wants."
"Kim's not surprised in the least bit," the source added. "Kanye loves to speak his mind and that's not going to change. Whether or not Kim shares the same beliefs, she knows she's never going to stop Kanye from expressing himself."
Davidson poked fun at his own style while talking about West.
"I wish someone bullied me into not wearing this hat," he said, referring to a lilac bucket hat he wore during an outing with fiancée Ariana Grande this summer.
During the segment, Davidson also called West a "musical genius," and he and his co-stars urged the rapper to release his upcoming album, Yahndi. 
West has not commented publicly on Davidson's remarks on Saturday. The rapper deleted his Twitter and Instagram accounts earlier that day.