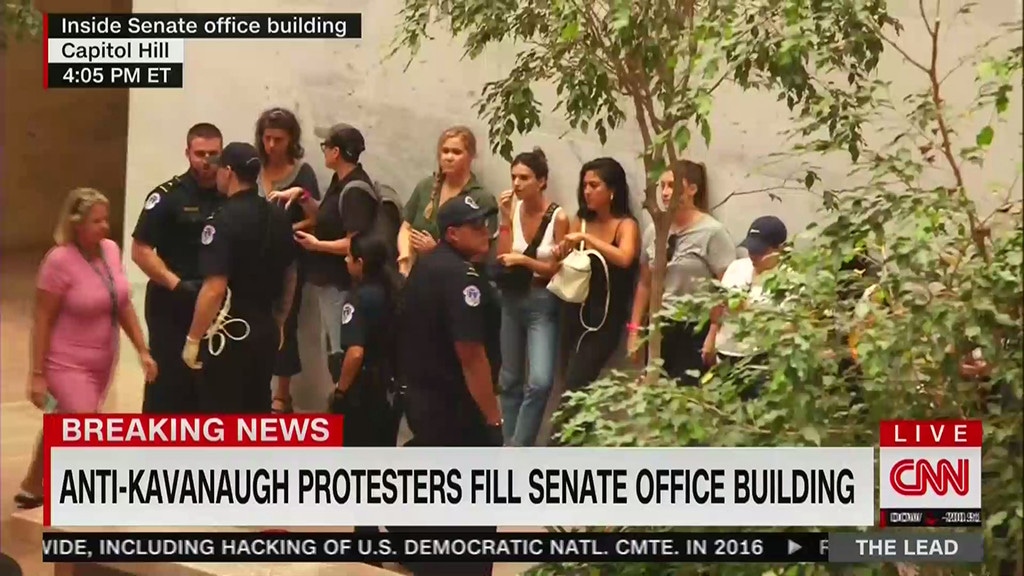 CNN
Amy Schumer was detained on Thursday while taking part in a protest against Brett Kavanaugh's nomination to the Supreme Court, reports said.
The Trainwreck actress and comedienne had joined scores of demonstrators at the #CancelKavanagh event at Capitol Hill, which took place a day before the Senate will start voting on whether or not to confirm Republican President Donald Trump's pick. The protest also came hours after the FBI sent the Senate Judiciary Committee a report following its week-long investigation into accusations of sexual misconduct against the judge, which he has denied. Democrats have slammed the probe as not being comprehensive enough.
CNN aired footage of Thursday's protest, showing Schumer and several other women, including fellow star Emily Ratajkowski, standing against an outside wall as a few police officers stand in front of them. The cable network's reporter said Schumer was seen "being arrested." MSNBC also aired similar footage, saying in a tweet that Schumer "was detained with other anti-Kavanaugh protesters at the Hart Senate Office Bldg. atrium on Capitol Hill."
Ratajkowski wrote on Instagram that she herself was "arrested protesting the Supreme Court nomination of Brett Kavanaugh, a man who has been accused by multiple women of sexual assault," adding "Men who hurt women can no longer be placed in positions of power. Kavanaugh's confirmation as a Justice of the Supreme Court of the United States is a message to women in this country that they do not matter. I demand a government that acknowledges, respects and supports women as much as it does men."
Capitol Police have not commented and there is no record of an arrest of either star.
A viral Twitter video shows police appearing to herd a large group of protesters, including Schumer, inside the area. One of them asks her, "Do you want to be arrested," and she responds, "Yes," as they continue moving.
Schumer appears in another Twitter video posted by another protester's daughter, saying, "I'm here with your mom. She loves you very much. I think we're gonna get arrested, and we're so proud of you."
The Hill reported that instead of zip-tie handcuffs, protesters were given different colored bracelets by police. The outlet said that Schumer had pink bracelets and when asked what they were for, she joked, "For drinking."
Schumer had marched holding a "We Believe Anita Hill" sign, referencing the woman who made sexual misconduct allegations against her former employer Clarence Thomas during his 1991 Supreme Court confirmation hearings.
Ratajkowski held a sign that read, "Respect female existence or expect our resistance."
Earlier in the day, Schumer addressed the protesters, saying, "That's what we're going to do: We're going to keep showing up and no matter how this goes, they cannot keep us down. We will win. A vote for Kavanaugh is a vote saying 'Women don't matter.' Let's stay together. Let's fight. Let's keep showing up," according to Rolling Stone.