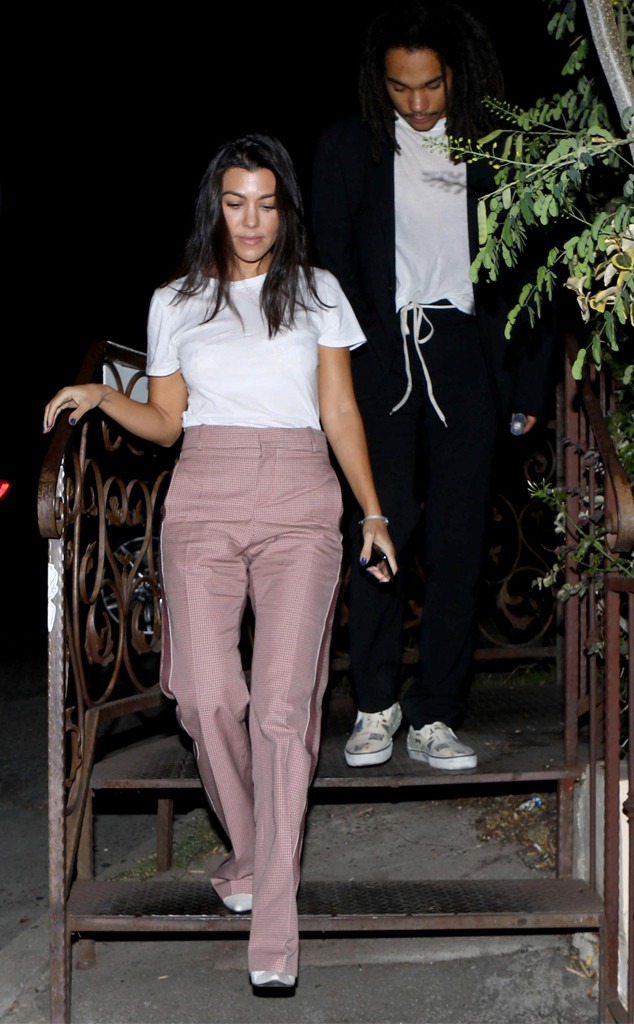 CPR/Nemo/BACKGRID
Kourtney Kardashian and Luka Sabbat recently had dinner with family and friends and are "becoming more exclusive," E! News has learned.
The 39-year-old Keeping Up With the Kardashians star and the 20-year-old grown-ish actor, a family friend, have been dating over the past weeks, following her breakup from long-term boyfriend Younes Bendjima. On Tuesday, Kourtney and Luka had dinner with her sister Kendall Jenner and fellow family pals Fai Khadra and Justine Skye at Pace Restaurant in Laurel Canyon in Los Angeles.
Kourtney and Luka met the rest of the group at the restaurant around 7 p.m. and sat at a dimly lit, long table. Kourtney sat next to to her beau and was seen smiling throughout the dinner, an eyewitness told E! News. After more than two hours, everyone left, with Kourtney and Luka leaving together.
Earlier in the day, the reality star took her kids to dance class and then went shopping in West Hollywood with Luka. He bought some items at the Rick Owens clothing store.
"Kourtney helped him and was giving him feedback telling him how much she liked what he chose," the eyewitness said. "He was modeling in the store and Kourtney was watching him with a smile. She was very flirty and you could tell she finds him very attractive by the way she was looking at him."
"It's definitely becoming more exclusive and a regular thing," a source close to Kourtney told E! News. "Kourtney loves spending time with Luka and finds him super cool and extremely attractive. He's different from other guys she has dated and she's having fun with him. She's really enjoying getting to know him and seeing where it goes. Every time they say goodbye she can't wait to see him again."
Watch Keeping Up With the Kardashians on Sundays at 9/8c only on E!