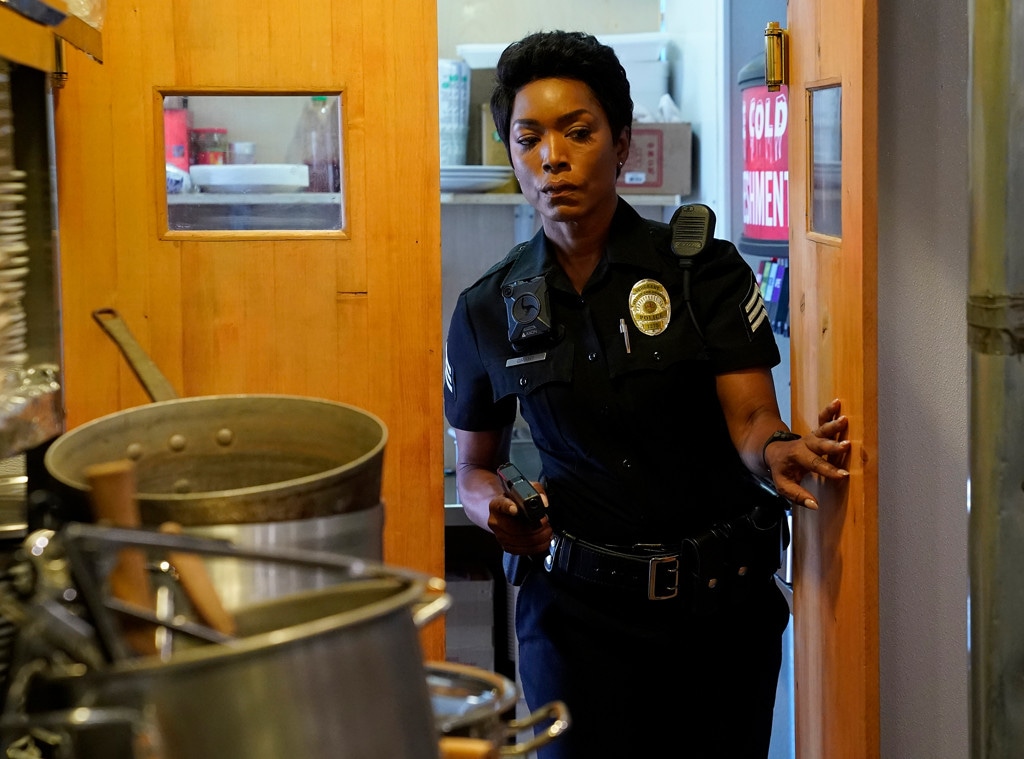 Fox
In today's fragmented television landscape, a hit is rare. A broadcast hit that actually grows in its second season is even rarer, yet that's just what Fox's 9-1-1 has done. The season two premiere of 9-1-1 grabbed 13.8 million three-day multiplatform viewers and a big 3.4 rating in the 18-49 demographic during that same time period. Those numbers will likely go up when week-delayed DVR viewing is factored in. What makes 9-1-1 one of this year's biggest hits?
There's more than one reason why this drama about police officers, firefighters and the emergency dispatchers behind the scenes is coming out on top.
9-1-1 was created by TV masters Ryan Murphy, Brad Falchuk and Tim Minear. Murphy and Falchuk are familiar to TV audiences, from Nip/Tuck to Glee to American Horror Story. Minear, who is the showrunner on the series, has worked with Murphy and Co. on Feud and American Horror Story, and he's also worked on some very beloved (albeit short-lived) shows including Firefly, Wonderfalls and Dollhouse. Minear's other credits include Angel, Terriers and The X-Files. Viewers' familiarity with their work makes 9-1-1 comforting. Plus, the varied TV experience works here because of just how bonkers 9-1-1 emergencies can be, which is also a draw for viewers. From babies in pipes to city-shaking earthquakes, 9-1-1 emergencies run the gamut—they're plausible, sensational and gripping.
"A lot of our cases are real. In fact, the ones that probably you think, 'Well, that never happened,' are probably the ones that did happen. I mean, I even go back all the way to the pilot. A baby being flushed down some plumbing, that was a real thing. A bouncy house flying a hundred feet into the air, that was a real thing," Minear told press at the 2018 Television Critics Association press tour. "So, we look to stories from real life. We originally started looking to YouTube a lot, because the whole feeling, our sort of esthetic for the show is it's not sort of a plotty procedural. There are incidents, and we want it to sort of feel like the experience of getting onto YouTube and watching a compilation of ultimate fails. You keep clicking and going down that rabbit hole because you want to see the next cool thing. So that's the experience that we're creating for network television on a scaffolding of amazing, emotional character stories."
The emergencies are a highlight, sure, but the procedural elements are the backbone of the series. Audiences thrive on case-closed types of episodic television. Look at the success of police dramas through the years. However, the show is more than straight-up crazy emergencies and procedural cases. 9-1-1 wouldn't be nearly successful without its cast.
9-1-1 stars so many familiar and trusted TV faces: Angela Bassett, Peter Krause, Oliver Stark, Aisha Hinds, Kenneth Choi, Rockmond Dunbar, Jennifer Love Hewitt and Ryan Guzman star in the second season. Connie Britton headlined season one. Viewers know and trust these actors from shows like American Horror Story, Parenthood, Ghost Whisperer, etc., helping the show's cred. These familiar faces play characters in life and death situations, which makes for dramatic TV, but some of the best drama comes from their interactions and personal lives. The elements that keep audiences glued to soap operas are alive and well in 9-1-1, which works to its advantage.
When asked about the soap aspects, Hinds said she didn't know she'd be shouldering a lot of that type of story that attracts the audience. "The answer would be no, that I didn't know that I would be carrying the nighttime soap aspect of it, but what I did know was that I was joining an ensemble of amazing people, and I was joining a group of people who have been tried and true in terms of storytelling and engaging audiences, and so I trusted that and trusted myself to fall into the hands of those people," she said.
In the first episode of 9-1-1, Dunbar's Michael Grant comes out to his wife, Athena (Bassett). Later Athena's daughter attempts suicide. Now, Athena, who is a police officer, is in a relationship with Krause's fire captain Bobby Nash. Bassett and Krause said they didn't see it coming.
"I think making any television show, except something that's maybe completely plotted out, like I'm sure even with Game of Thrones or something, it's an organic process, and you kind of go where the story leads you on some level. And I do remember that, when we were writing the first half of the first season, there was a moment where actually, when Abby first comes into the firehouse where Bobby sees her, and he doesn't quite know who she is yet. And I knew that the audience would be, like, 'Oh, they're going to end up together.' So as soon as we established that, I knew they weren't and I knew that there was a more interesting direction to go," Minear said about the relationship between Athena and Bobby. "And, no, we didn't plan at the beginning, but it was sort of a natural, organic thing that happened because of where those two characters were. And when you see them sitting in that church together and you realize they can understand each other in a way that no one else could, it just made sense."
There's something for everyone in 9-1-1. Do you like police shows? Done. Soapy relationship and family drama? It's there. Into crazy, over-the-top emergencies? 9-1-1 has them and more. Straight up police and firefighter action? Yup, it's there too.
9-1-1 airs Mondays, 9 p.m. on Fox. In the Monday, Oct. 1 episode, "Help Is Not Coming," the first responders continue to deal with the fallout of the huge earthquake and the deadly aftershocks, including rescuing victims from a collapsing high-rise hotel.