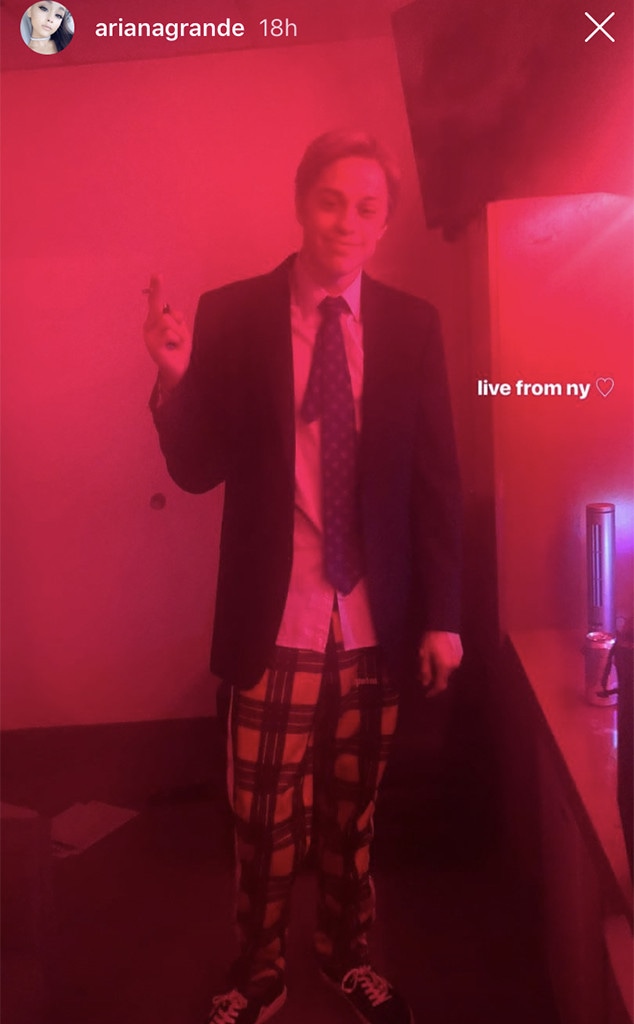 Instagram
Ariana Grande may have canceled her Saturday Night Live performance but she was right by fiancé Pete Davidson's side to support him as he and his fellow cast members prepared to take the stage.
Before the live taping of the NBC show, the 25-year-old singer was spotted in the building, E! News has learned. A couple of hours before the episode aired, as the cast was in final rehearsals, Grande also posted on Instagram Stories a photo of Davidson, writing, "Live from NY ♥."
In the picture, the actor is wearing the same wig and suit he later wore while playing Senator Sheldon Whitehouse (D-RI) in the cold open, which starred surprise guest Matt Damon as Supreme Court Justice nominee Brett Kavanaugh and which parodied his emotional appearance at last week's Senate Judiciary Committee hearing. 
Grande also posted another backstage photo of what appears to be a the door to Davidson's dressing room.
Grande, who lives in New York City with Davidson, was supposed to be the musical guest on the season premiere but dropped out "for emotional reasons" earlier this week, SNL creator Lorne Michaels had said. The singer, who has performed on SNL before, has been mourning the death of her ex-boyfriend Mac Miller, who passed away earlier this month at age 26.
Watch:
Ariana Grande Reflects on ''Tough Month'' in Emotional Plea
Some of SNL's sketches paid tribute to Grande and Davidson's engagement and romance, which began this spring. During the Weekend Update segment, Davidson, playing off how lucky he still feels, made a controversial joke about her and their relationship.
Kanye West replaced Grande as the musical guest and drew controversy himself; After performing three songs throughout the episode, he launched into an impromptu onstage pro-President Donald Trump speech in the very final moments of the show, drawing mixed reactions. Most of it did not make it to air but audience member Chris Rock did post excerpts on his Instagram Stories.