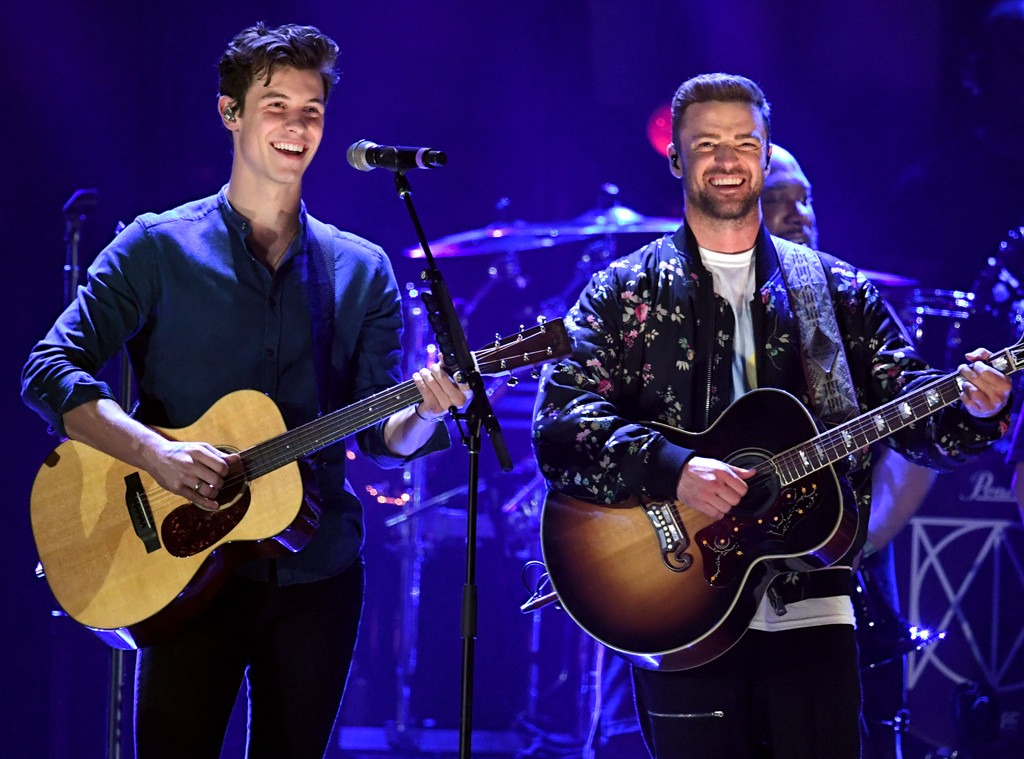 Ethan Miller/WireImage
Justin Timberlake said a little over 10 years ago that he was bringing sexy back, and he made good on that promise at the 2018 iHeartRadio Music Festival in Las Vegas on Saturday night.
In a surprise move, the "Cry Me a River" singer and Mendes sang "What Goes Around...Comes Around" together onstage and the audience, understandably, freaked out. Timberlake posted a video of their duet on Instagram on Sunday, but on Saturday night before the show he teased Mendes' performance. "About to bring this guy on stage..." Timberlake captioned a photo of the two of them.
Mendes praised Timberlake in his own Instagram upload and thanked the NSYNC singer for "being such an incredible guy." This may just be peak bromance.
Before the "In My Blood" artist walked onstage, J.T. cryptically told the crowd a few nice things about Mendes, according to an eyewitness at the event. "I wanna do something special. I've never done this before so we'll see how it goes," he said.
Timberlake said he is a "huge fan of this guy" and went so far as to call Mendes "one of the coolest cats I've met."
Later on in the evening, Mendes said during his performance set that Timberlake is one of his "all time favorites" and called the experience "incredible."
Timberlake has had a whirwind of a summer and entrée into the fall season. He and his wife Jessica Biel and their son Silas Timberlake just returned from a summer trek across Europe for his Man of the Woods tour. Last week, Timberlake and Biel walked the red carpet at the 2018 Emmys where she was nominated for an award in the Outstanding Lead Actress in a Limited Series or Movie category. He warned he would "do something obnoxious" at the ceremony if she won, but Regina King ended up taking home the award for Seven Seconds.
Mendes, a 2018 People's Choice Awards nominee, has been traveling nonstop as well. The 20-year-old singer has skyrocketed to superstardom, and his recent sing along with Justin Timberlake has proven that he isn't going away any time soon.
--Additional reporting by Mike Vulpo