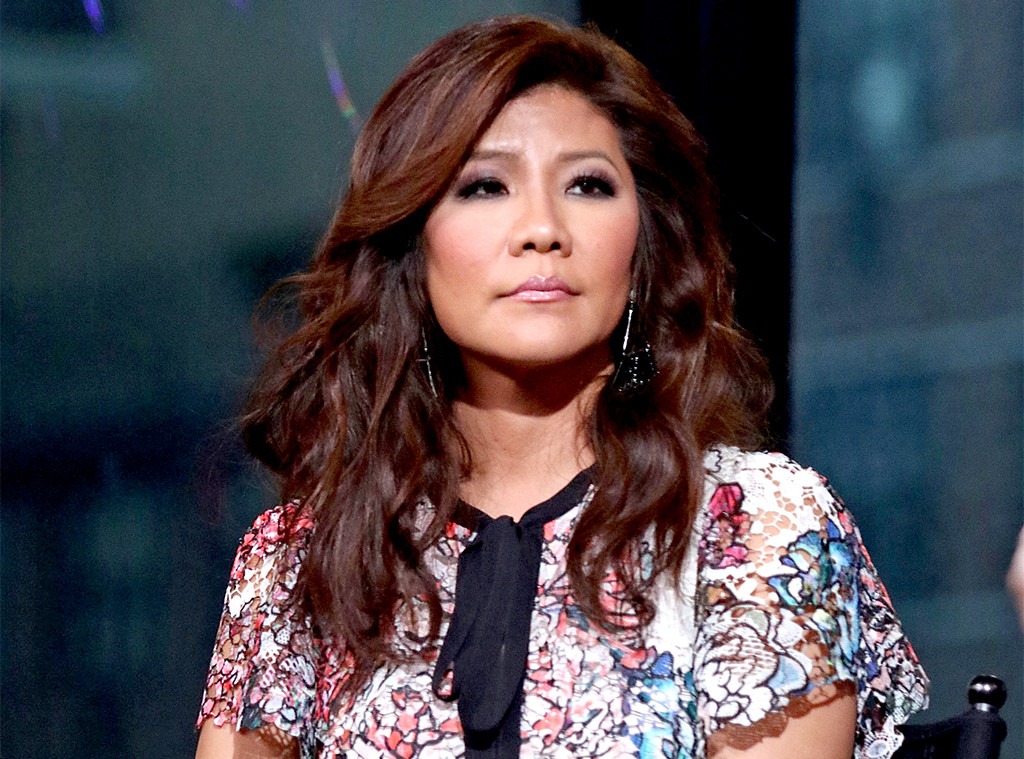 Laura Cavanaugh/FilmMagic
All eyes are on Julie Chen.
Excuse us—Julie Chen Moonves.
In the wake of the two damning New Yorker exposés penned by Ronan Farrow that leveled copious allegations of sexual assault and harassment against CBS Corp. CEO Les Moonves, resulting in the immediate resignation of one of the most powerful men in television, despite his resolute denial of having committed any wrongdoings, attention has turned to his high-profile wife, herself a fixture on the network her husband once ruled with an iron fist. And however unfair it may seem—however much it may appear to be a version of holding the wife accountable for the sins of her husband—the fascination over what Chen will do next makes sense.
Already, she's stepped away from her position as one of the original co-hosts of the network's daytime chat show The Talk—at first, temporarily, as the season began with Moonves' future uncertain; then permanently once his ousting was a done deal. Fighting back tears, Chen announced her departure on Tuesday's broadcast via taped message, making no specific mention of the controversy surrounding her husband, but asserting that "right now I need to spend more time at home with my husband and our young son, so I've decided to leave The Talk."
Though a source confirmed to E! News that Chen's departure was her own decision, made indeed so that she could focus on her family—she and Moonves are parents to eight-year-old son Charlie—it's not hard to see that any attempt to stay on the series would've been downright impossible. As Joy Behar noted on rival talker The View, "I think it's going to be hard for her to go back to The Talk because what topics can they do? They can't talk about the #MeToo Movement without her coming clean about her husband…They can't talk about anything that's related to relationships unless Julie Chen Moonves comes clean."
Of course, The Talk is only one of Chen's high-profile jobs on the network. And it's there where she seems to be making her biggest stand. As the host of summertime reality TV mainstay Big Brother since its debut in 2000, Chen has used her position on the series to reiterate to the public that she's standing by her man, beginning with the Sept. 13 episode which included a sign-off message of "I'm Julie Chen Moonves. Goodnight." Before that episode, which came just days after Farrow's second piece, she'd never used her married name in such a manner. On Wednesday's episode, taped the same day she announced her resignation from The Talk, she opened the show in the same way.
With only a few episodes left in the season—the live finale airs Wednesday, Sept. 26—and Chen's obligations as host much less of a time commitment compared to The Talk—not to mention that what's required of her when she's there is much less personal, much less involved—her decision to see the season through is understandable. "She is remaining on Big Brother because the demands are more manageable," our source said. And once the season is over, she'll be free of any obligations at CBS for the next few months. And while she seems intent on returning to the series when it returns—the show has yet to be renewed for season 21, though it seems like something of a mere formality, but a second season of this year's successful Celebrity Big Brother, which Chen hosted as well, has been ordered—the bigger question is whether or not CBS will want her to.
It's not hard to see Chen's own relationship with the network becoming strained, if it isn't already. Her continued public support of her husband in the face of the accusations, the decision to insert mention of the disgraced CEO into episodes airing on the very network that ousted him by amending her slate to include her full married name—there's one possible interpretation of such actions that includes a lowkey declaration of opposition to the people who forced Moonves out. AKA the people still in charge at CBS. AKA her bosses.
Is there a Big Brother without the Chenbot? Will CBS be willing to roll the dice and find out? That remains to be seen.
Rob Latour/REX/Shutterstock
As was the case with Georgina Chapman and Harvey Weinstein, the expectation that the wife of the accused must answer to us for her husband's alleged misdeeds is a bit unfair, regardless of however much we may wonder what she knew, regardless of however much she may have gained thanks to him and his allegedly abusive ways. Like Chapman's Marchesa fashion line, which gained success among celebrities thanks, in part, to Weinstein reportedly pressuring actresses in his films to wear his wife's designs, Chen's long been subjected to speculation that her rise in prominence at CBS has been made possible, at least in part, thanks to her relationship with the man in charge.
Where Chapman and Chen differ, though, is that, just five days after the New York Times published their detailed account of Weinstein's decades of alleged misconduct and mere hours after Farrow's disturbing New Yorker piece, with its allegations of rape, among other horrific things, was released, Chapman cut and run. "My heart breaks for all the women who have suffered tremendous pain because of these unforgivable actions," she said in a statement to People on October 10, 2017. "I have chosen to leave my husband." (Weinstein has maintained his innocence, pleading not guilty to criminal sexual assault charges in New York City.)
And yet, her career still suffered, too. The Marchesa brand became persona non grata amongst all celebrities attending red carpet events until Scarlett Johansson broke the months-long trend in May at the Met Gala. You can't win for losing, as they say.
"Leslie is a good man and a loving father, devoted husband and inspiring corporate leader," Chen said in a statement issued on Twitter when the first round of allegations against her husband were published, all of which are purported to have taken place prior to their wedding in 2004. "He has always been a kind, decent and moral human being. I fully support my husband and stand behind him and his statement."
As she later reiterated on The Talk, "Some of you may be aware of what's been going on in my life for the last few days. I issued the one and only statement I will ever make on this topic on Twitter and I will stand by that statement today, tomorrow, forever."
Forever is a long time, though. And if her career continues to affected by Moonves' misdeeds, we just might find out the limits to Chen's devotion.