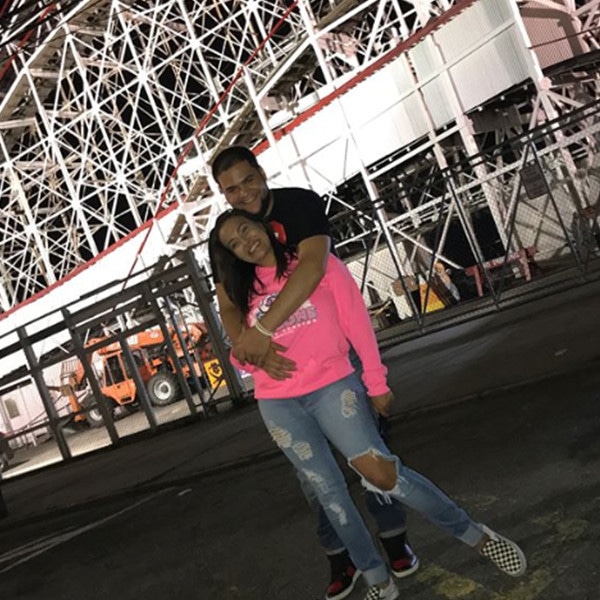 Instagram
Briana DeJesus is dipping her feet back into the dating pond.
On Wednesday night, the Teen Mom 2 star surprised fans on Instagram when she posted a photo with a new man.
"My sweet love, thank you for shining your light into the darkness that was surrounding me," she shared while posing in front of a roller coaster during date night. "#wealmostdiedonthatridetho lol."
So who is this new man making Briana smile from ear to ear?
According to reports, the special guy is Johnny Rodriguez. Soon after, however, Briana cryptically tweeted: "His name is not even Johnny smh. People are so weird." As for her relationship status with this new guy, the proud mom said it's all very fresh. 
"It's nothing crazy and it's relatively new," she told Radar Online. "There's no 'other baby mama' craziness to deal with."
As for whether or not you will see Johnny on the next season of Teen Mom 2, it's too early to say. At the same time, Briana admitted that she's never one to hide things from viewers at home.
"If and when I am, I'll definitely reveal it and of course you'd see it on the show as I'm completely open with my life and what's going on," she teased.
Last season, cameras rolled as Briana and Javi Marroquin developed a special relationship. At one point in the season, the MTV star considered purchasing an engagement ring for his girlfriend.
Ultimately, the pair called it quits with Briana getting into a public feud with Javi's ex Kailyn Lowry. Javi is now expecting a baby with current girlfriend Lauren Comeau.
Despite the dramatic period in her life, Briana has learned a few lessons including the importance of keeping some things a bit more private.
"For now, I'm keeping it private as I don't know if I'm ready to put it out there," she shared. At least we got an Instagram post!