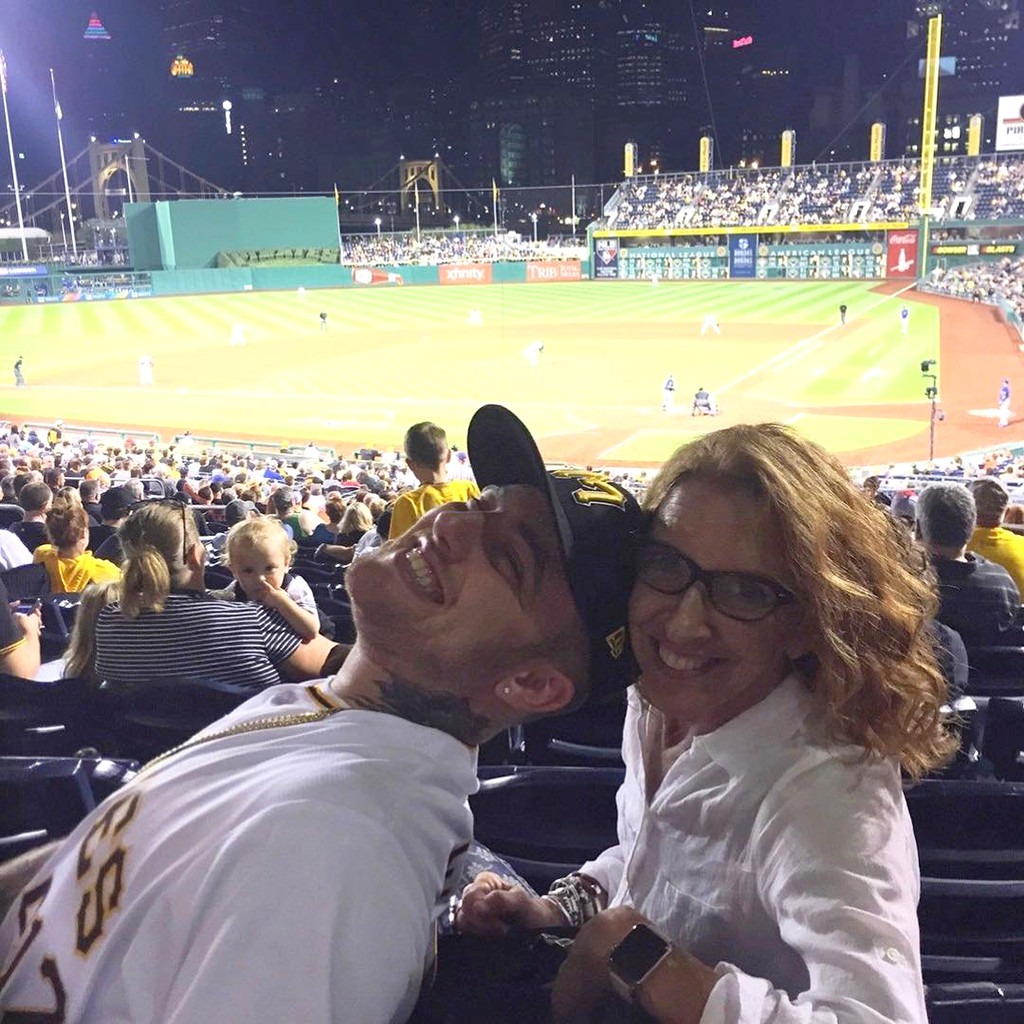 Karen Meyers/Instagram
Mac Miller's mom, Karen Meyers, shared a loving photo of herself with her son one day after he died. The rapper was 26.
In the picture uploaded to Instagram, Meyers and her son (whose real name is Malcolm McCormick) pose together smiling at a Pittsburgh Pirates baseball game. Miller leans his head against his mom's and makes a funny face. She captioned the photo with a broken heart emoji.
Miller died from an apparent overdose on Friday afternoon, but an official cause of death has not yet been announced. He was pronounced dead at the scene.
Yesterday, Miller's family released a statement to E! News. They said, "Malcolm McCormick, known and adored by fans as Mac Miller, has tragically passed away at the age of 26. He was a bright light in this world for his family, friends and fans. Thank you for your prayers. Please respect our privacy. There are no further details as to the cause of his death at this time."
From the looks of her social media accounts, Miller's mom has been his number one fan since the very beginning. From billboards to family outings golfing, Meyers has nothing but a complete outpouring of love for her youngest son. On Aug. 5, she shared a picture to Instagram of a billboard advertising his new album Swimming. She wrote, "Couldn't be prouder of this young man."
One especially touching photograph shows mother and son hugging each other at a Pittsburgh Steelers football game. She captioned the Instagram with three heart emojis as they hold one another in a tight embrace with big smiles. 
She shared the love in a touching Instagram picture on the rapper's 26th birthday where she wrote about his personality and her pride. It said, "Happiest Birthday my youngest. I've always loved this photo .. your smile and love spreads from the inside out...That moment and this moment ..so proud of your great glorious heart."
In a 2014 interview with Complex, Meyers could hardly stop gushing about her son. "I'm incredibly proud and impressed," she said. "He's got a lot of magnetism, always has, ever since he was a baby. I'm very supportive of him," she continued. 
A number of musicians and celebrities posted to social media about the impact Miller had on their careers and lives. In one touching tribute, Ariana Grande  shared a picture of him sitting on the grass looking up at the camera. Grande and Miller dated for two years, but broke up in May.
Chance the Rapper said of Miller, "He was one of the sweetest guys I ever knew. Great man. I loved him for real. Im completely broken. God bless him."
SZA referred to him as "forever a genuine friend."
Our thoughts go out to the McCormick family.