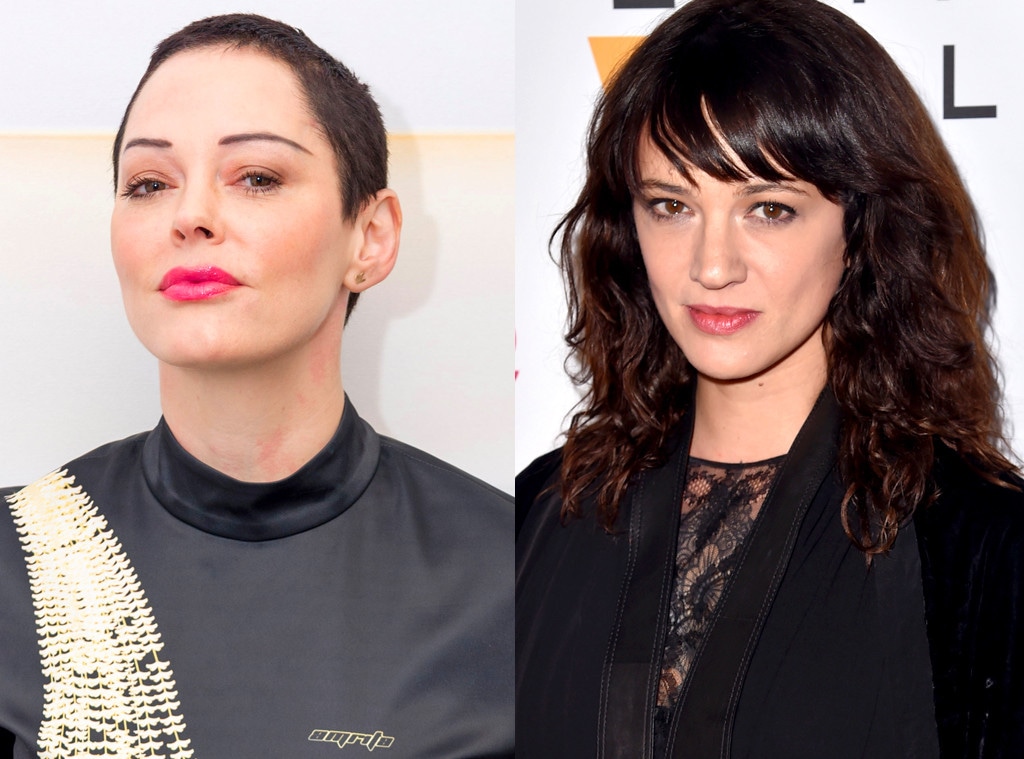 Ken McKay/ITV/REX/Shutterstock; Stephen Lovekin/REX/Shutterstock
Asia Argento and Rose McGowan continue to have different points of view when it comes to one highly publicized case.
Just last month, The New York Times published a report claiming Asia paid off former child star Jimmy Bennett who had accused her of sexual assault. She would "strongly" deny the contents of the article and said she "never had any sexual relationship" with Jimmy.
But just a few days later, Rose decided to speak out and share her involvement—or lack thereof—in the case.
"Many people believe that because we have been close in each other's lives over the past year that perhaps I am affiliated with this incident or being complicit. I am not," she shared in a statement.
But as the pair continues posting multiple messages on Twitter, it has become clear that the early leaders of the #MeToo movement disagree on certain topics.
"It is a shame that @rosemcgowan is not prepared to accept when she is wrong," Asia shared on Twitter Friday morning. "@raindovemodel accepted she was wrong, but her tweet has been deleted. Rose's statement continues to make false claims."
Asia also shared a screengrab of Rain's now-deleted tweet that stated: "It was my mistake in interpreting the texts. You can tell even when I'm writing to Asia I thought she meant that he had been sending nudes since 12. But indeed it's 17. Still underage nudes received. That was my mistake. I clarified today in the press and owned that."
In a previous statement, Rose explained how she became aware of the sexual assault claims made against Asia. When referring to Rain, she used gender-neutral pronouns.
"I received a phone call and series of messages from the being I've been dating—Rain Dove," Rose explained in her lengthy statement. "They said that they had been texting with Asia and that Asia had revealed that she had indeed slept with Jimmy Bennet. Rain also shared that Asia had stated that she'd been receiving unsolicited nudes of Jimmy since he had been 12. Asia mentioned in these texts that she didn't take any action on those images."
As for the claims Asia paid off her accuser, Anthony Bourdain's girlfriend said "we decided to deal compassionately with Bennett's demand for help and to give it to him. Anthony personally undertook to help Bennett economically, upon the condition that we would no longer suffer any further intrusions in our life."
On Friday morning, however, Jimmy's attorney Gordon K. Sattro released a statement claiming the situation has escalated due to Asia's "offensive and dismissive interpretation of this situation in whole."
"Ms. Argento may be a victim of Harvey Weinstein, but simply being a victim of another does not absolve you of culpability for your own wrongdoings and the victims you leave behind," Jimmy's attorney shared with E! News. "Jimmy will not be silenced or shamed, we stand with Jimmy and will see this through until what is right and what is just prevails." Harvey has also denied allegations of nonconsensual sex.