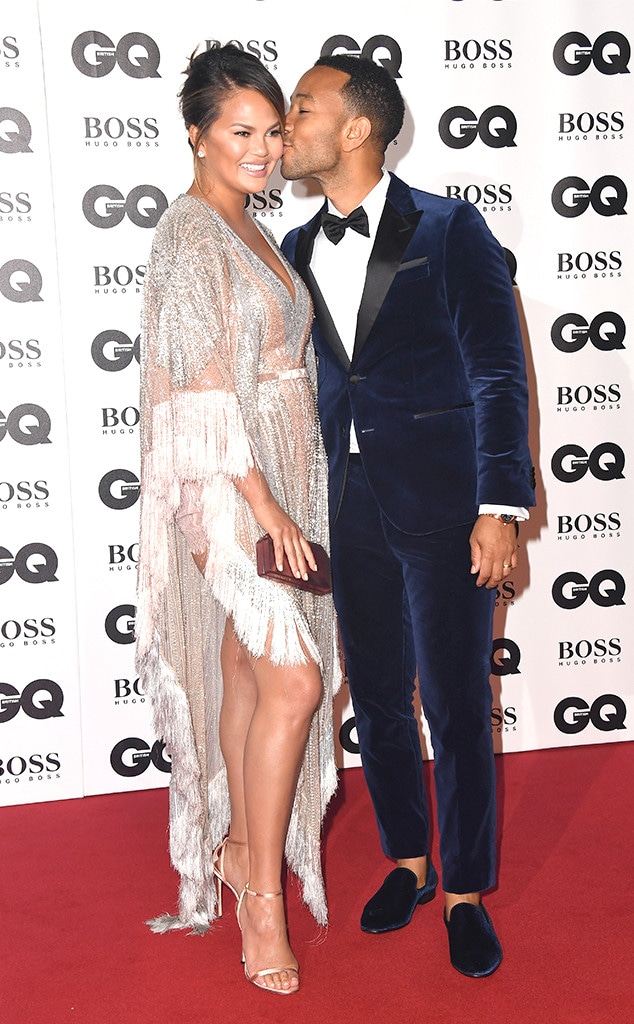 Stuart C. Wilson/Getty Images
Chrissy Teigen made her first red carpet appearance since giving birth to her son in May.
The mother-of-two graced the crowd with her presence at the British GQ's Men of the Year Awards, with her husband, John Legend, by her side. The star dressed in a shimmery, tasseled ensemble and had her hair pulled back in a chic up-do for the star-studded event. In equally stylish fashion, John's navy blue velvet suit complimented the white, silver and gold in Chrissy's gown. 
Besides sharing their fashionable looks with the world, they also shared a cute moment when the singer gave his wife a kiss on the cheek in front of the cameras. 
Teigen's appearance on the red carpet comes nearly four months after she gave birth to Miles Theodore Stephens on May 16.
Since baby Miles joined the family, he has been living the good life. The family recently returned from a very long vacation to Bali, where Miles and Luna spent quality time with their famous mom and dad.
Watch:
Chrissy Teigen & John Legend's First Carpet Since Baby Miles
While Luna got to enjoy more of the big kid stuff, Miles experienced one of his first flights in fashion. 
And, of course, Chrissy and John enjoyed the getaway as well, but they made sure to keep it real with their fans. The Lip Sync Battle host got real about her "mom bod" on Twitter after sharing a photo of herself breastfeeding Miles in the nude. "Instagram is crazy. I think it's awesome people have killer bodies and are proud to show them off (I really do!!) but I know how hard it can be to forget what (for lack of a better word) regular ol' bodies look like when everyone looks bonkers amazing," she wrote to her followers. 
She added, "Also I don't really call this "body confidence" because I'm not quite there yet. I'm still super insecure. I'm just happy that I can make anyone else out there feel better about themselves!"