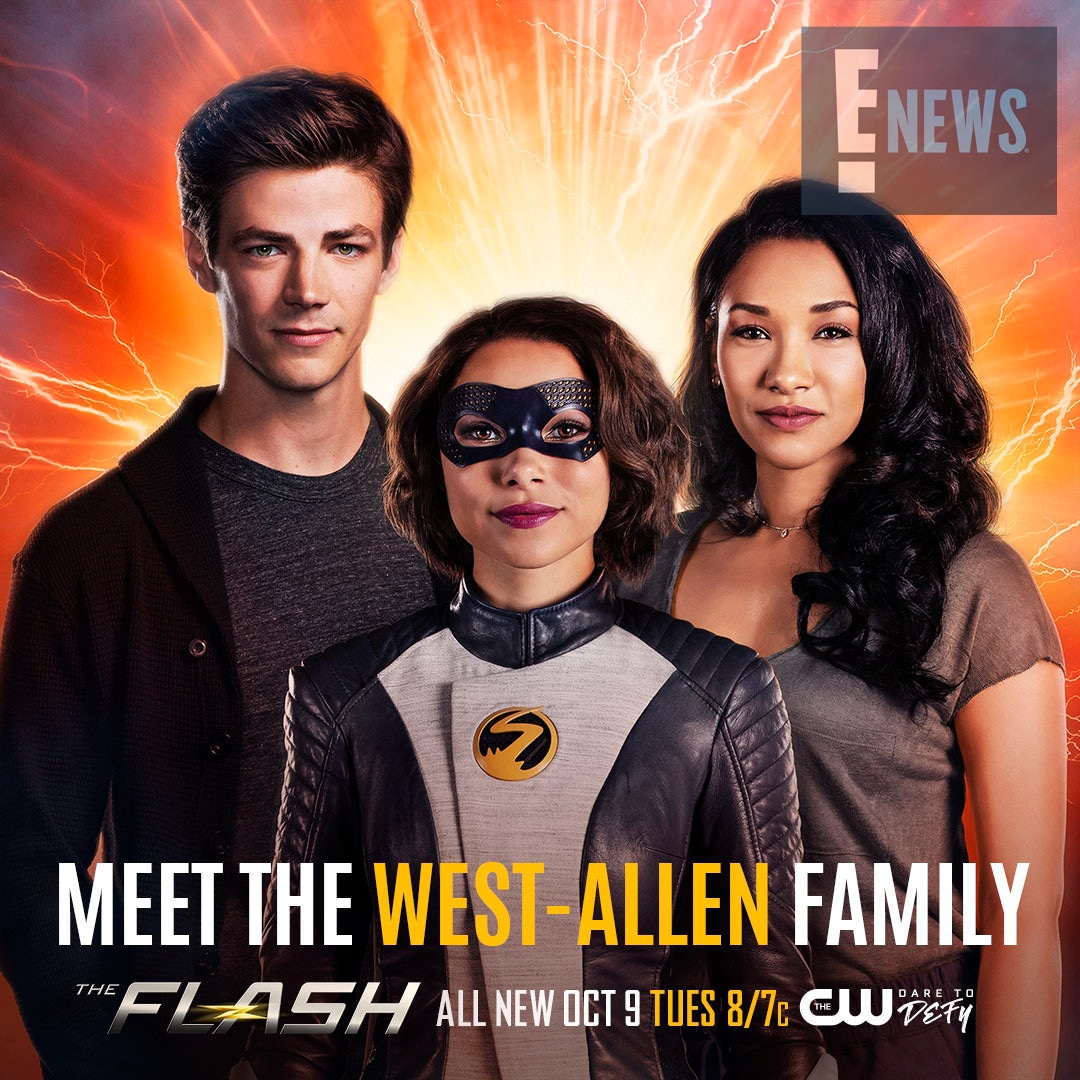 The CW
It's a family affair in season five of The Flash!
Jessica Parker Kennedy is officially a part of the West-Allens as Barry (Grant Gustin) and Iris' (Candice Patton) daughter, Nora, who has arrived from the future with a few secrets to share (or not), and E! News has your first look at the season five poster, featuring the slightly unorthodox but still very adorable family. 
Speedster Nora even has herself a very cool jacket and mask, though there's no sign yet of Barry's new suit, which comes to him in the form of a ring that Nora can be seen giving him in the Comic-Con trailer. 
Speaking of Comic-Con, we caught up with Patton and Kennedy at the SDCC Entertainment Weekly party, where we got the scoop on what sounds like a pretty rough mother-daughter dynamic. 
Watch:
Candice Patton & Jessica Parker Kennedy Talk "The Flash" Season 5
"My daughter is not so keen on spending time with me. She's very much a daddy's girl, wants to spend all of her time with him, and we'll find out later this season what that's all about," Patton told E! News. 
"She reveres her father, but what's going on with her mom, there's something a little strange there," Kennedy said. "She's a daddy's girl, and there's a reason. That'll all be revealed." 
We'll also learn more about Nora's powers and why exactly she's come back from the future, while the show is also returning to Iris' roots as a journalist. 
Hit play above for more scoop on season five!
The Flash returns Tuesday, October 9 at 8 p.m. on the CW.