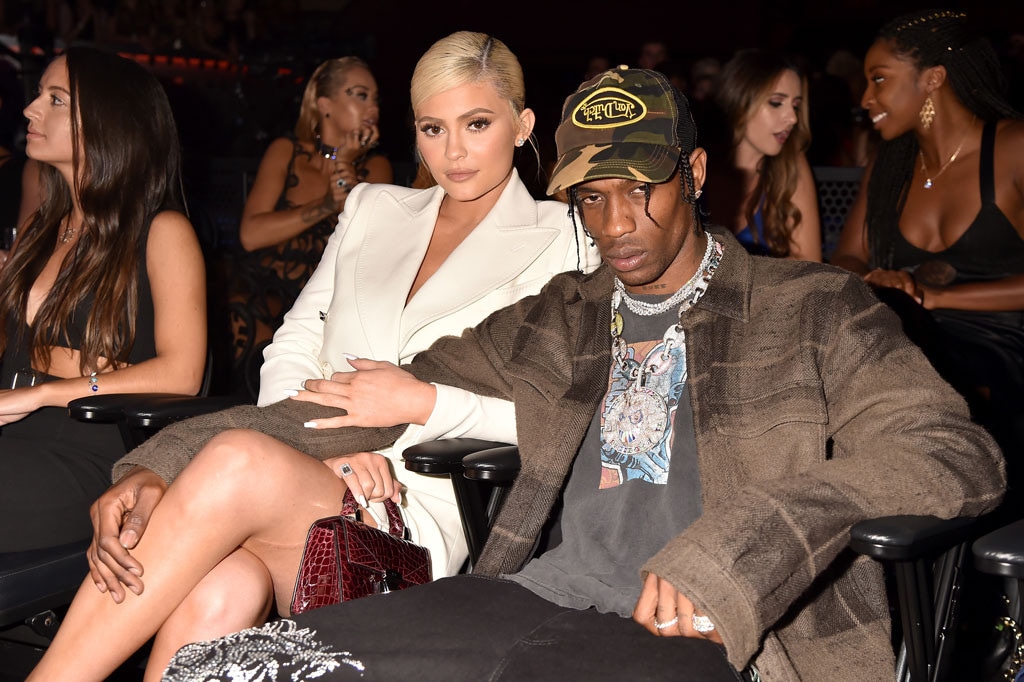 Jeff Kravitz/FilmMagic
With viewers watching their every move, Kylie Jenner and Travis Scott avoided a run-in with Nicki Minaj at the 2018 MTV VMAs in New York City Monday. As E! News previously reported, the couple had been assigned to sit behind her inside Radio City Music Hall. But, after Minaj's album Queen debuted at No. 2—behind Scott's ASTROWORLD—rumors swirled that the couple had requested to be moved in a different section, just hours before the show began.
(TMZ chalked it up to "bad optics," with a source saying Scott felt the No. 1 artist shouldn't sit behind the No. 2 artist. The decision wasn't "about fear of retaliation" from Minaj, TMZ wrote.)
Minaj, who took a big risk on the red carpet in a revealing Off-White dress, had already taken her seat by the time Cardi B did her opening skit and Shawn Mendes kicked off the night's performances with "In My Blood." Jenner and Scott, meanwhile, were nowhere to be found. At 9:24 p.m., Minaj was escorted off the stage, briefly saying hello to Tiffany Haddish, and exited the building. From there, she traveled downtown—in record time—to perform a medley of "Barbie Dreams," "Fefe," "Ganja Burn" and "Majesty" at The Oculus. Meanwhile, Jenner and Scott arrived solo on the red carpet, entering the venue at 10 p.m. during Hayley Kiyoko's set.
DJ Khaled got up to say hello to the couple, who then took their seats—the same seats Minaj and her entourage had occupied just moments earlier. Photographers swarmed Jenner and Scott, and once they left, the Keeping Up With the Kardashians star talked to Ariana Grande's manager Scooter Braun. According to an eyewitness, she also spent a lot of time on her phone.
About 45 minutes later, Scott took the stage with James Blake to perform a medley of "Sicko Mode," "Stargazing" and "Stop Trying to Be God." Jenner and a gal pal were on their feet the entire time, with the E! reality star documenting her boyfriend's performance on her iPhone.  By 10:55, Jenner left and was replaced by a seat filler; Minaj never returned to the music hall.
E! News attended a press preview Friday, where executive producer and Den of Thieves co-founder Jesse Ignjatovic explained how seating arrangements were chosen. "It's a grand room, but it's also intimate, so I think the audience in the room really feels connected to the show, versus an arena, where you're far and you have to look at the screen the whole time. Here, every seat's a good seat. And then we really worked to make sure our award nominees and talent have an exceptional spot," he said. "I mean, they are right in the middle of the action!"
While it's unclear if Jenner and Scott purposely tried to avoid Minaj—or vice versa— Ignjatovic said the network always keeps the talent's tensions in mind. "First and foremost, you want people to come and have a good time. You don't want any artists and celebrities to come and be uncomfortable. That's not the point of this show; that's not the point of any show. The point is to be entertained, to have fun, to hang with your friends—like any of us," Ignjatovic told E! News. "We are always cognizant and do our best to make sure everyone's having a good time."
After they left the venue, Jenner and Scott went to 1OAK for a private post-VMAs celebration.