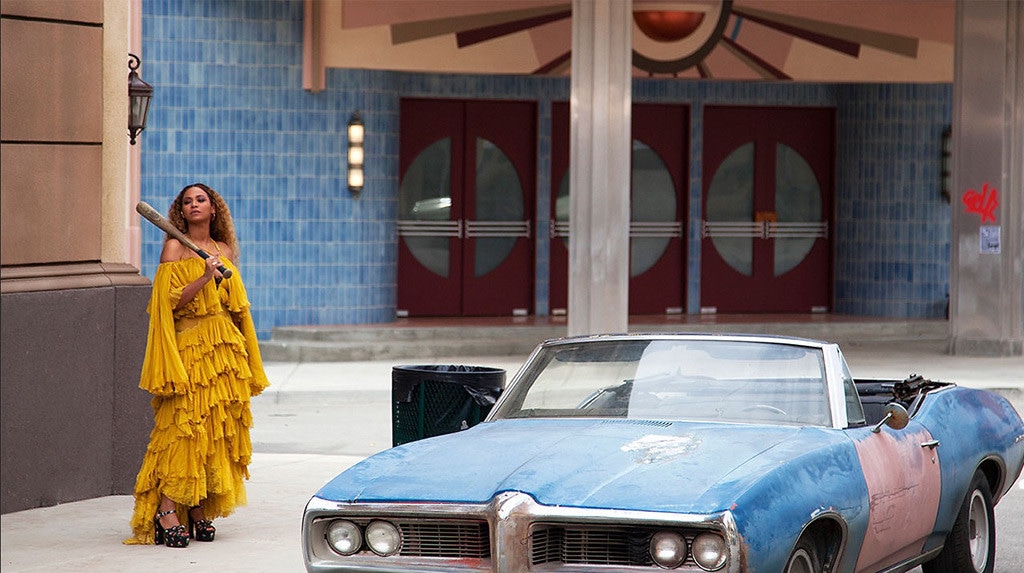 Tumblr
All hail Queen Bey!
It's Beyoncé's birthday everyone, which means it's basically National Beyoncé Day.
OK, there's no such thing as National Beyoncé Day, but if there was you know you'd be celebrating it, right?
In honor of the legendary singer's 37th birthday, we've rounded up her best music videos of all time. While it was a hard task, someone had to do it and we gladly volunteered as tribute. 
After looking at the singer's impressive video collection, we were able to narrow it down to the Texas native's top 16 videos, but we couldn't actually pick a No. 1 piece without your input.
So, get ready to relive Beyoncé's best video moments below and then make sure to cast your vote for her greatest video of all time.
PS: make sure to show the "Single Ladies" singer some love on social media today. She's Queen Bey after all and every queen deserves the royal treatment from her fans.
"Baby Boy" feat. Sean Paul
"Baby Boy" is one of the 37-year-old singer's most iconic songs and rightfully so, it's so darn catchy. The video for this song is equally as memorable and it's mainly due to Beyoncé's sexy dance moves and tanned (and toned) body. There are a lot of body rolls, belly dancing moments and bathing suit clips that make this one hot video that won't soon be forgotten.
"Crazy in Love" feat. Jay Z
"Crazy in Love" is one of our favorite videos from both Beyoncé and her husband Jay Z. It is the ultimate fierce video from the artist. She rolls around and dances in booty-hugging jean shorts in between posing on the top of a downtown rooftop before slaying it completely with her booty bounce in the streets with her squad.
"Drunk in Love" feat. Jay Z
This song (and video) is basically the part two of the couple's "Crazy in Love" journey and it's even sultrier then we could've ever asked for. The video isn't super complex, but it does show Beyoncé and Jay Z wrapped up and in love with one another on the beach and loving every moment of it.
"Single Ladies"
Like you thought "Single Ladies" wouldn't be on this list! Not only is this song iconic, but the video started a dance craze with people learning the singer's moves and posting their own videos doing her now-famous steps like her walk and hand flip. It's so simple, yet so memorable.
"Formation"
"Formation" was nominated for a Grammy for Best Video of the Year and its story and cinematography definitely lives up to the hype. The video takes place in New Orleans, shows the aftermath of tragedy and natural disasters, and combines Beyoncé's typical fierceness throughout and it's wild. Whether it's Beyoncé looking like a southern belle or her dance moves in a drained pool, every moment in this clip is entertaining.
"Blow"
Beyoncé rolled up on a gold bike to kick off this video and really, do we need to say anything else? The whole thing is like a trip back in time to an '80s roller disco and we love every second of the old-school video. The colors, the rollerblading, and Beyoncé's wardrobe throughout are out of this world.
"Why Don't You Love Me"
Beyoncé stars as "B.B. Homemaker" in her blast-from-the-past video for "Why Don't You Love Me." The singer embodies different personas of the ideal woman...gorgeous, a homemaker, and willing to wait on her man. The retro images of the artist are totally on point and basically give us a glimpse into the past and we can't help but be hooked throughout the whole song.
"Hold Up"
Almost every video from the visual album on Lemonade is a winner to us. "Hold Up" stands out however because it begins with the singer submerged in water, which is insane, and then leads us to her walking down the street with a big baseball bat and taking out her frustrations on cheaters in style. It's pretty freaking awesome.
"7/11"
Which one of Beyoncé's videos hasn't created a dance craze? The answer is probably none of them! "7/11" for example is a series of home videos, including one of the singer on her balcony in a Kale shirt dancing, that has been recreated by so many fans we can't keep track of them all. It's super fun to watch Beyoncé in her natural state of showing off her moves in her underwear with her squad and appearing so normal…assuming your definition of normal is creating fun music videos with your girls in your undies.
"Run the World (Girls)"
Anarchy, mayhem and girl power are in high supply for the "Run the World (Girls)" experience and we say experience because it is more than a video. It shows Queen Bey and her girls dancing, dominating and taking over the world, because let's face it girls run this world! PS: the costumes in this video are even more dramatic and amazing then we could've hoped for.
"Countdown"
Beyoncé's beauty is on full display in this minimalist video for "Countdown." The whole thing shows Beyoncé in black and white ensembles mixed with moments of her rocking colorful bodysuits, but the constant is that she always looks beautiful. Plus, there are a lot of fun video angles and choices in this one that make it visually appealing and fun to look at.
"Love on Top"
Honestly, how does one get moves like Beyoncé? Even in her simplest videos she shows how talented she is as a dancer and singer and we're beyond jealous of her skills. We love that the artist starts this video in a simple studio just dancing and singing at a mic stand before transitioning into a gold suit and going full showman on us. It's easy and simple and yet we are in awe every time we watch.
"Haunted"
If you wanted to know what American Horror Story would be like if Queen Bey was one of its stars, then all you need to do is watch this five minute performance of "Haunted." Not only does Beyoncé have looks to kill in this video, but every moment—from the rooms in the mansion she arrives at, to the people who she sees in the halls—is creepy and eerie. It's like watching a mini haunted movie.
"Get Me Bodied"
Silver dresses and black heels never looked so good until Beyoncé threw them on for this video. In it you see the artist walk into a party and cause a stir with her look and confidence and overall mod-inspired style. She then works the stage and parties alongside her girls, Solange, Michelle Williams and Kelly Rowland and it's like a retro dance party that we wish we were invited to.
"Partition"
"Partition" is hands down one of the Texas native's sexiest videos to date. Throughout the song you see Beyoncé in lingerie, bustiers and barely-there ensembles as she seduces the viewer and shows off her killer bod. It's so hot.
"Bootylicious" by Destiny's Child
We know this is a Beyoncé appreciation post, but Destiny's Child is what put her on the map and we still miss this trio on the regular, so we're including this song for fun. "Bootylicious" is one of the best music videos ever, especially for Beyoncé, who along with her two band mates Williams and Rowland, rocks numerous costume changes including a pimp ensemble and lots of other fun and colorful outfits while showing off her booty.
Happy birthday Beyoncé, we love you!