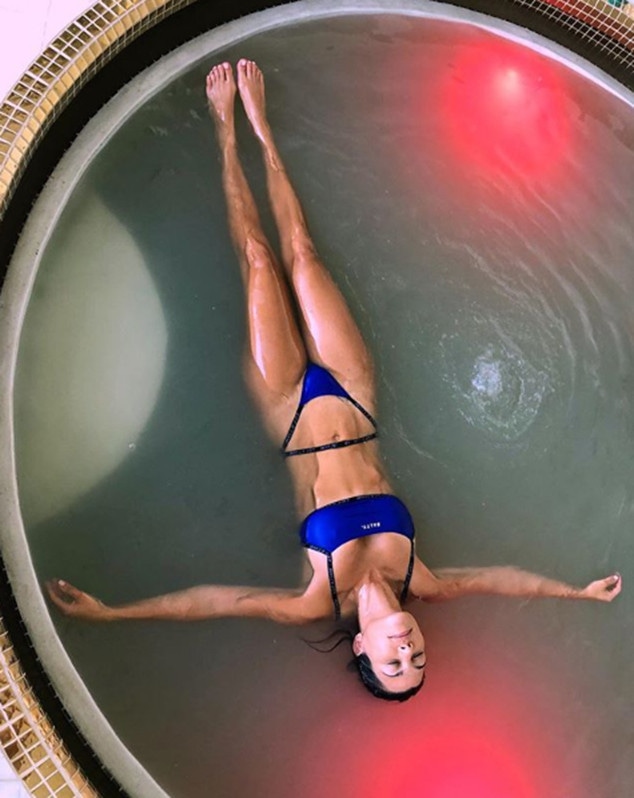 Instagram
Living well is the best revenge!
One week after news broke that Kourtney Kardashian and Younes Bendjima had split after nearly two years of dating, fans are curious to know how the Keeping Up With the Kardashian star is doing.
Before you think the reality star is experiencing the breakup blues, all signs point to the complete opposite.
In fact, Kourtney may be living her best life as the summer season comes to an end.
On Monday morning, the mother-of-three kicked off a brand-new week posing in a bikini for her 66 million followers. "Detox," she captioned the photo while wearing White Fox Swim at an unknown spa.
"Shake It off," Malika Haqq wrote in the comments section as Kourt proved she may not be the least interesting person to look at after all. The Instagram post, however, is further proof that the single mom isn't letting a new relationship status get her down.
Since the breakup news made front-page headlines, Kourtney has enjoyed nights out with friends. And when Kylie Jenner celebrated her 21st birthday, the businesswoman had no problem hanging out with Scott Disick.
And whether she's flipping off the cameras with her sisters or posing for a smiling selfie on Instagram, Kourtney is doing life her way.
"She knew [the breakup] was coming and was already mentally preparing herself," a source previously shared with E! News. "They have been having issues for the past month and had already agreed to take space apart."
As for the photos that surfaced of Younes getting close with model Jordan Ozuna, we're told Kourtney wasn't fazed by them.
"Of course the photos were upsetting and embarrassing to Kourtney, but she's in a good place right now and ready to move on," our insider shared. "She was upset for a moment and then got over it."
Moving forward, Kourtney remains focused on co-parenting with Scott and preparing for a new school year. In an Instagram post over the weekend, Kourtney shared a daily devotion with her followers proving her faith and spirituality hasn't changed.
And for those wondering if the E! star could be dipping her feet in the dating pool again soon, it sounds like anything is possible.
"Kourtney has already told friends she's ready to get back in the dating game and have fun with her friends," our source shared. "Everyone in the family has been really supportive and has been making sure she's entertained and busy."