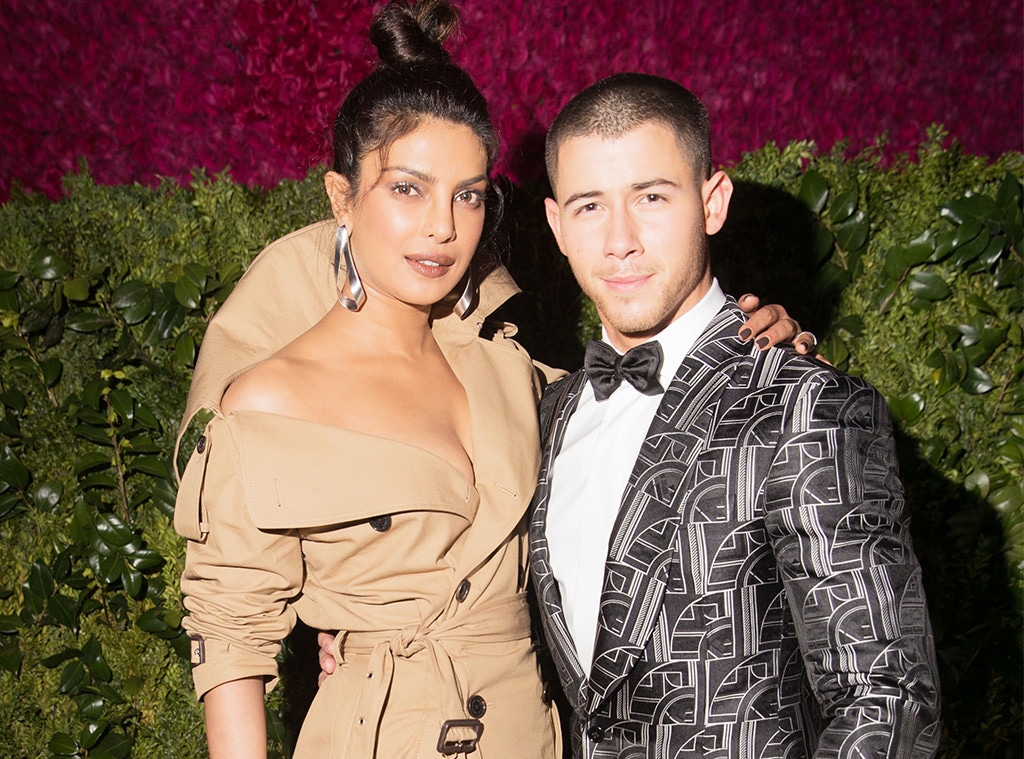 Kevin Tachman/Vogue/REX/Shutterstock
The evidence is there. Should someone choose to Google Priyanka Chopra's history, it will turn up a list of (mostly actors) she has purportedly dated over the years. And the actress herself has copped to being in a relationship at some point, telling India Today earlier this year that she was newly single. 
But that's pretty much it. 
Despite being in the public consciousness since 2000, the year she nabbed the title of Miss World, Chopra has never so much as mentioned a boyfriend by name and she certainly hasn't gone full "We're a couple. We're in love," like her pal Meghan Markle.
"I've never flaunted my relationships," she told Filmfare in 2016, citing her belief in buri nazar, the evil eye. "So if something is important to you, you protect it and keep it close to your heart." Which means she's worked hard to prevent people from dissecting her most treasured of connections. "All my life," she explained, "I've never commented on the fact whether I'm in a relationship or not."
That's still mostly true. In her most recent interviews, the 36-year-old Quantico alum has dodged questions about her new flame, 25-year-old former boy bander Nick Jonas. But her actions have spoken far louder than any words could. The actress, who once bragged about her ability to evade photographers while out with a significant other, has been snapped with her Jo Bro everywhere from Atlantic City to Mumbai. And while there's certainly an argument for it being tougher to remain private when you're dating a star of equal wattage, Chopra has also taken to Instagram Stories to share a few moments directly with her 25 million followers. 
To hear pals tell it, though, this romance is worth breaking her long-held rules. Some two months in, the couple "are infatuated with each other," one insider tells E! News. "Everyone around them thinks that they will be engaged within six months to a year." 
@MARKMILANTHEPAPARAZZIMAN / BACKGRID
That falls in line with Chopra's other relationship truism: She doesn't date around. While she's bristled at the idea that everyone in her native India is in an arranged marriage, she says her upbringing has dissuaded her from taking part in the casual hookup culture enjoyed by many of her peers. 
"I've never dated. I've always been in relationships," she told In Style in 2016. In India, continued the daughter of two army physicians, "It's very different. You like someone, you court each other, you get into a relationship. You're answerable to each other. Whereas the nonanswerability of dating, my god, I don't know if I would ever be able to." 
Fortunately for her, just weeks in, she and Jonas have long past the casual stage. That would be those early weeks when the 2017 Met Gala dates (just pals at the time and guests of Ralph Lauren) were attending baseball games, yachting around L.A. and trying to slyly flirt through each other's Instagram photos. 
Since then, they've sped through the standard relationships milestones at a dizzyingly brisk pace. She met his family, attending the June wedding of his cousin in New Jersey. And that trip went so well ("They loved her," a source told E! News at the time, "and he was very proud and excited to bring her around and give her a feel for his home life,") she returned the favor, bringing him home to mom. (Her beloved father passed away from cancer in 2013, leaving Chopra to memorialize him with a handwritten Daddy's Little Girl tattoo.) 
"They spent time in India meeting Priyanka's family at a wedding," a source explained to E! News, adding her mom "absolutely adored Nick and thought he was very charming." 
Once back in New York, they celebrated Independence day with his family—including brother Joe Jonas and his fiancée Sophie Turner, who have quickly become their go-to pair for double dates—and contemplated taking the next leap in their whirlwind of a union. With Jonas already spending several nights crashing at Chopra's NYC apartment, "The next step is him permanently moving in," says an insider, "and it has been a discussion." 
Peter Parker / SplashNews.com
Such a move would suggest the well-cut singer-actor has proven himself a worthy mate for the UNICEF Goodwill Ambassador, who boasts the trifecta of brains (she had plans to study aeronautical engineering before her film career took off), beauty (reminder: she won Miss World) and heart (her self-named foundation funds "education for kids who want to study and can't afford it," she noted to People). Because she doesn't mess around when it comes to relationships. 
"I don't like liars," she noted to Elle Canada. "When you're scared of the truth, it's such a turnoff. I also get upset when people try to 'handle' you or don't give you credit for your intelligence and try to manage you for a desired effect. I don't like games, at work or at play." 
So she's upfront about what she expects in a partner. "I've high standards," she admitted to Filmfare. "I need someone who keeps me engaged, is intelligent, well-spoken, well brought up. Because I'm proud of my upbringing. Being decent and courteous like my father is important to me." (Score one for Jonas who said of his squeaky-clean childhood during a 2016 Reddit AMA, "I came from an incredibly religious home, growing up my dad was a pastor, and much like The First Family or people in front of the public eye, we were highly scrutinized as a family within the church and looked at as, well I guess you would call an example of what that family image should be.")
Overall, Chopra's ideal man, she told the site is someone who makes "my chest swell with pride" much like her mom's once did for her father. "If he's not cerebral, if he's not smart and cannot engage me, then it cannot happen," she explained to India Today. "That's the biggest, most important thing for me." 
Presumably, the comely singer-songwriter, who founded his own diabetes charity Beyond Type 1, fits that bill. And Chopra checks off the boxes he detailed to E! News in 2015, saying, "It's about finding someone that makes me think, brings something real to the table and just inspires me in some way."
Chopra, who bills herself as a being "a good girlfriend" that completely gives herself over to a relationship, brings quite a bit to the proverbial table. An insider tells E! News the well-traveled star (as an army brat, she's lived all over the world) is "different from anyone else," that Jonas has dated. "She's very mature and sophisticated. It's been a breath of fresh air."
Already having recorded some 50 films in India, she's crossed over into American cinema with last year's Baywatch, June's A Kid Like Jake and the recently completed Isn't It Romantic. And she's determined to turn her "very small" self-funded Priyanka Chopra Foundation for Health and Education "into a big thing" in the next decade she told People. 
And while she expects a guy to put forth the necessary effort—"I like to be pursued and wooed,"—much like Jennifer Lopez, her love don't cost a thing. "I buy my own diamonds. I don't need someone to buy them for me," she explained to Filmfare. "When a guy comes into my life it'll not be for the diamonds, it'll not be for the cars, it'll not be for the homes." 
What she prefers instead, she noted to Entertainment Tonight while hosting a July 12 event with Vogue and Saks Fifth Avenue, is a man who has a way with words. Like, say, the "Jealous" singer, who has some 90 writing credits to his name, including that 2014 hit he penned for then-girlfriend Olivia Culpo. "I think it's the written word that always makes me really happy," she explained, "like something written down, a letter, a note. Do not ever get me chocolates and flowers." 
And for the love of all that is holy, do not ask her to subscribe to the belief that every woman is on the hunt for her prince charming. She wasn't buying it when people were reducing her pal Meghan, now a real live duchess, down to Prince Harry's gal. "I mean, she's an actor, she's an activist, she's a philanthropist," she insisted. "I mean, she does so much more." And she certainly won't stand for it in her own life. 
"Think about it," she opined to ET, "every fairytale ends at the princess getting married to the prince. What happens to her life after that? So the idea is, 'Oh my God, she found her prince and now her life's done.' Most people's lives start after they get married. And that's how it should be." 
She wouldn't mind someone to share her world with—"I totally want to get married at some point," she told ET—and "have lots of babies." (That's item number two on her bucket list, she told Vogue, right after visiting every island in the world.) 
But locking in a husband is far from her greatest wish. 
When she blows out the candles on her 36th birthday cake today in some far-flung locale (she hinted to ET she'd be celebrating by "going for a secret getaway," presumably with Jonas as a companion) she intends to repeat the same oft-used desire. 
"My birthday wish this year would be what it is every year," she said, "for the next year to be even better."
We have a feeling this one just might come true.