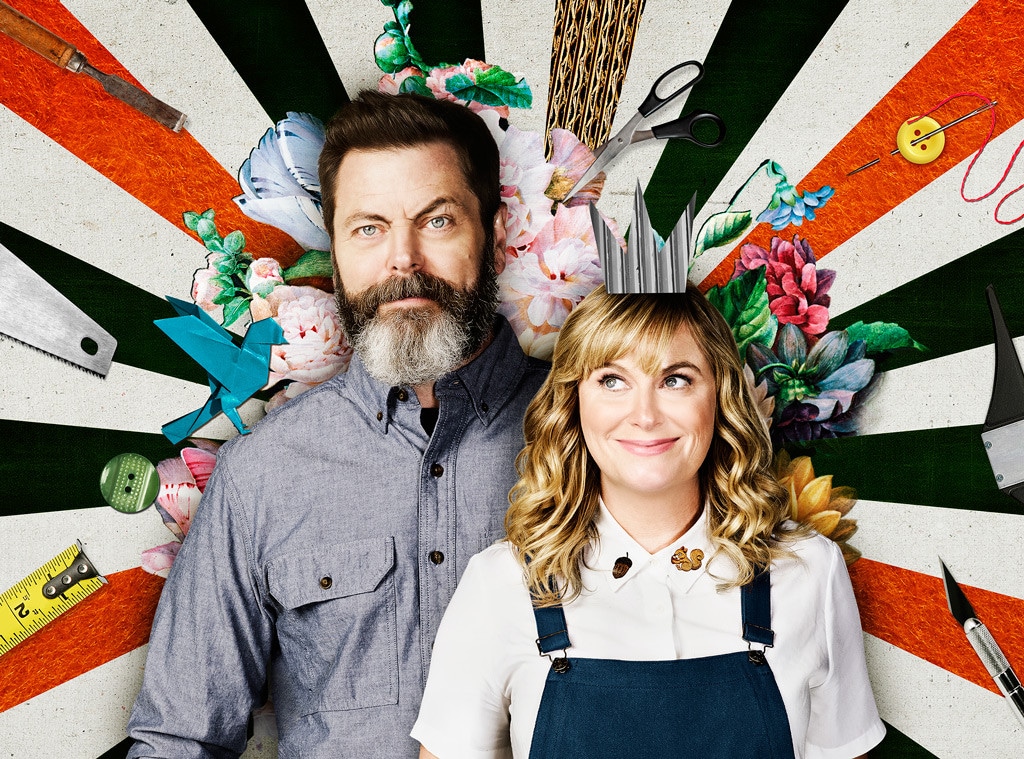 NBC
Nick Offerman and Amy Poehler are two very funny people.
The pair has known each other since the early '90s and although the first big project they did together wasn't until Parks and Recreation, they now have another TV series for you to love them on.
Making It, which is a crafting competition series, premieres later this month and we are already counting down the days until we see these two back on screen together.
Over the years, Offerman and Poehler have had a tendency to make us laugh no matter what movie or TV show they've been a part of. Our favorite moments however, are when they team up and make us giggle the whole way through.
Ahead of the Making It premiere, the two hosts had a craft pun-off this week and we're still laughing to ourselves just thinking about it. This funny skit got us thinking about some of their funniest times on Parks and Recreation and beyond (together of course) and now you can vote for your favorite one below!
Crafty & Punny:
In honor of their upcoming series Making It, Offerman and Poehler had a craft pun-off and we are still laughing at everything they said to one another. If you want a little teaser from it Offerman says, "Why don't you relax and untwine" while Poehler says, "life's a stitch and then you die." It's perfect.
De-programming Jeremy Jamm:
What's better than Ron Swanson (Offerman) and Leslie Knope (Poehler) in the Parks Department on Parks and Recreation? Hanging out in the woods and de-programming Jeremy Jamm (Jon Glaser) obviously. When the two characters try to help Jeremy get over Tammy 2 they reenact her possible advances, role play and slap Jeremy to his senses. It's hilarious.
Whiskey No-Go:
Every fan of Parks and Recreation knows that Ron loves whiskey, so when Leslie makes him wait until he sobers up to drive one night hilarity ensues. She reads on his car, rambles on for a long time and when he does get home to spite her he makes a harp, which of course Leslie loves.
Friendsgiving Fun:
In a special Google Home ad back in November, Poehler and Offerman teamed up once again and it just warms our hearts. As Poehler does all the cooking, Offerman makes a turkey decoration and it's too funny.
Capitalism Over Coffee:
On another episode of their NBC comedy these two met for lunch and battled it out about Capitalism in city government and when all is said and done the chow down on turkey treys. It's funnier than it sounds, trust us.
Ron vs. Leslie:
Before the series finale of Parks and Rec, Ron and Leslie were in a fight and the only way to fix it was for Leslie to bug Ron so much that he broke down and had a heart-to-heart with her. While their friendship troubles were so sad to see, watching Ron try not to break was awesome.
Singing "Bye, Bye Li'l Sebastian:"
Technically this is a funny cast moment, but we will let it slide. When appearing on Late Night With Seth Meyers back in 2015 the Parks and Rec cast ended the show by singing, "Bye, Bye Li'l Sebastian" and the whole thing is a hot mess that we can't stop watching…in a good way.
Making It premieres on Tuesday, July 31 on NBC.
(NBC is a part of the NBC Universal family)
Nick Offerman & Amy Poehler Moments