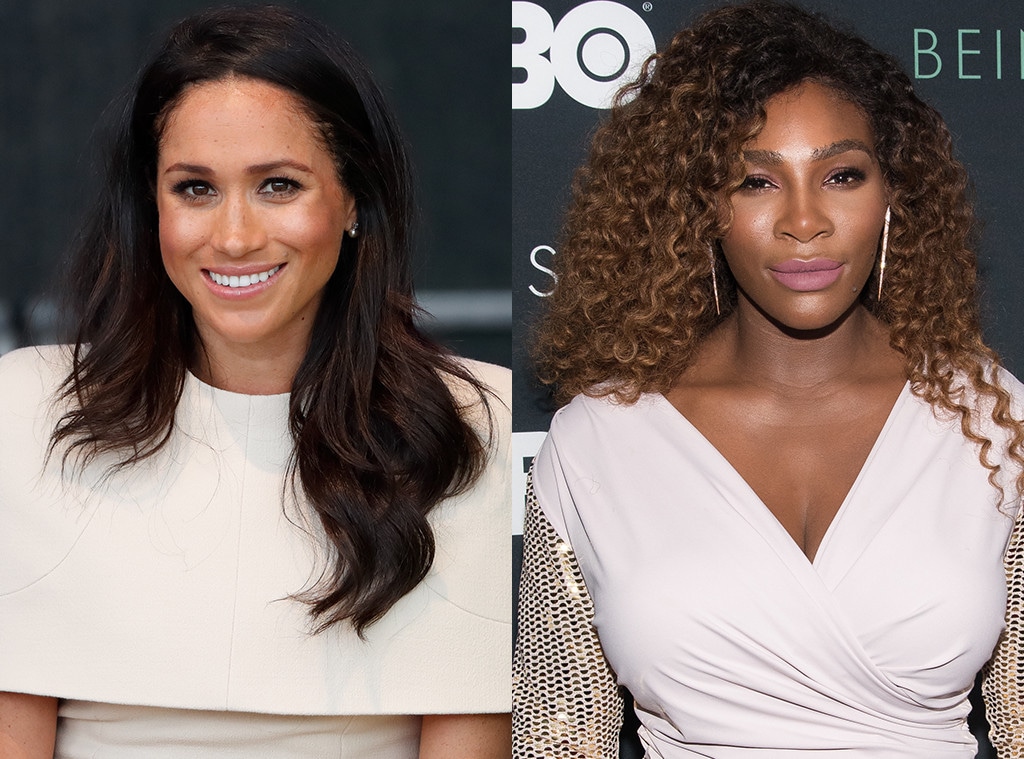 Max Mumby/Indigo/Getty Images; Mike Pont/WireImage
After winning her first-round singles at Wimbledon, Serena Williams weighed in on whether Meghan Markle might come to watch her play.
"I don't know," the tennis star said to a reporter during a press conference. "We'll see. If I keep winning."
Williams recently spent some time with the Duchess of Sussex at the annual Audi Polo Challenge at Coworth Park. Of course, the tennis star and her husband Alexis Ohanian also watched Meghan marry Prince Harry at the royal wedding in May.
"It was super fun," Williams recalled to InStyle. "You know, I've known Meghan for years, so it was good to see my friend happy."
This match was a significant one for Williams. As a reporter noted, it marked her first match at Wimbledon since becoming a mother. The athlete gave birth to her daughter Alexis Olympia in the early fall.
"It's good, I guess," Williams said when asked about the return. "I didn't think about that actually. It felt good to play, just to be back on the grass."
Now, the little one gets to enjoy the major milestone with her mother. Williams shared a video of her spending time with her daughter on the court last week. 
Still, finding a balance between work and motherhood can be difficult. 
"I spend so much time with her every single day," Williams told reporters. "We, like, literally do everything. I really don't like being away from her, but I also think it's healthy in a way for me to do what I need to do and be that working mom and then go back home and be the mom."
It certainly has been a busy time for the champion. In addition to becoming a mother and going for her next title, Williams tied the knot with Ohanian in November 2017. However, it still hasn't fully registered with the athlete.
"It still doesn't register that I'm married actually," she said. "It's just crazy. So much has happened in the past 12 months."
As for the future of her tennis career, Williams teased she's going to keep playing until Roger Federer stops. "As long as he's here, I'm here," she told reporters. However, Williams previously told InStyle she'd consider retiring if she had another baby.
"I don't know if I want to play if I have another baby," she told the magazine, "but you're right. I need to talk to Alexis. We need a plan."
It was a good start for the entire Williams family. Venus Williams also won her Wimbledon match.