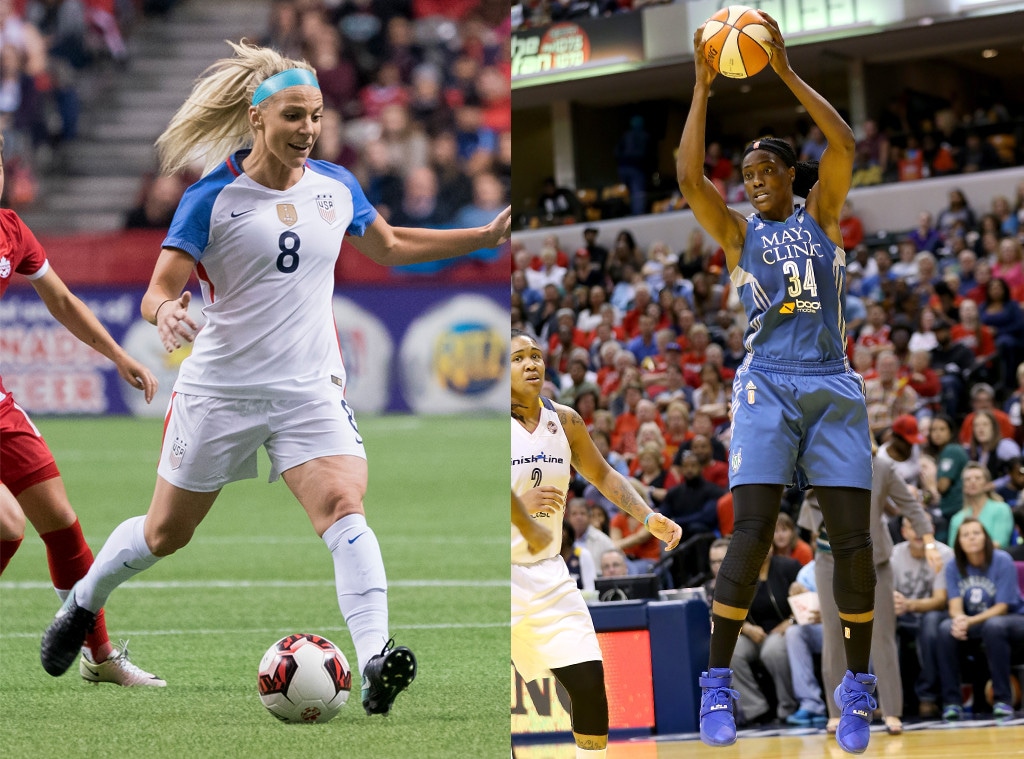 Getty Images
Get ready sports fans, because the 2018 ESPYS are coming in hot!
This year's ESPYS airs on Wednesday, July 18 so mark your calendars. Ahead of sports' biggest night—which will be hosted by Danica Patrick this year—you can cast your vote for which female athlete you think dominated the sports world.
There have been a lot of amazing performances by women in sports this year, but only one can come out on top. 
Will you be rooting for soccer star Julie Ertz or basketball's Sylvia Fowles? What about the two Olympians who caused quite a commotion with their gold medal finishes at the 2018 Olympics?
No matter which female athlete is your favorite, she deserves your vote, so tell us who the No.1 woman in sports is below before you tune into the award show tomorrow.
There are four fierce females up for the Best Woman Athlete title this year and it really is anyone's game.
For starters, Ertz has been dominating the world of women's soccer for a while now and we're constantly impressed with her play. She is a part of the Chicago Red Stars and the U.S. Women's National Team.
In 2015, she won the FIFA World Cup, and this past season on the Chicago Red Stars she started 21 out of 22 games she was in for 1932 minutes with four goals to her name. Oh, and she's married to Philadelphia Eagle player Zach Ertz, who won the Super Bowl this year, because amazing athletes stick together.
Fowles, from the Minnesota Lynx women's basketball team, is also on the ballot. She has won the WNBA Championship in both 2015 and 2017 and had an average of 18.9 points per game this past season which is pretty awesome.
Plus, she was named the 2017 Most Valuable Player.
The other two ladies in this category dominated on the mountains at PyeongChang in the 2018 winter Olympics.
First up is Mikaela Shiffrin who is a skiing badass. She is a two-time Olympic gold medalist having earned her second one at this year's games in giant slalom and she has three overall medals earning a silver in alpine combined in 2018 as well.
Chloe Kim is the second Olympian up for the big award. She was only 17 years old when she won her PyeongChang gold medal in the women's snowboard halfpipe. Her win earned her the title of youngest woman to win an Olympic snowboarding medal, which is so cool.
Now it's your turn to tell us which of these talented ladies deserves to be dubbed Best Female Athlete when the 2018 ESPYS take place this week!
2018 ESPYS: Female Athlete of the Year