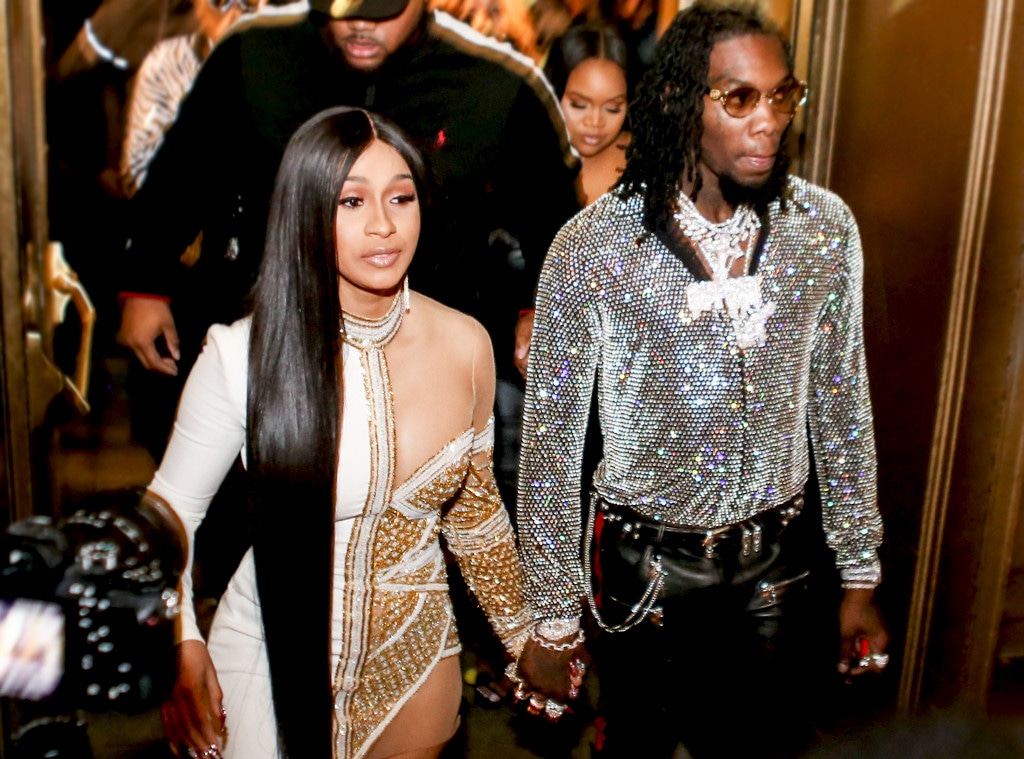 Thaddaeus McAdams/Getty Images
Is Cardi B a married woman?
Offset hinted he and the "Bodak Yellow" artist have already tied the knot at the 2018 BET Awards Sunday. 
After the Migos member took the stage to accept the Best Group Award, he called Cardi B by a special name. 
"Thank God!" he said. "I thank my wife; you should thank yours."
A day later, TMZ reported the two stars secretly tied the knot in Atlanta on Sept. 20, 2017. The celebrity news outlet linked to a marriage certificate that uses both celebs' birth names: Kiari Kenrell Cephus and Belcalis Marlenis Almanzar.
Fans watched Offset pop the question at Power 99's Powerhouse event in October. The hip-hop artist took the stage and presented Cardi B with an enormous eight carat engagement ring.
"I just want to go to sleep and wake up and make sure this ain't a dream," Cardi B wrote alongside an Instagram video of her diamond sparkler. "Thank you God for all these blessings. Thank you babe @offsetyrn God really sent you to me."
Cardi B told E! News the couple wanted to have a Fall wedding but that they had to postpone the nuptials due to their work schedules.
"We're really into our careers in our lives...We are really workaholics," she said. "It's crazy."
Cardi B and Offset are clearly good at keeping secrets. In February, rumors started spreading that the "Bartier Cardi" star was pregnant. However, Cardi B didn't confirm the rumors until April when she performed on Saturday Night Live.
"This is why I did not wanted to say nothing," Cardi wrote in an Instagram Stories post, which she later deleted. "People be so thirsty to scrutinize and try to destroy something that it suppose to be a blessing."
The couple has experienced ups and downs over the course of their relationship. In December, Offset found himself at the center of a cheating scandal. However, Cardi B has continued to stick by her man. 
"People want to make fun of me, saying I'm the fourth baby mom [but] I know I'm not having a baby with a s-tty-ass man," she told Rolling Stone.
Offset also told the magazine, "We really love each other. She's real. I wanted real. I also wanted successful." 
According to Rolling Stone, the two had their first date at the 2017 Super Bowl. The rest, as they say, is history.