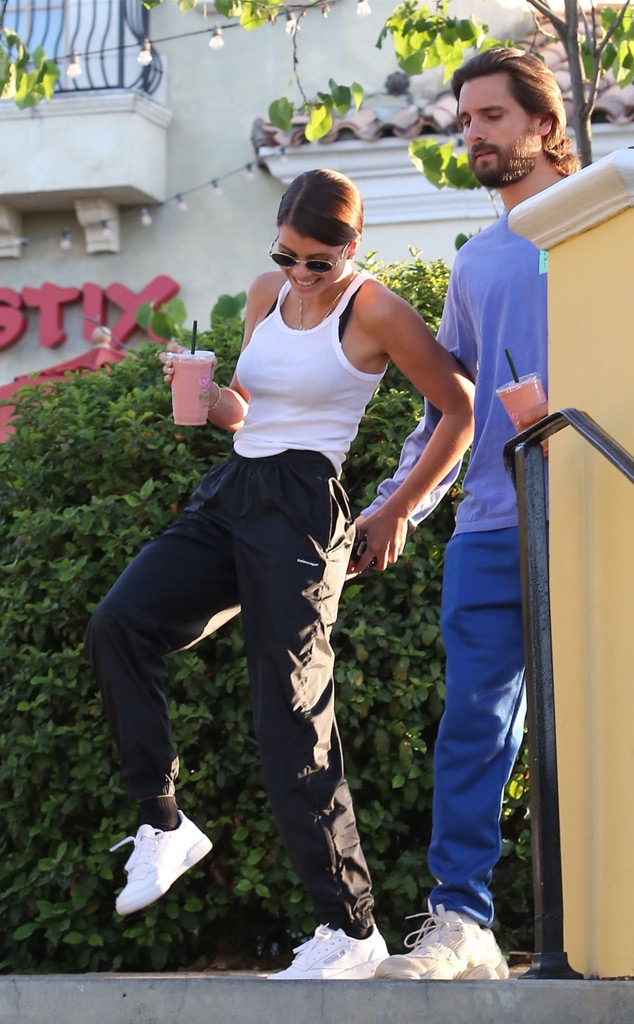 daddy-az/X17online.com
Naughty PDA alert!
Scott Disick and girlfriend Sofia Richie were photographed at a Calabasas shopping center on Saturday holding SunLife Organics smoothies, with her smiling as he appears to give her butt a playful pinch or tap.
The 35-year-old reality star and 19-year-old model had three weeks ago spent a couple of days apart after he was reported to have cheated on her.
"We had no idea we even broke up but thanks for thinking of us," Scott said on Instagram Stories three days after they began their break, in response to split reports.
Also at the time, Scott and Sofia got lunch together at Nobu in Malibu. He posted a photo of them at the restaurant on Instagram.
A source told E! News after they had reconciled that Scott "begged" for Sofia back and "wanted to make things right with her" and "felt bad that he had a drunken episode and made many promises to Sofia that he could make it right."
"He gave Sofia some space to calm down and then told her how much he loves her and wants to be with her," another insider had told E! News. "Sofia believes it and is very committed to Scott. He said he would make it up to her and show her how much he loves and cares for her. Sofia wants to see only the good in Scott. She really believes that she has changed him for the better and that he wants to stay on track for her."
Scott, who has battled substance abuse in the past and has been to rehab, and Sofia went public with their relationship in September.