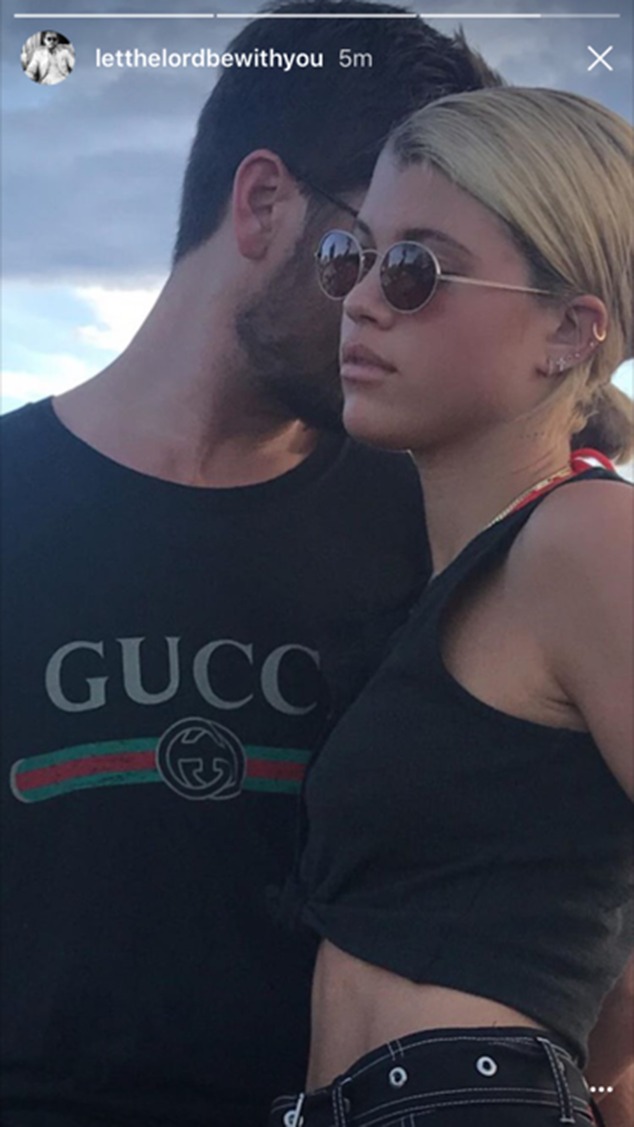 Instagram
Looks like Scott Disick is finally addressing all those Sofia Richie dating "rumors," which might not be rumors after all.
Kourtney Kardashian's 34-year-old ex just shared a photo with Lionel Richie's 19-year-old model daughter on his Instagram story—the first photo he's ever shared with her, seemingly confirming speculation that the duo are more than just friends.
In the photo, Disick (wearing a Gucci shirt) is standing close to Richie (wearing a red bikini top) and appears to be whispering in her ear.
The duo was spending the day on the beach in Miami after partying into the wee hours of the morning with Kylie Jenner's boyfriend Travis Scott.
A source tells E! News of Disick and Richie's day in Miami, "They were with a big group on The SS Groot, Dave Grutman's boat. He had the captain take the group out, while he stayed home and enjoyed his new baby girl. The boat docked at Seaspice so the group can have dinner."
But spending so much time together is nothing new. They first sparked romance rumors during the Cannes Film Festival in May and have been hanging out more and more recently.
In fact, earlier this week, a source told E! News, "They are inseparable right now and not leaving each other's side."
The insider added, "Scott is totally romancing her and she is under his spell. He took her away to Santa Barbara [last] weekend and is spoiling her with shopping trips and sweet gestures."
Our source said Disick "takes care of her," which is exactly what "she loves."
"Sofia has been interested in him for a long time," the insider explained. "She feels like she knows a different side of him and that they are good for each other. She is falling hard and thinks this is the real thing."
However, several sources also told us that they're not exclusive.
"They just get along great and share very similar friends," a second insider dished. "Sofia's been all over the place lately and seems like she is not serious about most things especially getting serious with a dude. It's light and fun between them at the moment."
In May, Richie tried to silence the rumors by explaining she's just "homies" with Disick in an unfiltered Twitter post.
"Just so everyone can get their panties out of their asses, Scott and I are just homies #Relax," she wrote to her followers, and a month later, she added again, "The last time I'm gonna say it. Scott and I are just friends. I'm single and focused on friends, family and work. #againrelax."
Just last night, however, Richie also posted a paparazzi photo with Disick on her Instagram story.
Looks like things may have gotten more serious!