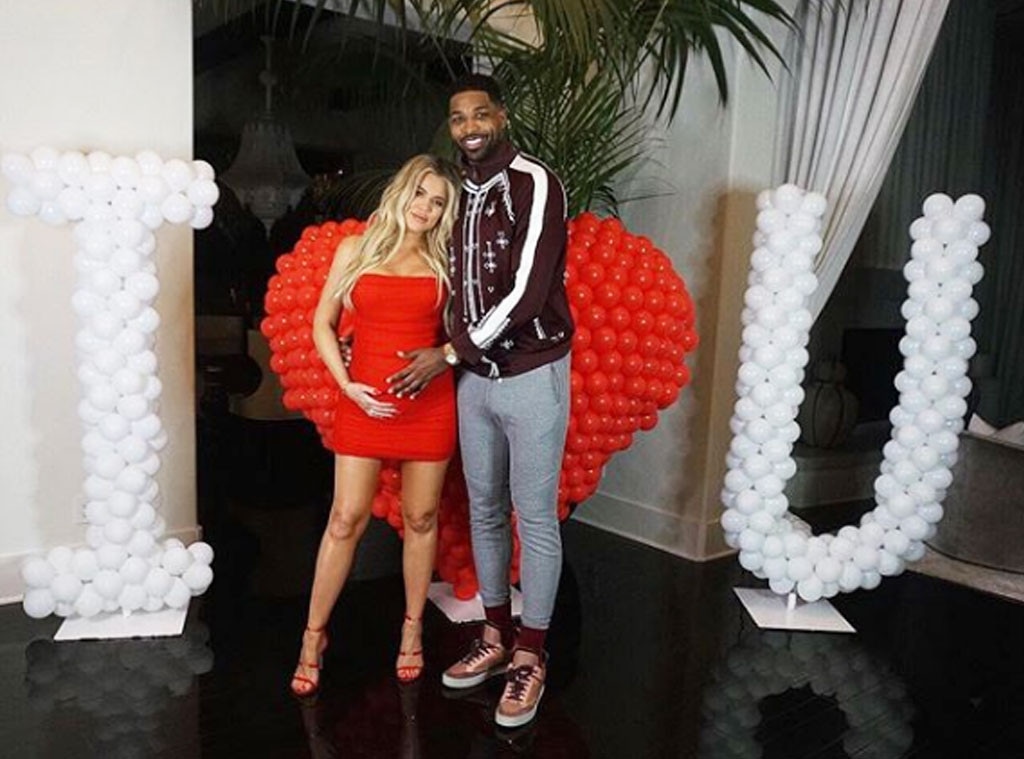 Instagram
Khloe Kardashian loves her workouts—but she doesn't love working out with just anybody. 
Boyfriend Tristan Thompson eventually became one of her favorite people to lunge and lift with—and for the first time since she gave birth to their daughter True Thompson, Khloe let it be known Thursday that they're back to their old toning tricks in the gym.
Khloe didn't make a big fuss over Tristan's presence, focusing as usual on taskmaster and trainer Don and offering up some honesty on her app. "True is down for her nap so it's time to get a workout in," she said. "I always know that I feel great after my workouts but sometimes getting the energy to just go in that gym...I just want to go back to sleep too and take a nap with True."
We feel you, KoKo.
"If you stay ready," she added, "you never have to get ready. So I gotta get back to staying ready."
Then on Snapchat you can see Tristan doing some medicine ball crunches while Khloe hits the bosu ball, then he joins her for squats and rows. "I look ridiculous lol but my endurance is getting betteand [sic] after baby!! Wooooo progress!" she wrote.
Progress, indeed.
The E! star, who couldn't wait to become a mom, all of a sudden also had to deal with that—and, to boot, she was in Cleveland, where she was setting up a life with the father of her child, instead of among her nearest and dearest in Los Angeles.
Luckily, her mom and sisters were planning a trip to The Land anyway to be there for the arrival of the newest member of the family, so they were by her side.
"We all hopped on a plane and flew to Cleveland, because that's what we know to do," Kris Jenner recalled on The Ellen DeGeneres Show in May. "I'm there to support my kids no matter what happens. I just do the best I can, just like anybody else would for their family. There's a lot of us and we all get together and we do things together and we're a force to be reckoned with."
Tristan was at the hospital for True's birth, along with Kris, Kim Karadashian, Kourtney Kardashian and Khloe's longtime BFF Malika Haqq, all of whom were too busy "focusing on the baby and crying a lot of happy tears," a source said, to address the unfortunate rumors. 
Because it's not as if they didn't have thoughts on the matter.
"Like I don't even know how to describe it besides it's just so f--ked up," Kim told Ellen DeGeneres a couple weeks later. "We really were rooting for Khloe, and we still are...you know, she's so strong and she's doing the best that she can. It's a really sad situation all over."
Ultimately, though, the decision was only up to Khloe whether to forgive Tristan or not.
And once her darling daughter was born, it soon became obvious that she was putting family first—her own, brand-new family of three.
Khloe Kardashian/Instagram
While Kris & Co. couldn't wait to have her back in L.A., Khloe remained in Cleveland, relishing her first days of motherhood while her 76.6 million Instagram followers waited eagerly for more details about her surely adorable baby girl. 
Everything was considered a clue as to Khloe's state of mind, including the reveal of her daughter's name—True(!!!)—four days after she was born, and a blog post from April 21 in which she wrote, "Life is short, and at times, we put so many others before us, but one of our priorities should be our own happiness."
All signs were pointing...every which way.
Lachlan Cunningham/Getty Images
Meanwhile, however, the NBA playoffs had just begun, so Thompson had to go to work. The 6-foot-9 center proceeded to start the playoffs on the bench, prompting chatter among the less sporting set that it had to do with his alleged off-court antics. 
But as actual sports experts pointed out, he hadn't been having a great season anyway, hence the second-tier supporting role he was destined to play this year. Thompson did go on to have some good games, and some not so great ones, such as during Game 1 of the NBA Finals when he was ejected during overtime and fined $25,000 for "failing to leave the court in a timely manner."
By the time the loooong NBA postseason had reached that point, however, the writing was on the wall—and it was promising. Khloe showed up for Game 3 of the NBA Finals in Cleveland earlier this month, smiling and rocking a Cavs T-shirt.
That didn't mean all was binkies and bottles at home. (Well, it was all binkies and bottles, but you understand.) At the time, Khloe was "still trying to regain trust with Tristan and figure out how to keep the family together," a source explained to E! News.
"I feel like Khloe always dives into relationships and puts her whole heart into everything," Kim said on Ellen. "I mean, she moved [to Cleveland], and I've seen her be in a really tough situation before in her last relationship." Kim had been "rooting for" Tristan, she added.
When May rolled around, Kim was once again rooting for them to make it. "I'm always rooting for [Khloe]," she said on Live With Kelly and Ryan. "I'm always rooting for love. I'm always rooting for families."
Jerritt Clark/Getty Images for Klutch Sports Group
However, while Kim was going with the flow, not everyone in the family was on the same page.
"They can't just sweep all of this under the rug and move on," a source told us as Mother's Day approached, and most everyone planned to be in L.A. with Kris. "It's going to take a long time." At least Khloe was said to be happy in Cleveland, "doing what she's doing."
Another source said a couple weeks later, "She focuses on True and being a mom...She loves her sisters and hopes one day everything will work itself out. But for now, she's not [discussing Tristan] and what's going on with them."
In the meantime, Khloe had gone uncharacteristically silent on social media, posting only a happy birthday to Kourtney after True's name reveal on April 16. We saw a little arm on May 10, but it wasn't until True turned 1 month old on May 12 that Khloe shared the first image of the adorable infant's face on Instagram. The next day, Mother's Day, she shared a new photo of True and an elaborate display of roses spelling out "Mommy," seemingly courtesy of Tristan, on her Instagram story.
Thompson's Instagram stayed all-business throughout the playoffs, the 27-year-old breaking his social media silence post-scandal when the Cavs finally finished off the Indiana Pacers in seven games on April 29.
Khloe Kardashian/Instagram
After the True photo ice had been broken, Khloe started posting more often, including an assortment of those thinly coded inspirational messages she's so fond of posting in tougher times.
"It's all about who you look for in a crowded room. That's where your heart belongs," read one that she posted in May. Then it was, "Communicate. Even when it's uncomfortable or uneasy. One of the best ways to heal is simply getting everything out."
"Khloe and Tristan are trying to repair their relationship one day at a time," an insider told E! News toward the end of last month.
As the weeks went by, Khloe started to get back to signature Khloe business, filling fans in via her app on some of the new challenges she was facing and parenting hacks she had figured out. She also was working out again, a major step toward feeling like her usual, upbeat self. She showed off True's nursery, shared recipes and exercise secrets, and—back to the old ball game—was recently compelled to take to Twitter to shoot down some idle chatter about what she was doing to lose weight.
"I truly dislike when people report I've lost a tremendous amount of weight in a short amount of time or when people claim I'm doing these ridiculous diets," the Revenge Body host tweeted Monday. It's really setting the wrong tone. I believe in making lifestyle changes when it comes to my food." She continued, "Dieting is great but dieting doesn't typically create long lasting results. I also believe that working out is so incredibly healthy and should be done to each individuals own rhythm of life. There's no one size fits all when health and fitness."
Thompson was still playing ball up until two weeks ago, however, the Cavs having made it to the NBA Finals to play the Golden State Warriors for the fourth straight year.
That series, alas, resulted in a four-game sweep by the Warriors, putting an end to the 2017-18 season, but also finally giving Tristan more time to spend with his family.
It's impossible to predict the future, but lately it's almost as if nothing ever happened.
Khloe threw a birthday party at a restaurant in Cleveland for a friend of theirs earlier this month, and the couple showed up together, sat next to each other at dinner and looked to be having a great time. "Everybody looked happy" and "normal," a source said.
And now, with the off-season finally upon them, Khloe and Tristan are back in Los Angeles, where they affectionately kissed while watching Dave Chappelle do stand-up at the Peppermint Club on Monday. Moreover, they were on a double date with Kendall Jenner and Philadelphia 76er Ben Simmons, so at least one sister so far was ready for actual face time with Thompson.
Khloe also wished him a happy Father's Day on Snapchat, while Tristan broke his new-baby silence on Instagram, posting a photo of two gold and diamond necklaces, one spelling out "Prince," his son from a previous relationship, and the other spelling "True."
"My Prince and Princess. I love you guys so much!!!" he wrote.
Khloe plans on being in L.A. for the summer and after that...she hasn't decided yet.
Feelings about Tristan are still a little up in the air with her family, but "Tristan is True's dad and Khloe feels it's very important for True that everyone accept" him, a source told E! News this week.
"She has not given up on their relationship," the insider added. "It's not perfect, but she tries to look ahead anyway and not analyze too much. Khloe's just really happy to be home and surrounded by so much love."
Having that rock-solid foundation never hurts when it's time to rebuild.