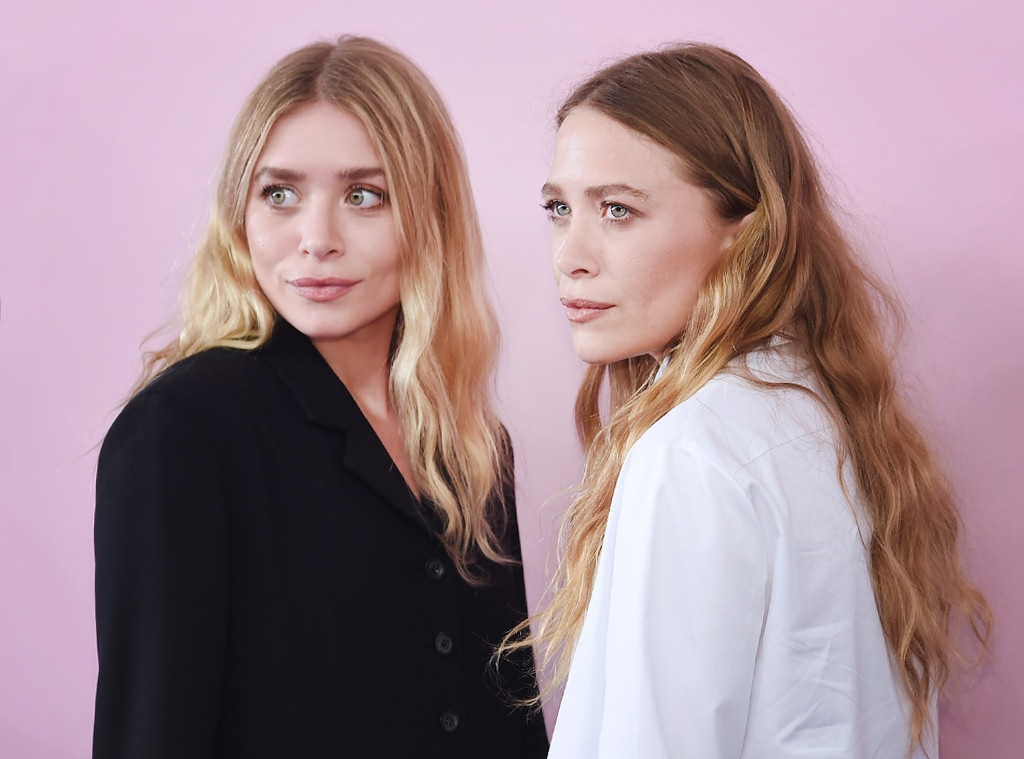 Jamie McCarthy/WireImage
As they mark their 32nd birthday today, Mary-Kate Olsen and Ashley Olsen won't be subject to an endless barrage of Facebook well wishes. Nor will they pause while blowing out their candles to capture the perfect candid for Instagram. Because save for a one-day 2016 takeover of Sephora's account—to promote their dual Elizabeth and James fragrances Nirvana Black and Nirvana White—the millennials have skipped out entirely on social media. 
Neither sibling has opened a Facebook or Instagram account. "We don't dive into that world," Ashley explained to Net-a-Porter's The Edit in last year, adding that they've intentionally "stayed quite sheltered." And none of the countless Mary-Kate and Ashley Olsen twitter handles actually belong to them. The idea of sharing their thoughts 140 characters at a time, "gives me so much anxiety," Ashley admitted to Vogue. Echoed her sister, "We've spent our whole lives trying to not let people have that accessibility, so it would go against everything we've done in our lives to not be in the public."
Carl Timpone/BFA/REX/Shutterstock
Shaken by an adolescence spent in the spotlight—by age 17 Mary-Kate told E! News she had already learned to avoid her press clippings: "We don't read the good, we don't read the bad,"—the famous tweens retreated from public life after their final joint acting project, 2004's New York Minute. While the decorated designers occasionally pop up at high-end fashion events (see: the Met Gala and the Council of Fashion Designers of America Awards, where they recently nabbed Accessory Designer of the Year honors) or on The Ellen DeGeneres Show, they're very deliberate about the red carpets they walk and interviews they grant. As actress sister Elizabeth Olsen explained to Modern Luxury of their publicity strategy, "They're very tight-lipped—notoriously so." 
But while they've evade the limelight, they maintain the same intense work schedule as when they were building their billion-dollar empire. Except now, instead of churning out an endless line of direct-to-video films and branding everything from board games to dolls to CD players, they focus squarely on their luxury label The Row and their more accessible contemporary line, Elizabeth and James, that now boasts a beauty offshoot and its first 3,000-square-foot brick-and-mortar store in Los Angeles. "I've always been a worker," Ashley explained to The Edit of her ceaseless drive. Having been gainfully employed since they were nine-months-old and accepted the dual role of the precocious Michelle Tanner on the family friendly sitcom Full House, being on the job "comes quite naturally for us," added Mary-Kate. "We don't need so much time to sit and think and ponder." 
Their most reflective moments came at 18. At the time, they had just graduated high school, moved cross-country with New York University acceptance letters in hand and finally claimed control of Dualstar Entertainment, the production company they'd launched as 7-year-olds. And yet they still weren't entirely sure what they wanted to do when they grew up. "Our lives have been kind of backward," Ashley explained to The New York Times in 2009. "We never got that opportunity in high school to figure out what you want to do. We never had the time to discover, 'Oh, I love doing this...'"
A quick scan of their press would suggest that neither sister is truly thrilled with their unique childhood. Likening them to "little monkey performers" in a 2010 Marie Claire interview, Mary-Kate admitted, "I look at old photos of me, and I don't feel connected to them at all...I would never wish my upbringing on anyone." 
But they do credit their decades in Hollywood for laying the foundation for their adult career. As child actors, says Mary-Kate, they accepted that walking step-and-repeats and appearing picture perfect for potential fan photo ops was all in a day's work. "Being in the public eye was almost part of our role and responsibility—to set the trends at that time or be ahead of fashion," she noted to The Edit. 
That meant submitting to twice weekly fittings for some 15 years and learning how to tailor Chanel and Marc Jacobs pieces to perfectly fit their 5-foot-1 frames. "We would take adult clothing and cut it down to our size, change the proportions," said Mary-Kate. "I think from a young age we understood fit in a very different way because we're so petite." 
They were also well-versed in the language of business. Mom Jarnie and dad Dave insisted they sit in on all Dualstar meetings, even though much of the chatter went over their heads. "It was just about listening and understanding and learning the process," Mary-Kate explained to Ellen DeGeneres in 2010. And stowing it away for future use. "We were very fortunate to have parents and people around us who wanted us to be part of the creative meetings and the business meetings," Ashley told Women's Wear Daily in 2013, "and we would just sit and listen and be sponges. At that time in your life, you really are a sponge. And we've learned so much from people we've been exposed to in our lives—interesting people from different walks of life, different CEOs. The list goes on and on. Mary-Kate and I have always taken advantage of our time with those people and walked away learning a thing or two."
As they moved into their West Village penthouse, enrolled in psychology and film electives and pondered what was in store for the rest of their years, each harkened back to their days of putting out a junior clothing line for Walmart. "That was still something I think we were both extremely interested in," said Ashley, "but we wanted to do it with full control and we wanted to do it our way." 
That meant resisting the urge to slap their name on the tag. As they launched their upgraded basics line The Row in 2006 (born from their quest to craft what Mary-Kate called "a great T-shirt," a feat that took some 18 months) they tried their best to downplay their association with the brand. At one point they even toyed with the idea of having someone else claim design credit. "We sold it at first with no label," Mary-Kate admitted to Women's Wear Daily. "Only certain people knew it was us behind it. We didn't do any press. Our idea—because we had been in the branding industry for a very long time—was 'If the product's good, it will sell.'"
It did, much to their delight. Years in, both Mary-Kate and Ashley still marveled over the fact that well-heeled woman choose to warn their designs, copping to slyly snapping photos when every they spotted one of their pieces. "Anytime we've started a brand and we see people wearing it—and we haven't given it to them—we try and take pictures of them," Mary-Kate admitted to WWD. "The first time we saw a Row T-shirt, an Elizabeth and James piece, a handbag—we got giddy." 
Turns out they needn't worry about become just another celeb-fronted clothing line. Six years after the launch, in 2012, they accepted their first of four CFDA trophies (for top womenswear designers) for The Row. By then they'd already established Elizabeth and James, released a coffee table book chock full of interviews with fashion elites and firmly put their lives in the entertainment industry behind them. (While Ashley hasn't acted since 2004, Mary-Kate enjoyed an eight-episode arc on Weeds and roles in 2008's The Wackness and 2011's Beauty and the Beast remake, Beastly.) 
Warner Bros/Kobal/Shutterstock
So when Fuller House producers tried everything short of outright begging them to make a cameo on the remake, they politely declined, Ashley immediately begging off, stating she no longer felt comfortable in front of a camera and Mary-Kate citing timing concerns. 
A valid excuse, considering how many hours they pour into their billion dollar retail empire. Their days meticulously planned ("We're very organized; every minute is accounted for," Mary-Kate told The Edit), they have a hand in everything from design ("We drape," said Mary-Kate) to marketing to deciding which clothing category to expand to next. "We like having success with one thing before we move on to the next," Ashley noted to WWD. "We don't like to spread ourselves too thin." 
As it is, their work schedule is packed. "They are very involved and hands-on with their companies," an insider told E! News. "They work every day. They have an office in New York that they both go to and they attend meetings and conferences all the time." 
Evan Agostini/Invision/AP
And despite their penchant for working "around the clock" as Mary-Kate told WWD, they have learned the importance of a little leisure time. For Mary-Kate, that generally means ensconcing herself in the $13.5 million NYC townhouse—complete with private garden, ballroom and hall of mirrors—she shares with French financier Olivier Sarkozy, 49, her spouse of nearly three years, and his teenage children Julien and Margot. "I have a husband, two step-kids and a life; I have to go home and cook dinner," she noted to The Edit. "I ride horses on the weekends. You find the thing that helps you relax and if you don't have it, look for it. Or you get burned out and then you're not productive." 
For both, it's easiest to exhale far away from the curious glances of fans. While Mary-Kate and Sarkozy (half-brother of former French President Nicolas Sarkozy, who's married to model Carla Bruni) enjoy the rare basketball game or high-society event (in October they made an appearance at a Sotheby's auction), both she and her sister prefer socializing in private. "At night they have a lot of dinner parties at home, or they go out to eat," says the insider. "They both love music and will go to concerts or to Knicks basketball games, but mostly its dinner parties with friends at home."
Or, homes, really. Ashley, seemingly single since a 2017 split with financier and art collector Richard Sachs, owns her own downtown NYC condo and both sisters spend a fair amount of time crossing the Atlantic. "Mary Kate and Ashley go back and forth between New York and Paris a lot," adds the insider, noting they spend most of their time stateside.
And while Mary-Kate has "immersed" herself in Sarkozy's world, says the insider, and Ashley busies herself with standard New York activities such as boxing and yoga classes, the sisters are still very much attached. "They see each other every day," insists the insider, "and, if not, they talk multiple times a day."
They credit their closeness with helping them bring in tens of millions in annual sales. "We've always worked together, so it feels natural to us," Mary-Kate explained to British Vogue. "To be able to have a sounding board and to trust the person who is your partner, is beneficial across all aspects of running a business." 
As is knowing when to say enough is enough. 
Asked to name their best piece of career advice, Ashley talked about the importance of taking a "well-informed risk." But Mary-Kate was more succinct. "No," she opined to British Vogue, "is a full sentence." 
With billions of dollars of revenue and countless accolades under their oversized belts, we'd be inclined to listen.