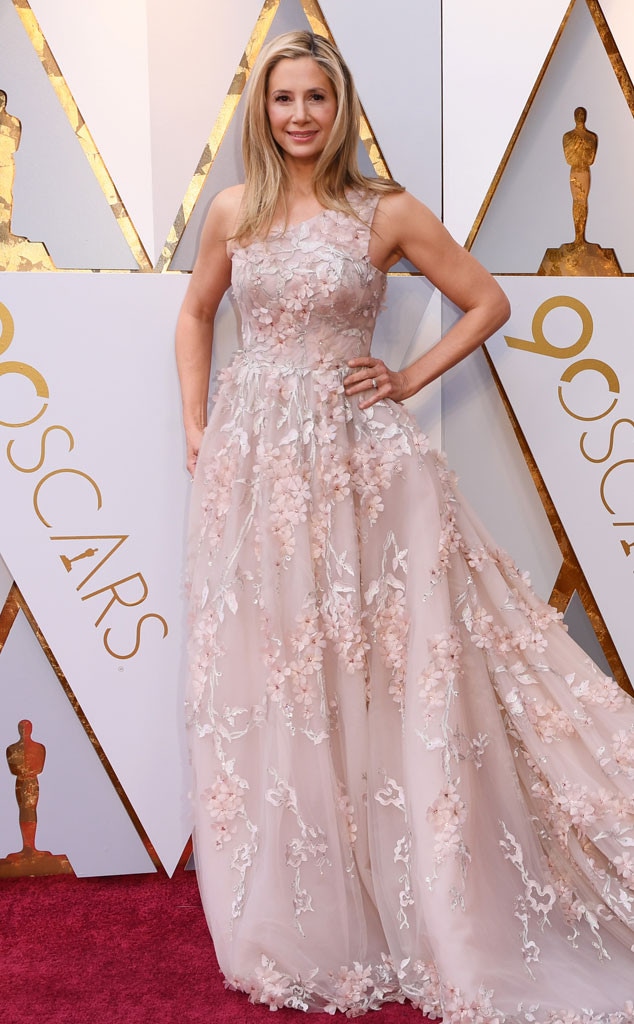 David Fisher/REX/Shutterstock
UPDATE: Harvey Weinstein's attorney has reacted to Mira Sorvino's interview on Today.
"Mr. Weinstein is stunned and outraged by Mira Sorvino's offensive claim that 'Harvey raped people she loved,' when she does note even identify any of the women," Ben Brafman said in a statement to E! News Wednesday afternoon. "This is precisely the type of reckless character assassination that allows a public figure like Sorvino to make vicious allegations that are impossible to refute because she does not have the courage or integrity to name the women so that we can at least try and expose the falsity of these allegations that Mr. Weinstein denies."
__________________________________
In her first TV interview since Harvey Weinstein was indicted by a grand jury, actress Mira Sorvino—one of the 97 women who have accused the producer of varying degrees of sexual assault and harassment—told Savannah Guthrie she won't be satisfied until he's behind bars.
Weinstein pled not guilty to charges of rape in the first and third degrees and criminal sexual act in the first degree; previously, he categorically denied all allegations of nonconsensual sex.
Sorvino, who shared her story with Ronan Farrow in the New Yorker last year, said she hopes Weinstein will be convicted for his alleged crimes. "It feels like a really good first step, you know? It's him finally facing real, real criminal consequences for his criminal behavior. And so for that, I feel gratified. But honestly, last weekend was a very emotional one, and I cried many times, because just seeing him brings up a lot of bad feelings. He's raped many people that I love, so it's not really a happy occasion. I think maybe there will be some celebration when he gets convicted and goes to jail. That's when the process will be complete and we will see justice really being served," the Condor actress said on Today. "But until then, this is a great first step."
While the general public was unaware of Sorvino's alleged encounter with Weinstein, the actress had been telling her peers about it for decades. "The funny thing is: At the time it happened, I told everyone I knew, and a lot of people will tell you that. All these people wrote to me online: 'I remember you telling me that.' Quentin Tarantino corroborated that I had told him about it right away that September; he said it in the New York Times article. So, I told everyone I knew. No one said, 'Hey, this is sexual harassment. You should go to the authorities. You have a case. You should go to the police. Maybe it's assault.' No one said anything like that," she said. "Everyone was just kind of comforting about it. I didn't really understand the law and I didn't think I was important enough to make a big deal over, so I just kind of tried to put it to the side, keep working and go on about my life. I think a lot of people felt that way."
At the time, she explained, "None of us compared notes. I only knew of one other person. I could not believe how many people. If we had known about each other then, we would have been..." she said, stopping mid-sentence when images of alleged victims who came forward appeared on a screen behind her. "Oh, boy. That's crazy," she said through tears. "I'm sorry."
Clearing her throat, Sorvino continued, "I think we would have found strength in numbers and we would have done something a lot sooner. But I only knew of one other person, Sophie Dix, who told me her story a little while after mine occurred. But I did try to do something about it at the time. I even spoke to somebody at Miramax about it and nothing happened, so it kind of went away and I tried to go on with my life." Guthrie then brought up Lord of the Rings director Peter Jackson, who last year accused Miramax of forcing him to blacklist Sorvino and other actresses in Hollywood; when Jackson made the statement, Weinstein denied the accusations.
"I didn't even know what I suspected. I just knew that my career had kind of slumped," Sorvino said. "I thought, 'Well, maybe it's my fault. Maybe I've had too many children. I've been pregnant too many times. You know, sometimes you have bad luck. I was like, 'OK, maybe it wasn't meant to be that my career was going to continue at the same level that it had been.'"
"But that morning, to wake up and see Peter Jackson's tweet, that he had blacklisted myself and Ashley Judd based on Harvey's telling him not to work with us—and then Terry Zwigoff came out the next day and said the same thing about Bad Santa—was like a thunderbolt. It was kind of crazy," Sorvino continued. "I was like, 'Oh. So, it was really this malevolent hand that changed the course of my life and my professional horizons?' Look, I still have worked all these years and I've done great projects; some of them have been lower profile, but I'm proud of all of them. I have the most amazing family in the world. I have four of the most beautiful, wonderful children and the most incredible husband...so, everything is going great for us now."
Speaking of Christopher Backus, whom she wed in 2004, she said, "We probably wouldn't have met if I'd done Lord of the Rings, and I wouldn't have had my four beautiful children. At the end of the day, I am fine with everything. But to know that this was done to me rather than it just being fate was kind of world rocking at the time. But right now, I'm really excited to be a part of this movement of #MeToo and Time's Up. I'm working on promoting legislation in California for bills that are among the strongest anti-sexual harassment legislation in the nation." Throughout history, she said, "Men have raped and abused and harassed people weaker than them, people in positions subordinate to them—and I'm not just talking women. I'm talking men, I'm talking children, I'm talking trans people, nonbinary people, LGBTQ people. Forever. Rape has been with us forever." Society is "at the cusp of this moment" where people are "working with men to change the idea of what being a strong man is and how to not do this to people," Sorvino said. "For women and boys and girls to know their rights, all of this will have been worth it in some crazy way. If culture's going to change, and less people will be sexually assaulted because of this movement—and this outcry among millions across the world—then it was all worth it."
(E! and NBC are both members of the NBCUniversal family.)