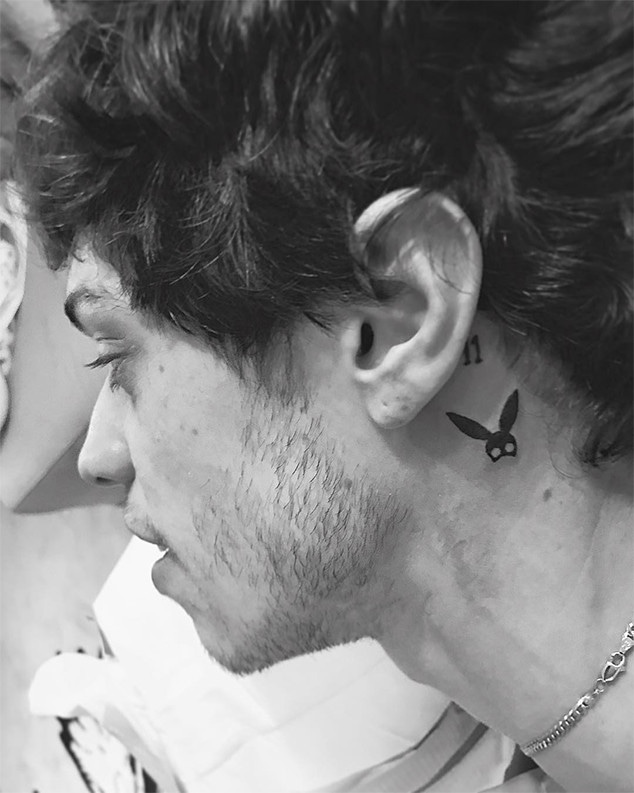 Instagram
It's a tale as old as time: Boy meets girl, boy dates girl, boy becomes the Boy With the Ariana Grande Tattoo...make that two.
Last month, E! News learned the singer was dating SNL star and comedian Pete Davidson. Earlier this week, he made their relationship Instagram official.
Days later, on Saturday, Los Angeles tattoo artist London Reese posted on his Instagram photos of two tattoos he inked on Davidson; Grande's initials on the performer's right thumb and on his upper neck, an image of the black bunny mask the singer wears on the cover of her 2016 album Dangerous Woman.
"We had a good night, somewhere in the hills of Los Angeles," Reese wrote. "Pete loves him some Ariana."
Davidson and Grande have not commented and it is unclear if the singer has reciprocated with her own Davidson tribute ink. It is unclear when Davidson got the tattoos. He and Grande were photographed on Friday night at the Borgata Event Center in Atlantic City, where the comedian opened for Dave Chappelle. Earlier this week, before Davidson confirmed his and Grande's relationship, he brought her to the World Famous Comedy Store in Los Angeles, where he performed a set.