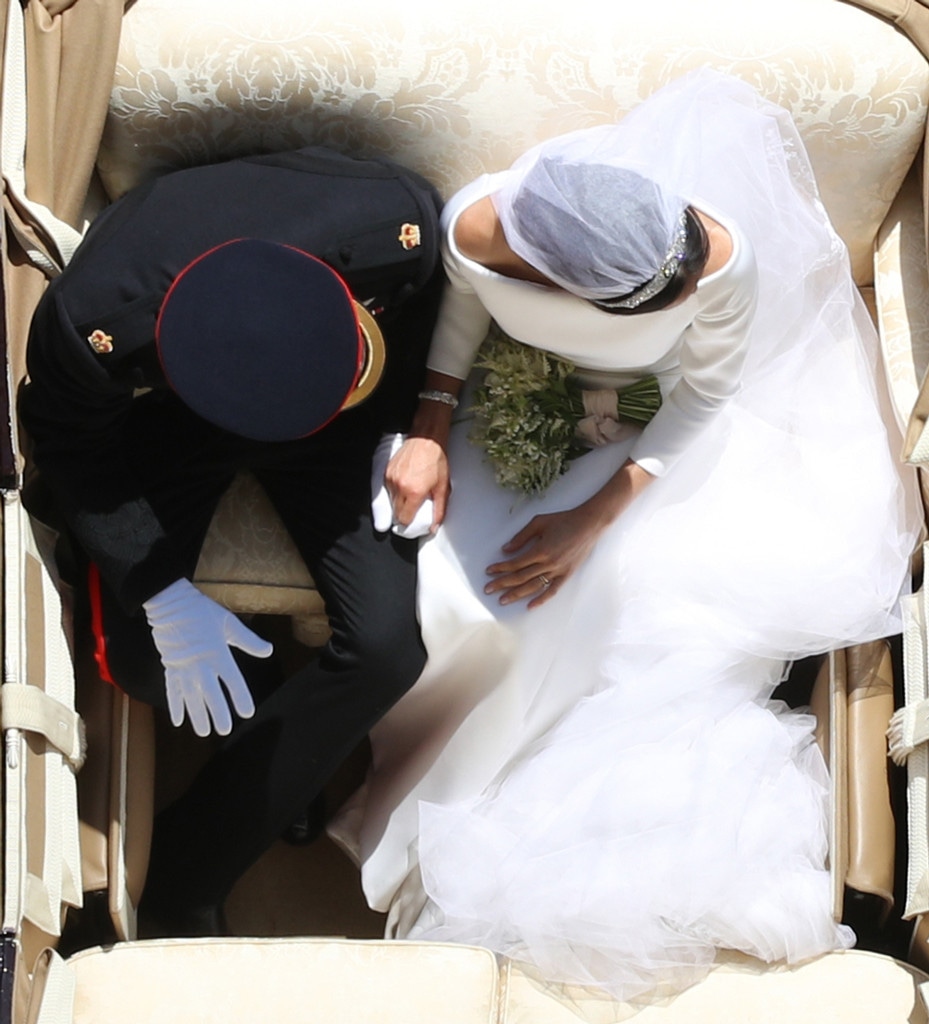 Yui Mok - WPA Pool/Getty Images
David and Victoria Beckham somehow got away with only an $800,000 tab when they tied the knot in Ireland. Kim Kardashian and Kanye West enjoyed a $2.8 million week abroad that culminated in their I-dos. George and Amal Clooney treated their nearest and dearest to a long wedding weekend in Italy for about $4.6 million.
While you can guess that no expense was spared for any of these stars' big days, those amounts can climb ever higher when you've got your heart set on the dreamiest wedding ever and the deep pockets to finance it. And if you're royal, security costs alone climb into 10 figures.
Between saying yes to the proposal and tearfully, tipsily thanking everyone for coming at reception's end, there are only about a zillion moving parts to keep track of—which is why, if it fits the budget, betrothed couples enlist wedding planners to attend to all the details and, ultimately, salvage their sanity so they can actually enjoy that honeymoon.
And when the bride and groom, or brides and grooms, are famous, that precise coordination becomes even more key, because the world is going to want a piece of that wedding. 
For New York-based wedding and event producer Marcy Blum, whose luxuriously married-off clients include Kyra Sedgwick and Kevin Bacon and LeBron James and wife Savannah, throwing inquiring minds and pesky paparazzi off the scent are part of the package.
"We've had to employ various methods to deter the drones," she tells E! News, having a chuckle over all the companies that pitch their drone-deterrent services to her these days.
From staging balloons in an alternate location to distract aerial photographers to enlisting multiple "decoy sprinters"—other women planted at the bride's getting-ready site to lead paparazzi astray—whatever works is whatever works. Blum has seen it all in her 30-plus years in the business, including the now-common ruse of inviting guests to something, and then surprising them with a wedding, to the secret-destination wedding, where guests gather in one place and are transported to the real site.
They confiscate cell phones mainly for two reasons, Blum reveals: So guests don't take pictures and try to sell them or otherwise provide an unwanted window into their day, obviously, but also so that really famous guests aren't bothered by other guests asking for selfies all night.
"Most often when working with celebrities, almost 100 percent of the time with rare exceptions, we have a full-on security guarded cell phone check," Blum says. "I've had to ask some pretty fancy people to hand me their phones." (There's an emergency number should anyone direly need to get in touch with a guest—and before the wedding, the planner will have a special number that guests can call with questions leading up to the event.) 
Courtesy: Christian Oth Studio
One superstar athlete's wedding was a relatively small affair—close friends, family and some teammates only—but it required a heavy security presence because the press had figured out the location. One guard who was there was well-known as a frequent provider of security for the sports set, particularly for NBA players, and he had what he called "the hope tank," Blum recalled—where would-be guests whose names weren't on the list had to stand while he found out if they were supposed to be there or not.
"You wind up with this coterie of people standing in the hope tank," she said, laughing.
Sometimes it isn't the bride or groom who's the main security concern, but one of the guests. When a politician or ambassador, etc. is invited, they come with Secret Service or similar official protection, and many celebrities travel with their own private bodyguards. There's always a separate tent or room for security, but if they're "eyes on," as in they have to be in the dining room, Blum makes sure they have a table.
She's thrown weddings to accommodate as few as six people and as many as 1,200, and one time she had only six weeks to make a wedding work. Blum has a full-time staff of four, as well as a rotating cast of helpers and go-to masters of their craft to aid in the production.
Which, at the end of the day (or long weekend), will ideally be a showstopper.
"I feel strongly about things being elegant and high-style and certainly heartfelt, but at the same time having some quirky surprises that make it a great party," Blum says.
The Knot 2017 Real Weddings Study concluded that the average amount of money spent on a wedding in the United States nowadays is $33,391—the first-ever dip from a prior year thanks to (More elopements? More concerned couples stocking away funds for a rainy day?) an apparent desire for smaller, more intimate affairs.
The average cost per-person, however, has ballooned to $268, because couples still have their demands and want whichever guests do make the cut to have a fabulous time—and look fabulous while doing so.
Courtesy: Gianni di Natale
"What we're seeing is, people are spending more on their weddings and lowering the guest count," says Jennifer Spector, Brand Director at the wedding registry and planning site Zola. "Now it's much more about getting the dream things that you want, whether it's a 12-piece band instead of an eight-piece band, or a DJ, or really going overboard with your flowers."
Moreover, since at some point there will likely be photos from the big day on social media, whether the guests are allowed to snap pics with their phones or not, most couples—famous or not— would prefer that the wedding look it could be in the pages of a magazine.
"Because your wedding usually is splashed all over Instagram, people want it to look good and really photo ready, which means you invite fewer people," Spector tells E! News.
Manhattan remains the priciest place to tie the knot at $76,944, with North/Central New Jersey a distant second at $62,074, followed closely by Long Island, N.Y., at $61,113. Brides and grooms are spending the eighth-most amount of money, $44,142, in Los Angeles.
Those average totals don't count the honeymoon, but they do include the engagement ring, cha-chinging in at $5,764.
There's no such word as "average," however, when a wedding ends up approaching the $12 million mark, as did the most expensive affair Blum has ever thrown. And that's not including glaringly big-ticket items like the ring (the $3.3 million, 15-carat Lorraine Schwartz ring Kanye gave Kim did not factor into their reported wedding tab, for instance), but rather the incidentals that pile up, like installing the finest portable bathrooms money can buy, or piping water or AC into a tent erected solely for the occasion (referred to as an "off-premise" event).
Blum estimates that the higher-end weddings these days run about $1,200 per person. "It doesn't matter if you're using cheap china or expensive china, you're building a little village," she says.
Client Nate Berkus married Jeremiah Brent in 2014 at the New York Public Library in front of about 220 guests, including Oprah Winfrey and Rachael Ray, and afterward enjoyed a sit-down dinner of beet salad with burrata, herb-stuffed roasted chicken, Black Angus ribeye and sides such as truffle mac 'n' cheese. Blum transformed the room with a palette of black, white, cream and gold, and incorporated dinnerware from Berkus' own line.
It also can be an added bonus when the guests (or the groom!) pitch in with the entertainment, such as when Elton John serenaded newlyweds Prince Harry and Meghan Markle at the queen's reception and Idris Elba took a turn deejaying at their evening party, or when the Eagles' Don Henley joined Billy Joel onstage when the "Piano Man" singer married Katie Lee in 2004.
Courtesy: Gianni di Natale
While we would liken her role to that of a shape-shifting, lion-taming wizard who's everywhere at once and needs three hands because one is always holding a phone, what Blum is—or certainly becomes by the end of the process—is a combination event expert, crisis counselor and BFF. A "life concierge," if you will.
And while there are some couples who are more hands-off, the personal touch is what they're expecting and what they get.
Blum has even been certified as an officiant, because she had one not show up once, and now—should that happen again—she can step right in. So far, no couple has ever canceled at the 11th hour, though she's been privy to some "knock-down, drag-out fights," days or hours beforehand, almost always about the prenuptial agreement. "Nothing will make anyone as angry as a nasty prenup."
Blum is also usually part of the most essential of wedding-prep elements—the search for the perfect dress. "It gives you an insight into your client unlike any other insight," she says.
The selection is then followed by the fittings, the finishing touches and the transporting of the gown from point A to point B, all under a veil of secrecy.
Pun totally intended.
DANNY LAWSON/AFP/Getty Images
David Emanuel, who designed Princess Diana's wedding dress with his then-wife Elizabeth Emanuel, has shared with E! News the story of how they had to install blinds in the windows of their Mayfair studio to keep out the looky-loos, and how the only person the barely 20-year-old bride-to-be brought with her was her mother. On the morning of the wedding, July 29, 1981, Emanuel confirmed to a Women's Wear Daily reporter that a sketch she had obtained was indeed of Diana's dress—though it absolutely was not.
"I don't think they forgave me for one year," he remembered joyfully.
The day prior they had delivered the real deal in a nondescript truck to the Queen Mother's residence at Clarence House.
Kate Middleton's gown by Alexander McQueen creative director Sarah Burton was similarly kept under lock and key, both real and proverbial, and Meghan Markle kept 'em guessing up until the big reveal. All predictions proved wrong when she finally stepped out of Queen Elizabeth II's Rolls-Royce Phantom wearing Givenchy. 
"Meghan Markle did an amazing job at keeping it secret," Blum said. Designer Clare Waight Keller couldn't even tell her family about the top-secret project till the day of the royal wedding. 
For the less scrutinized but still hotly anticipated wedding looks worn by celebrity brides who don't want to show off their wedding day looks until the time is right—such as when a magazine has paid for the exclusive, as People did with the Clooneys, Brad Pitt and Angelina Jolie and countless other famous couples—secrecy starts with the search process.
Blum says it's rare for a really famous woman who's got her heart set on privacy to actually visit a store (though Kleinfeld in New York, of Say Yes to the Dress fame, will close to the public in the morning for certain VIPs), so they bring the prospects to them, or a bride-to-be is ushered through a private entrance if she visit an exclusive atelier, such as Dolce & Gabbana.
Everyone involved, meanwhile, signs a non-disclosure agreement to keep the design details under wraps, and Blum will make sure the bride's wants and concerns are addressed as the process moves along. "I'm used to being shot, as the messenger," she joked.
And you have to be ready for anything. One time a bride wanted to make sure that she was the only bride in the vicinity that day, so Blum consulted with other planners and assorted contacts to make sure that all eyes were on her bride. "I thought she was teasing, but...no," she laughed.
Another famous bride, who had also enlisted then Givenchy creative director Riccardo Tisci in 2014, requested a reworking when she felt her veil was too similar to the one Kim Kardashian had worn three weeks prior.
But when that dress is ready to roll, it travels in style. Should it need to cross state lines, or perhaps an ocean, whomever has been picked to handle the supremely important task of transporting the dress has been known to get two first-class plane tickets—one for her and one for the gown. Otherwise, if the bride is flying private, the dress can usually hitch a ride with her.
Cakes, too, require careful transport, and whether they're headed across town or made one place and shipped elsewhere, assembly is always required on site—like IKEA furniture. The Meghan and Harry's elderflower and lemon cake by Claire Ptak, owner of London's Violet bakery, is rumored to have cost as much as $70,000, but Violet's website says a 150-serving wedding cake is available for roughly $1,400, which means 600 guests could be satiated for only $5,600. (Plus the recommended extra sheet cake to make sure no one goes without, for another $500. Oh heck, HRH, throw in a handful of extra sheet cakes.)
Sylvia Weinstock—"the queen of all cakes," Blum says—has since retired, but she preferred to ship her cakes—in parts, of course—via one particular airline, complete with a team of assemblers and every tool they would need to build the cake on location.
The towering 10-tier vanilla and buttercream wedding cake she made for Michael Douglas and Catherine Zeta-Jones, as well as a guest list that included Jack Nicholson, Sean Connery and then-U.N. Secretary General Kofi Annan, is said to have cost $7,000.
Asked in 2014 whom her favorite celebrity clients were, Weinstock told Town & Country, "Everyone is a celebrity at Sylvia Weinstock. Everyone is treated equally. As for the fashion designers, I will speak to the people at Vera Wang, Reem Acra, Monique Lhuillier, Oscar de la Renta, Carolina Herrera... I say to them what does the dress look like? Can you send me a piece of the lace? So I can duplicate the lace on the dress or the jeweled design. They're all very nice. I really love Oscar de la Renta and his wife Annette."
Speaking of that personal touch.
Meghan and Harry asked that, in lieu of gifts, their guests donate to charity, and the Express has reported they were set to return almost $9 million worth of items sent to them by businesses and other well-wishers they don't know. To accept would actually be against Palace rules, which forbid the royals from accepting anything when the "propriety or motives of the donor or the gift itself" is unknown.
But for altruistically minded couples like the Duke and Duchess of Sussex, sites such as Zola enable brides-and-grooms-to-be to register for charitable donations. And while registries are proving that the ever-popular KitchenAid stand mixer is still at the top of almost everyone's list, guests can also help the happy couple get ready for the wedding by pitching in for the bride's glam squad or SoulCycle classes, or help them have a world-class honeymoon with gift cards for Delta and Airbnb.
Art funds are also increasingly popular, for couples looking to start a collection with an investment piece that wouldn't necessarily be attainable without a bit of wedding crowd-funding.
Zola's Jennifer Spector is also seeing the rise of the wedding week, which goes from at least Thursday to Sunday, starting with a casual welcome party, the rehearsal dinner, the wedding and the next-day brunch. "And that doesn't even include the after-party," she added, remembering one such after-hours dance fest she attended that had a Burning Man theme. Meanwhile, Meghan and Harry's jam-packed wedding day ended with a second reception that included beer pong.
Blum concurs that most weddings now last at least three days, and usually stretch to four, particularly when travel is involved.
She doesn't play favorites among the weddings she's thrown—"they're like my children!" she quipped—but as far as destinations go, it's hard to beat Positano on the Amalfi Coast, she says.
Ultimately, however, when it comes to putting on events for the rich and famous, Blum enjoys the reassurance that—no matter how many zeroes are added to the budget—everyone is the same in that they want a day, or week, to remember.
"At the end of the day people hire me because they're a bride or a groom and they want to make sure their mother gets in the photographs and that their stepfather is treated nicely, that their best friend from high school gets a photograph with them," Blum says. "And those are the things that really matter to them the same way it matters to everybody else."
(E! parent company NBCUniversal is an investor in Zola.)