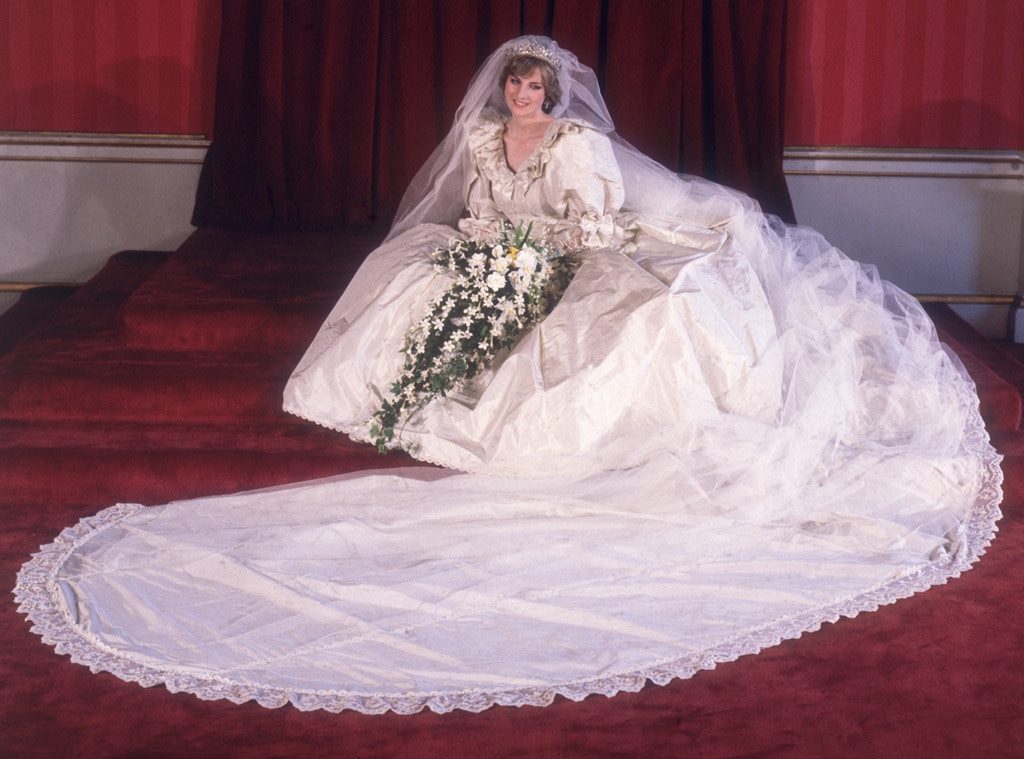 Fox Photos/Getty Images
"Hello, it's me." 
So was the greeting that couturier David Emanuel heard on the line on the day his life changed forever. "Hello, me," he replied, as always, when he heard that voice.
The voice on the phone belonged to the newly engaged woman who, in a few short months, would become Princess Diana—and she was calling to ask Emanuel if he and his wife at the time, Elizabeth Emanuel, would design her wedding gown. Every designer in the world, let alone England, wanted the job, and the Emanuels may have been the only ones not to send Lady Diana Spencer a portfolio for consideration.
David told E! News in an exclusive interview that he gave the future princess a hearty yes, and then proceeded to say "absolutely nothing" to anybody about the request. But then, he recalled, so much time passed before she rang back, he started to wonder if the call had been a prank. The phone "did eventually ring, thank God," he said. And the soft-spoken bride-to-be had not changed her mind.
Though it's not as if the call had come entirely out of the blue. The Emanuels had dressed two members of the royal family already, Katharine, Duchess of Kent and Princess Michael of Kent, and their first couture client was the ever chic Bianca Jagger. Soon enough, as Diana entered the public arena, her inner circle was helping to curate her wardrobe—make it fit for a princess, so to speak. The Emanuels met Diana through an editor at Vogue, and were asked to put together some "pretty" looks. 
Watch:
Princess Diana's Iconic Looks Recreated on "The Crown"
One of those looks ended up being the hand-tinted, pale pink chiffon blouse and pink silk taffeta skirt she wore in one of her official engagement photos with Prince Charles.
Central Press/Getty Images
Another time Diana came in and asked for something "quite formal." Call David surprised when he turned on the TV news one night to see that she had worn the strapless black taffeta evening gown she picked out that day to her first public event with Charles since getting engaged, a music recital at Goldsmiths' Hall.
"The car pulled up and out she got, looking like a movie star. 'Holy god, that's my frock!'" David recalled recognizing his handiwork, laughing. He and Elizabeth had also smartly made Diana a "quick little shawl" to wear in the car, having advised the still only 19-year-old future royal that she couldn't just show up in a strapless dress. Her hint of cleavage caused enough of a stir on its own.
But the critical response to the gown—glamorous, stunning, even a bit sexy—apparently helped tip the wedding cards in the Emanuels' favor.
And yet that was just the faintest of dress rehearsals for what would become, for the next three months (that's right, the couple only had three months), the most scrutinized and top-secret fashion design project in the world.
Photo by Tim Graham/Getty Images
David, who shared his big-day style expertise as host and creative director of TLC's Say Yes to the Dress UK, said that Diana would usually come alone and unannounced to their tiny studio, located at the time near Claridge's in London's tony Mayfair district—except for when she brought her mother, Frances Spencer, who would become the only other person aside from the designers and Diana to see the sketch of her gown.
It's not easy to separate Diana from the layers of drama that shrouded her image in the final years of her life, which only contributed to the mythos that has formed around her memory in the 24 years since her death. But once upon a time, she was a teenage nursery school aide, prone to blushing but with a cheeky sense of humor.
And though she had to abide by a fairly conservative aesthetic on her wedding day, she was open to ideas. "There was no red tape, there were no limitations" from the palace, David told E! News. "We had completely, utterly free reign, and it was down to her, and her alone, that she had the confidence to select Emanuel and to believe in it."
They had three design consultations before Buckingham Palace announced that the Emanuels would be making the gown. 
"And then the world changed," David recalled. "After the announcement, my tiny little studio and the roofs and every other conceivable building in the neighborhood were surrounded by paparazzi, long lenses, everything. Every agency in the entire world" came to Emanuel in London.
"'Yes, we're proud and delighted, thank you very much,' next," he remembered running through the press' calls for comment. "We had every TV station you can imagine, and of course, working with couture clients I had learned, you don't give any details at all—and particularly not for a royal wedding."
Chris Jackson/Getty Images
Thinking about the level of secrecy surrounding Kate Middleton's wedding dress 30 years later and Meghan Markle's gown seven years after that, that honor code didn't budge a bit. It may have even become stricter, considering all the creative, new ways there are to violate privacy these days.
"I know we live in a culture obsessed with fame, but I happen to believe privacy is a virtue, and the relationship I have with my clients is private," Alexander McQueen creative director Sarah Burton, who made Kate's dress, told T: The New York Times Style Magazine in 2014. She didn't open up about the experience until three years after Kate married Prince William.
"Some people," Burton said, "like to think I've been too shy or that I'm afraid to speak up about the happy experience I had creating the Duchess of Cambridge's wedding dress, but I can tell you that is nonsense...There are people in the media who will always want to invent sinister reasons for people's discretion, but an instinctive, intelligent, imaginative young woman's wish for a beautiful wedding dress—or any kind of dress—is the most natural thing in the world. And I was honored to pick up the challenge and always will be."
Givenchy designer Clare Waight Keller called Meghan's gown "a very secret dress," writing two years after the Duchess of Sussex's 2018 nuptials, "Through hours of conversation, meetings together, and research, slowly all the pieces...came together. Purity and simplicity were the guiding principles, a narrative of nature through the 53 florals of the Commonwealth to bring the world into the journey of the ceremony and subtlety bringing the lines of Givenchy and the history of the Maison to capture the classical timeless beauty I knew she wanted to achieve."
More than 37 years beforehand, David had ripped up the sketch of Diana's gown right after the bride-to-be and her mother got a good look so the press couldn't get their hands (or a camera) on it.
"The British press were rooting through our rubbish," he explained. Pretty soon, as the dress came together, they had to go out and buy window treatments for their studio—and those blinds stayed closed until the work was done.
Meanwhile, the purveyor of a silkworm farm in Shropshire had reached out with an offer to provide the silk. "We got them to weave white silk taffeta, as well as ivory, so they didn't know which color we were going to use," David said. "Those silkworms did come up to speed, I must say." All the while, two seamstresses on the top floor of the Emanuels' studio were glued to their work, part of the very small crew entrusted with the secrets of Diana's gown.
Fox Photos/Hulton Archive/Getty Images
The lace trim for the dress was found in a bag of cast-off scraps bought at auction—a regular practice for some designers looking for a vintage or classically elegant touch. Once it had been cleaned and pressed, an expert realized it was antique lace from the bodice of a gown from Prince Charles' great-grandmother Queen Mary's day.
"It was a magical time," David admitted. "She was young, she was beautiful, so how to start to design for someone like that? So whatever you do, you have to make the gown young. But, she was going in Lady Diana Spencer, she's coming out the Princess of Wales, so this dress had to be young and sweet, but it also had to be glam because she was going to be a royal princess. She couldn't do a quiet-looking, low-key little gown. The pomp and ceremony and the whole thing, I remember giggling with her."
Moreover, "everything has to be British, British, British," he said. "We've got the worms and they're British, we've got the taffeta coming, we've got the lace." And then it was time to talk train.
Finding out that the royal wedding record was 20 feet, David suggested 25 feet, hand-embroidered with sequins and pearls.
Jayne Fincher/Princess Diana Archive/Getty Images
"Halfway through we realized, 'We're not going to finish this,'" he said, remembering the "little bit of panic" that hit as they labored away. Diana had a wonderful sense of humor, he shared, but "behind the scenes we're thinking, 'Maybe we've bitten off too much...keep sewing!'"
"Copious amounts of tea was drunk, copious amounts of coffee was drunk, you name it—keep going!" David continued, "And finally we could see the end."
The show had to hit the road soon enough, though, once it was time to cut the train—because it was far too long for the Emanuels' studio. So over they went to Buckingham Palace with the toile, the cotton version of the gown, to cut the train to size and shape. David took it upon himself to make sure that people weren't wandering into the room willy-nilly. "I was officially responsible, personally, for cordoning off an entire floor of a wing of Buckingham Palace," he said, feigning shooing the staff away. "'It's private! Out!'"
Britain on View/ZUMA Press
After they cut the train and the veil—"in my book, it has to be longer than the train"—Diana had an appointment, so she had to run. David, holding Di's diamond tiara, and Elizabeth were left wandering around the palace looking for a way out.
On another occasion, Diana drove them and the dress back to the studio herself in the tiny car she used to zoom around London in.
"The day before the wedding, at 9 o'clock in the morning, when the people least expected it," David recalled, they loaded the gown, veil and everything into the back of a plain, out-of-town truck and delivered it all to Clarence House, which at the time was the Queen Mother's residence.
Noticing some workmen on the roof, David set about closing all of the curtains—much to the Queen Mum's consternation. "Only they decide if they want the curtains closed," he said drolly.
He and Elizabeth spent the night at home in Knightsbridge, then returned bright and early to Clarence House the next day: Diana and Charles' wedding day, July 29, 1981.
Keystone-France/Gamma-Keystone via Getty Images
On that morning, he was approached by a reporter from Women's Wear Daily, who handed him a piece of Buckingham Palace notepaper with a design sketch on it and demanded to know if that was it. It wasn't—it looked like the wedding dress Mary, Queen of Scots, wore—but Emanuel said it was. 
"I don't think they forgave me for one year," he said, fondly remembering pulling the wool over WWD's eyes.
The most important thing, at the end of the day, was saving Diana's dress for the big reveal—in front of family and friends gathered at St. Paul's Cathedral, her compatriots and the 700 million people around the globe who watched on television.
Jayne Fincher/Princess Diana Archive/Getty Images
After the world had seen the bride marry into the royal family, becoming Princess Diana in the process, only then were the Emanuels freer to discuss the dress in public—but they didn't much, at least not right away. It wasn't the thing to do, and they would continue to dress the Princess of Wales after she was married. (The Emanuels divorced in 1990, two years before Charles and Diana separated.)
The wedding gown, meanwhile, for whatever it cost, has earned that back countless times over as an objet d'art that's been on display around the world. In her will, Diana instructed that her dress be entrusted to Prince William and Prince Harry once Harry had turned 30. Her brother, Charles Spencer, had been looking after the dress at the family's Althorp estate in Northampton, where it would go on display twice a year, but in 2014 he prepared to turn it over to his nephews.
Just as Kate's dress would inspire countless imitations and requests from brides to look like the Duchess of Cambridge on her big day, Diana's dress helped spark the 1980s-era trend of big and bold wedding attire. Puffy sleeves and full skirts became the go-to look.
And she influenced far more than just bridal couture. "Right up all through her reign, she supported British designers," David said. "Not only did she put British designers on the map, she made them viable." People stopped coming to the U.K. just to shop at the markets. Rather, he said with emphasis, "They stopped and they bought British designers, and that's all because of her."
The wedding gown "had a good 20-year run" touring the world, "and now everything's died down," David said. But on Say Yes to the Dress UK, brides seeking a touch of royal glamour knew they were going straight to the source.
He thought that Kate was the picture of class and poise on her wedding day in her Sarah Burton gown. "Amazing confidence," he said of William's wife. And he thought Pippa Middleton looked lovely on her own wedding day recently, though she was sashaying a bit too much for his taste when she served as Kate's maid of honor.
"I was shouting on television, 'Put the train down!'" Emanuel reenacted watching Pippa hang on far too long to her sister's train when it should have been left to glide along on its own behind the bride.
Having engineered one of the most memorable trains in royal wedding history, he knew what he was talking about.
(Originally published June 9, 2017, at 3 a.m. PT)