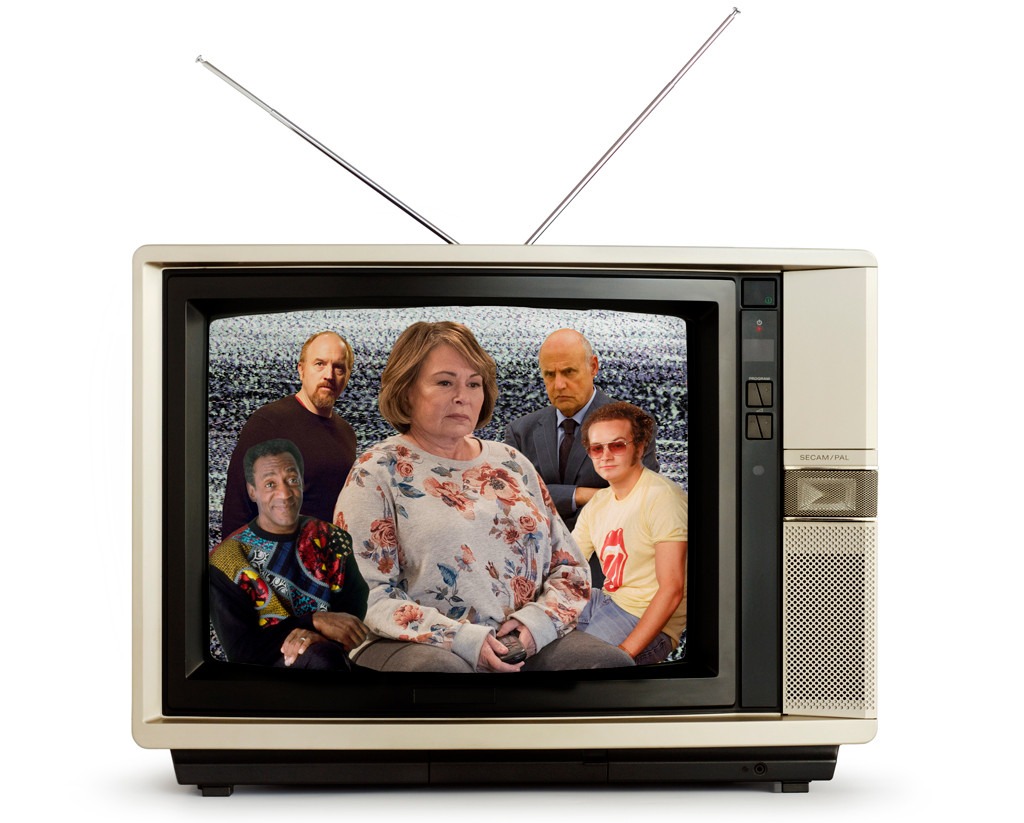 Melissa Herwitt / E! Illustration
For most of my adult life, when I've attempted to explain the unique alchemy that is my sense of humor, I've related it to people by explaining it in terms of the television shows that shaped me in my formative years. My own personal holy triumvirate of TV sitcoms, if you will.
"I'm a combination of The Golden Girls' campy and heartfelt bitchiness, Seinfeld's neurotic observations, and Roseanne's deeply sarcastic family weirdness," I'll say. I'm always giving myself too much credit. I'm not nearly as funny as any of these examples by half. But these are the shows that, for better or worse, crafted what I find funny and, to an extent, how I relate to the world. 
It's also what's made Roseanne Barr's prolonged fall from grace cut so deep.
My disillusionment with Barr began long before ABC successfully revived the beloved sitcom this spring to unpredictable success only to see that success implode rather swiftly for them when, just two weeks after touting her as the new face of the network at their 2018 Upfront presentation to advertisers, the clearly troubled comedienne shot off an unarguably racist tweet comparing former Obama adviser Valerie Jarrett to a famous cinematic ape. After all, this was hardly the first time Barr had engaged in such inexcusable behavior—on social media or otherwise. Hell, it wasn't even the first time she'd denigrated an African-American woman whose politics she disagreed with by referring to her as an animal.
For those who'd been paying attention and weren't completely enamored by either the allure of ad revenue (ahem, ABC) or nostalgia, the Barr who'd created one of the most inclusive, feminist representations of working-class America to ever hit TV and whose seminal series changed the face of television for the better had been missing for some time. In her place was a woman who'd confusingly devoted herself to promoting the darkest of conspiracy theories, who posed for a photo shoot dressed as Hitler removing a tray of burnt gingerbread men oven, who tweeted appalling sentiments aimed at trans people, the LGBT community, and Palestinians. Sure, people change and we're all allowed to have differences of opinion, but this? This was something else entirely. 
It had gotten to the point where watching a rerun of her highly influential and just plain hilarious comedy—which, up until this week, were never very hard to find during a lazy weekend of channel surfing—increasingly came was a side of discomfort. Was I comfortable laughing at (and with) a woman who tweeted that the people of the LGBT community—my community—supported pedophiles? And more importantly, was I comfortable with my viewership helping to line her pockets through residual pay from the very lucrative syndication deals Roseanne was a part of? Slowly, but surely, the answer was no, I was not.
And as of this week, after ABC Entertainment president Channing Dungey, herself the only African-American broadcast network president, delivered swift justice in the form of a decisive statement that both denounced Barr for her "abhorrent" statement and canceled her series, it appears most of America has caught up to me. Syndication deals with Viacom networks (including Paramount, TV Land and CMT) and the Laff network, as well as the deal to stream on Hulu, were abandoned, leaving Amazon Prime the lone outlet to offer old episodes up for consumption.
Not only did Barr's toxic behavior put dozens of actors, writers and crew out of work with ABC's unprecedented decision to scrap the second season, but it also contributed to a cultural undoing of the work that had come before. Whatever the show once meant to individual viewers and the history of television as a whole, it now comes with an asterisk, an addendum, a footnote. It can only be viewed through the prism of what we now know of its star and creator. After all, there's no putting the racist toothpaste back in the bottle.
This bit of cultural destruction by the content's own creator is just the latest example of what's becoming something of a phenomenon. It's nothing new, of course. For years, film aficionados have grappled with what to do every time a new Woody Allen or Roman Polanski film comes out, not to mention how to consider their previous beloved works. But the grip this phenomenon has had on the TV industry as of late is nothing short of astonishing. And heartbreaking, in its own way.
When the many, many allegations of sexual assault began mounting against Bill Cosby, the prospect of watching him as America's Dad in the classic series The Cosby Show became a bit too much to stomach. Syndication deals on one of TV's most groundbreaking comedies began disappearing left and right, with TV Land, Aspire, Bounce, and Centric all pulling the show off their airwaves in 2014. (Bounce later added the show back in 2016, but pulled it once again on April 26, 2018, when Cosby was convicted of sexual assault.) The show still airs as a part of TV One's schedule.
And as the #MeToo and Time's Up movements have led to revelations about many, many men in Hollywood, the palatability of iconic comedies such as That '70s Show, Arrested Development, and Louie have come into question thanks to the accusations of improper—or, in one case, criminal—behavior levied against stars Danny Masterson, Jeffrey Tambor, and Louis C.K., respectively. Only in C.K.'s case has his series been completely scrubbed from accessible existence, likely owing to the fact that Louie is his brainchild and such an extension of the disgraced comedian, while the other two are ensemble projects created by someone else. However, the damage to all has been done. Just look at the reaction to Netflix's fifth season of AD, which landed with a resounding thud thanks, in part, to the confusion plenty feel over just how to regard Tambor these days.
While Barr's bad behavior is by no means on par with what any of these men have done, just as each of their alleged improprieties stands in stark contrast to the next, the result is just the same: Laughing along with them for a lighthearted 22 minutes has suddenly come to feel untenable. And it's not hard to understand why.
The act of watching television, more so than any other form of pop culture consumption, is a deeply familial one. Week after week, for years on end, we welcome these people into our living rooms and we laugh with them, we cry with them, we grow with them. They come to feel like members of the family, which is what makes these revelations and accusations feel like such a betrayal. We thought we knew them, but as it so often turns out, we really never knew them at all.
As Hollywood continues to go through its great reckoning and social media continues to let our pop culture favorites reveal to us exactly who they are, warts and all, this great cultural undoing will more than likely continue, rendering, to most, plenty of beloved content unwatchable in the process. It will hurt, but it might just do us some good.
The old adage may warn us against meeting our heroes, but when we're finally and truly forced to, it's wise to believe them.