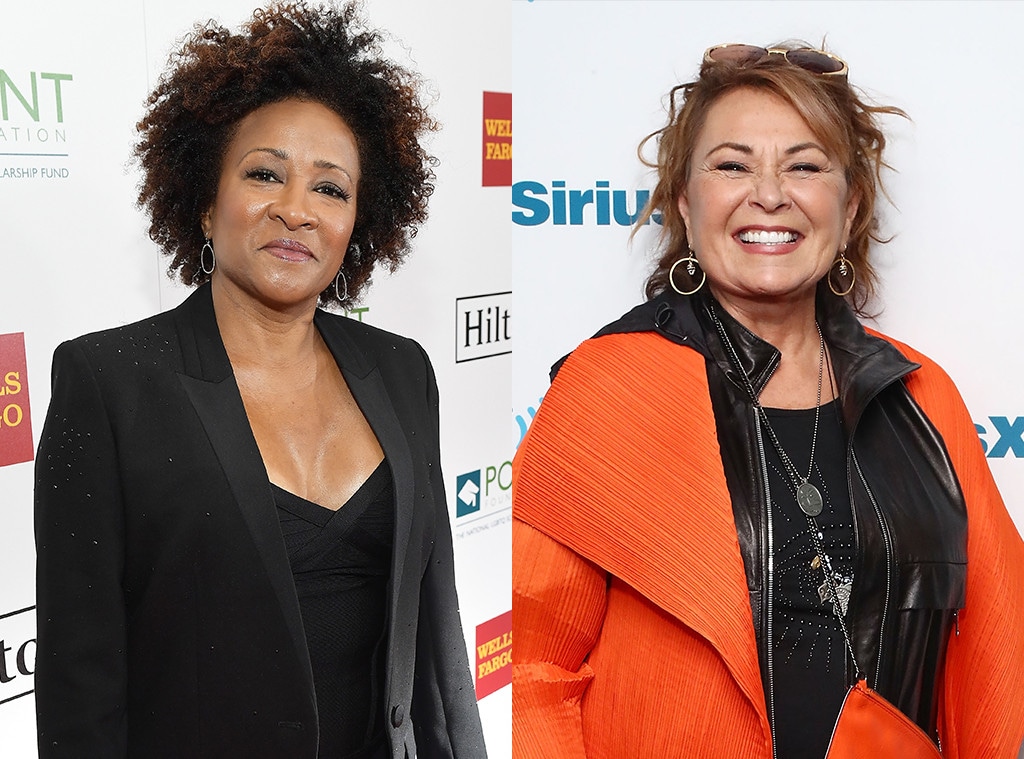 Getty Images
Roseanne Barr is saying sorry and possibly leaving Twitter after coming under fire for what she called a "bad joke."
Digital backlash arose after Twitter users caught wind of a tweet Barr issued on Tuesday and subsequently deleted, reading, "Muslim brotherhood & planet of the apes had a baby=vj." The "vj" was in reference to Valerie Jarrett, a former senior advisor to former president Barack Obama and was a response to a tweet which accused Jarrett of helping to cover up alleged wrongdoings for the Obama administration, according to The Hollywood Reporter.
In another since-deleted tweet, Barr defended the comment when some online called it racist, retorting, "Muslims r NOT a race." She then issued an apology, tweeting, "I apologize. I am now leaving Twitter."
Famous faces took issue with the comment, including Patricia Arquette, who responded, "I am repulsed that Valerie Jarret had that racist and bigoted 'joke' made at her expense and I am sickened that any Black or Muslim person has to keep hearing this sickness in 2018."
While it's unclear if Barr's latest offensive Twitter behavior is the cause, comedian Wanda Sykes took to Twitter shortly thereafter to announce that she would not be returning to her role as consulting producer for the show's 11th season. 
Sykes' departure marks the second high-profile name to walk away from ABC's highly-successful revival ahead of season 11. Co-showrunner and executive producer Whitney Cummings has also departed, as her co-showrunner Bruce Helford confirmed with reporters during a conference call ahead of the season finale on May 18. 
"I think Whitney is going to be too busy.  We've been—we talked all the way through that.  Whitney is still always a member of the family of the show but she's got so much going on," Helford revealed. "I don't know how that woman does what she does.  I don't know how she had time to work on the show in the first place so we'll see.  I don't think Whitney will be able to join us in the capacity that she was certainly joining us in the first season."
Request for comment from the network regarding the Twitter behavior of its biggest star was not immediately returned. Meanwhile, Sara Gilbert, who stars as Darlene and also acts as an executive producer on the revival alongside Barr, has voiced her disappointment in her TV mom on Twitter. "Roseanne's recent comments about Valerie Jarrett, and so much more, are abhorrent and do not reflect the beliefs of our cast and crew or anyone associated with our show," she wrote. "I am disappointed in her actions to say the least."
She then followed that up with another tweet, arguing that the show, which is named after Barr, is bigger than any one cast member. "This is incredibly sad and difficult for all of us, as we've created a show that we believe in, are proud of, and that audiences love— one that is separate and apart from the opinions and words of one cast member," Gilbert tweeted.
Roseanne returns this fall on ABC.