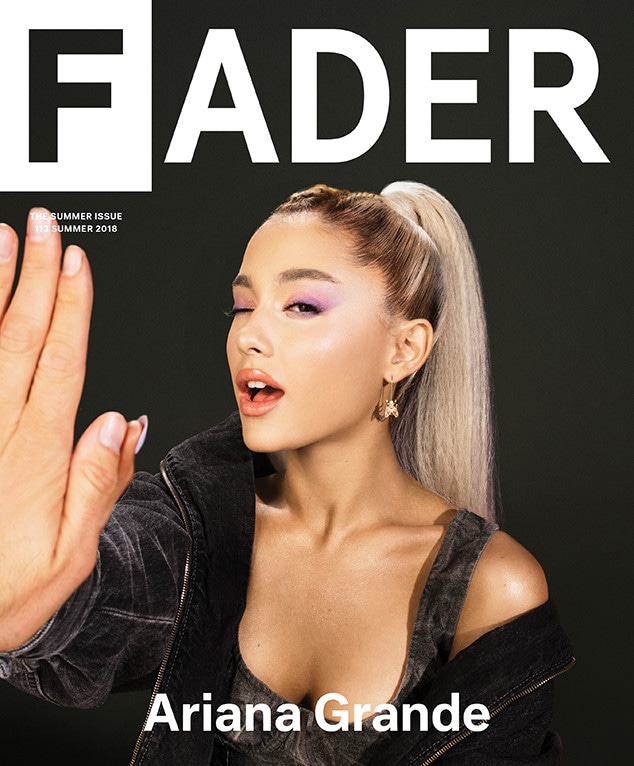 Jason Nocito/The FADER
Ariana Grande will never forget last year's Manchester Arena bombing, which took the lives of 22 concertgoers and injured more than 500 others. "I guess I thought with time, and therapy, and writing, and pouring my heart out, and talking to my friends and family that it would be easier to talk about," she tells The FADER, "but it's still so hard to find the words."
To help the victims and their families last summer, she helped organize a benefit concert: One Love Manchester. "The fact that all of those people were able to turn something that represented the most heinous of humanity into something beautiful and unifying and loving is just wild," says Grande, who graces the cover of the Summer Music Issue. Since then, she's noticed a shift in how her peers respond when tragedy strikes. "We're in such a trying time and people have been responding with acceptance, love, inclusion, and passion," Grande says. "This generation, they're standing up and they're not going to take no for an answer."
Grande's new album is heavily inspired by the experience, and the "No Tears Left to Cry" singer's new album is more purposeful than her previous work. "I've always just been like a shiny, singing, 5-6-7- 8, sexy-dance…sexy thing. But now it's like, 'OK...issa bop—but issa message. Issa bop but also has chunks of my soul in it. Here you go. Also, I cried 10 hundred times in the session writing it for you. Here is my bleeding heart, and here is a trap beat behind it,'" she says. "There's definitely some crying-on the-dancefloor stuff on this one."
In a variety of ways, she says, "I've never been this vulnerable to myself." With her new album, Grande explains, "I feel like I graduated almost. I feel like for a long time the songs were great, but they weren't songs that made me feel something the way these songs do."
The 24-year-old singer was initially scared to share too much. But, she says, "The thing that makes me feel OK with opening up and finally allowing myself to be vulnerable is that I know [my fans] feel the same feelings. I've talked to them about it. I have fans that have become friends of mine. I have their numbers and we talk all the time. I played [the song] for them before I played it for my label. They were like, 'Thank you,' when they heard that one. It was so scary to do that, but to see them be like, 'I get it, I feel that too'..." As tears of gratitude fall down her cheek, she says, "I was just overwhelmed by how simple it can be if you let it."