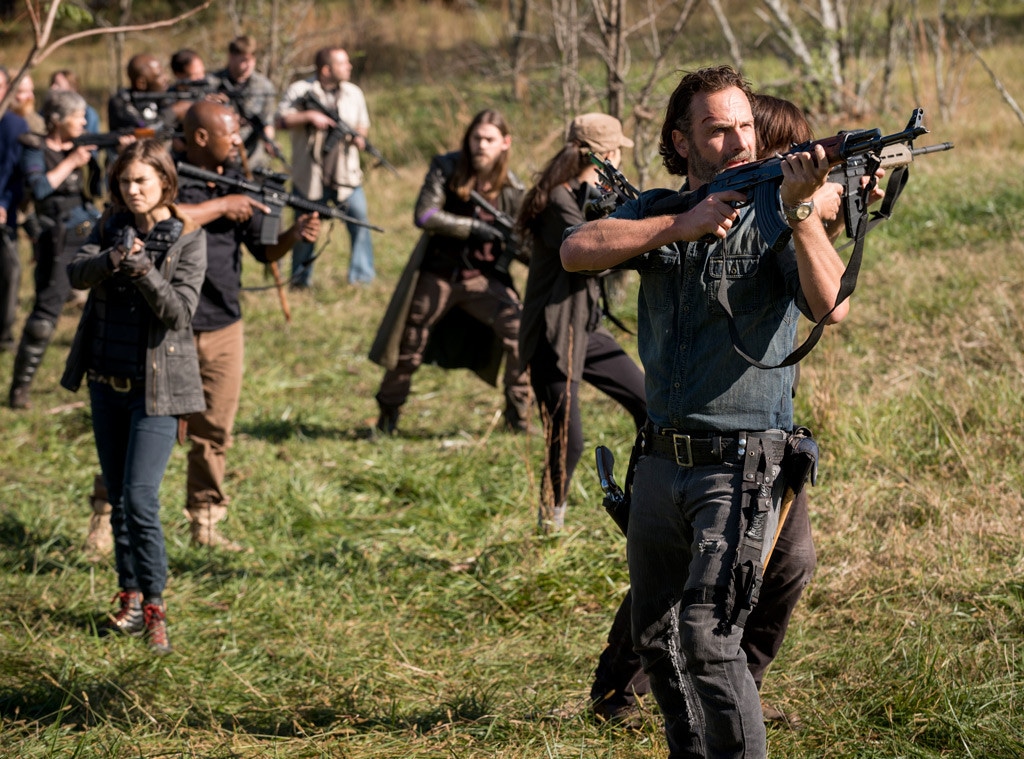 AMC
UPDATE: It's official. Andrew Lincoln confirmed his exit at The Walking Dead's 2018 Comic-Con panel. "This will be my last season playing the part of Rick Grimes. I love this show. It means everything to me. I love the people who make this show. I'm particularly fond of the people who watch this show," Lincoln said on Friday, July 20.
PREVIOUSLY: Get ready to say goodbye to Rick Grimes. 
Andrew Lincoln, who has starred as the lead of AMC's The Walking Dead since the pilot, will reportedly be leaving the series after appearing in only a handful of episodes in the upcoming season nine. We obviously don't yet know for sure if he'll be killed off but this is The Walking Dead, and it's pretty easy to kill people off. 
In fact, Rick's son Carl (Chandler Riggs) just died after being bitten by a walker, leaving Rick as a grieving father. 
Collider was first to report the news. Reports also say that Norman Reedus' Daryl will be stepping up as the new lead of the show, meaning that at least we can bet he's safe for the time being. (But what will happen to baby Judith???)
Lincoln isn't the only star stepping back either, since Lauren Cohan will be starring in the new ABC series Whiskey Cavalier and will reportedly only be starring in six of the first eight episodes of the season. If Whiskey Cavalier survives, we'll probably have to say goodbye to Maggie for good as well. 
Season eight of The Walking Dead ended back in April with a win in the war against Negan (Jeffrey Dean Morgan), though Negan was left alive thanks to Rick's attempts to show him some mercy. While that did end the fight and give everyone a new start, Maggie was not happy with Rick's decision and planned to bide her time before proving how bad of a decision it was, meaning we're in for Maggie vs. Rick in season eight. 
Now it's looking likely that it won't end well for either of them! 
AMC has not yet returned request for comment. 
The Walking Dead airs on AMC. 
Originally published on Tuesday, May 29, 2018, 1:50 p.m. PT.