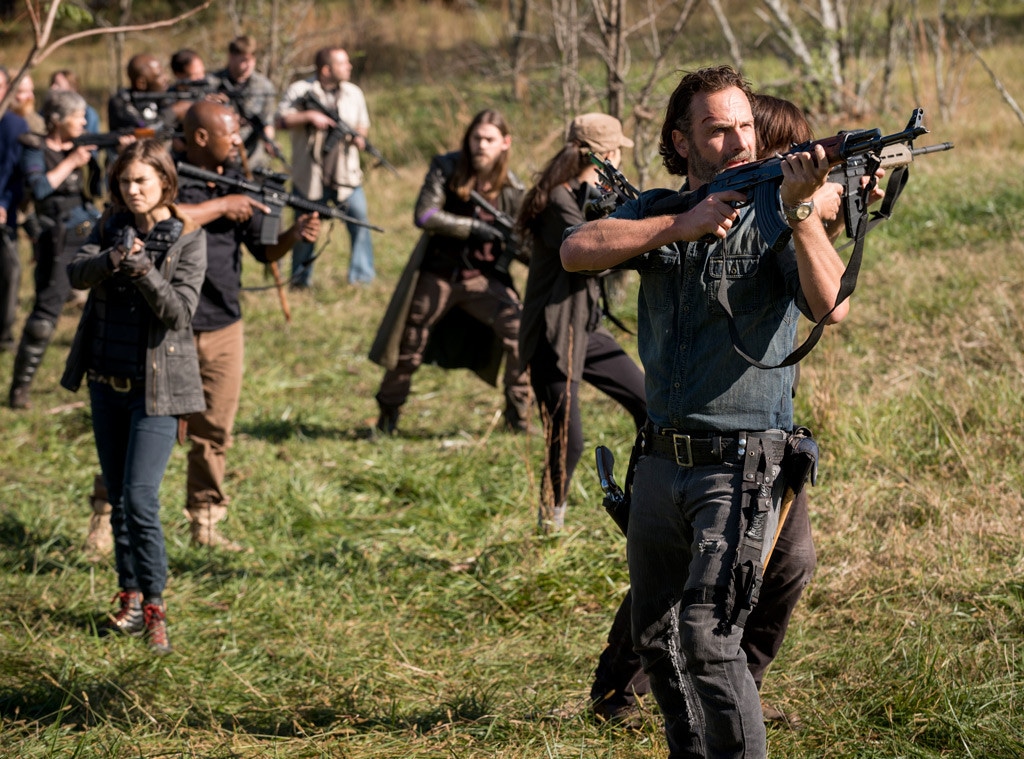 AMC
They promised all-out war and they weren't lying.
In the season eight finale of The Walking Dead, the seemingly never-ending battle between Rick Grimes (Andrew Lincoln) and Negan (Jeffery Dean Morgan)—and their respective armies, of course—finally did reach its climax. And it all ended up pretty much exactly as you thought it would, especially if you've ever checked out how this particular arc wrapped up in the show's source material.
Negan thought he had Rick's forces dead to rights, but he didn't consider that Eugene (Josh McDermitt) might not be a total weasel and actually had a plan up his sleeve. That plan? When all the Saviors opened fire at once, all their guns backfired on them thanks to some sneaky bullet tampering. Well done, Eugene. It's about time you proved you're not totally worthless.
As Rick closed in on Negan for their big showdown, he tried to appeal to Negan's affection for Carl (Chandler Riggs) with talk about a possible future for everyone. And as Negan finally showed some humanity, Rick slit his throat. But his mercy did, in fact, prevail over his wrath. "Save him," he told his troops as Maggie (Lauren Cohan) flipped out.
"It's not over until he's dead," she screamed as Michonne (Danai Gurira) explained to her this was the only way. 
"We can't make it right, but this makes it over," she told the still grieving widow. "It's over."
From there, Rick sent everyone to rebuild. "So go home. Then the work begins. The new world begins," he told everyone on that hill. "All this—all this is just what was. There's gotta be something after."
And while it seems like the show's immediate future might be one of peace, it looks like Rick and Michonne have already earned themselves a new enemy out of Maggie, who expressed in the final moments to Jesus (Tom Payne) and Daryl (Norman Reedus) that they need to bide their time and build up their strength before proving to the power couple how wrong they were to let Negan live out the rest of his days from a cell. Oh brother.
What did you think of the finale? Sound off with your thoughts in the comments below!
The Walking Dead returns for season nine later this year on AMC.